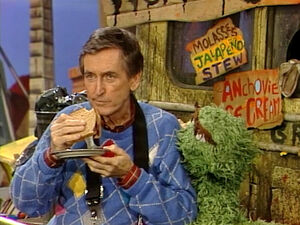 Picture
Segment
Description




SCENE 1
Oscar is about to drive his Sloppy Jalopy to Grouchytown, and Bob is going to come with him. Luis and Linda warn Bob about going, but Bob prefers to be open-minded and see how grouches live. Bob gets in the jalopy, and they look at a route map before they drive off. Oscar tells him to wipe the smile off his face, and he tries his best as they drive off to Grouchytown.

Cartoon
A British man narrates how chewing gum is made in Guatemala.
Artist: ArtistMike
(EKA: Episode 2830)

Muppets
Bip Bipadotta sings "Opposite Stuff."
(First: Episode 2425)

Cartoon
A boy counts down to 0 as he eats his soup.
(First: Episode 2283)

Muppets
Muppet & Kid Moment — Grover asks Jesse to define marriage. They conclude that married people kiss, hug, live together, and help each other.
(First: Episode 2441)

Song
Olivia sings "The Riddle."
(First: Episode 1721)




SCENE 2
The jalopy arrives in Grouchytown, and Bob is amazed at what he sees. Oscar warns him that Grouchytown is the opposite of Sesame Street, in terms of location, mood, food, and several other things. Bob sees this for himself when a gang of grouches comes out of hiding and tells him to get lost. They sing a grouchy version of the Sesame Street Theme, which doesn't rhyme. Bob gets up and gets ready to take a picture of the grouches ("Frown!" he tells them), but they decline and go into hiding.

Animation
Where do the Ds fit?
(First: Episode 1617)

Muppets
Ernie & Bert — Ernie wears socks on his ears and on his nose in order for Bert to guess which body part he's thinking of.
(First: Episode 1640)

Cartoon
The letters in the word BESO kiss each other.
(First: Episode 0433)

Cast
Maria as Chaplin looks in a mirror and sees "ME." Maria's reflection is played by Linda.
(First: Episode 1032)
(new music added)

Cartoon
"Me Tarzan ... you parrot!"
Artist: Fred Garbers
(First: Episode 2633)




SCENE 3
Bob continues to take pictures of Grouchytown, when suddenly he hears noises coming from the Break-it Shop, which he suddenly realizes is the opposite of the Fix-It Shop back on Sesame Street. A grouchy customer tells Velma that his toaster has a problem: "It's not dented and bwoken enough!" He gives it to her so she can break it, which she does, very loudly. Bob causes much commotion among the grouches when he sings a chorus of "The People in Your Neighborhood."

Cartoon
Z for zipper
(First: Episode 0025)

Muppets
Hoots plays jazz in a park, accompanied by Chip and Dip. They are encountered by Mary, who wants them to play a new version of her nursery rhyme, which involves another lamb.
(First: Episode 2839)

Cartoon
David reminds a boy to wash his face and brush his teeth before going to bed.
(First: Episode 1968)

Animation
Stop-motion: what goes in the hot dog bun?
(First: Episode 1494)




SCENE 4
Oscar takes Bob to Worby's Store, which is the opposite of Hooper's Store back home. Oscar calls Worby out, and he agrees to give them some food if they get lost. The specials today are a sardine-blueberry sandwich, a pepper-marshmallow steak, and a tomato surprise (which they're out of). Bob doesn't want to eat anything at first, but Oscar reminds him that trying new foods is a part of the traveling experience. To everyone's surprise, Bob likes the sardine-blueberry sandwich when he tries it! Oscar reassures a distraught Worby, "He's only a tourist here; he doesn't know any better."

Film
Jerry Nelson sings "The Inside Story," which shows what's inside various household objects.
(First: Episode 2724)

Animation
D / d (drums and drumsticks)
(EKA: Episode 2326)
Muppets
Sesame Street News Flash
Cinderella's Fairy Godmother tries to make a beautiful ball dress appear on Cinderella without success: the gown ends up on Kermit instead.
(First: Episode 2442)

Cartoon
A hand draws a guitarist serenading a maiden, as well as the background.
(First: Episode 0791)




SCENE 5
Grouchytowner Otto wants to lead Bob to the stinkweed swamp, when Bob spots something that piques his curiosity: a nice-looking house, which looks like something out of a fairy tale. Bob knocks on the door, and is politely greeted by a bubbly human woman, "Nina the Nice" (Carol Kane). It suddenly dawns on Bob that the nice-human/grouch ratio here is also the opposite of Sesame Street's. She and Bob sing a syrupy song to the grouches, "That's How I Know You're Happy," even though the grouches don't feel that way.

Cartoon
A red armless character is stalked by the letter Z until he eats it.
(First: Episode 1340)

Film
Wendy makes cookies with her grandmother. They later visit Wendy's great-grandmother at the nursing home, and give her some of the cookies.
(EKA: Episode 2244)

Cartoon
Christopher Clumsy demonstrates the things feet can do.
Artist: Cliff Roberts
(First: Episode 0455)

Muppets
"They Can't Take That Away from Me": Cookie Monster's six cookies are subtracted down to zero.
(First: Episode 2351)

Animation
Ocean countdown 10-1
(First: Episode 2848)

SCENE 6
Otto calls all the Grouchytowners together, so they can prepare to give Oscar a grouchy send-off. Oscar and Bob show up, about to leave, and are told simultaneously to GET LOST. Before he goes home, the grouches all try to persuade Oscar to live in Grouchytown, which seems tempting to him, until Nina the Nice gives him a revolting kiss.

Animation
The Letter Z in various typefaces.
(First: Episode 2855)

Film
Some kids talk about a garden they have in the middle of the city.
(First: Episode 2889)

Animation
Blocks form a ramp and a tunnel.
(First: Episode 1446)




SCENE 7
Back on Sesame Street, Luis and Linda are surprised to hear Bob's excitable yarn of his visit to Grouchytown. Oscar laments that he'll never be able to go there again, and Bob reveals that he brought Nina the Nice with him! She drives Oscar into his trashcan as she suggests the wonderful things they could do to it. Bob announces the sponsors.
Community content is available under
CC-BY-SA
unless otherwise noted.