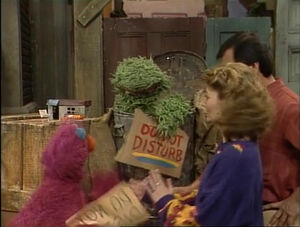 Picture
Segment
Description




SCENE 1
Oscar, Gina and Luis watch as Slimey skydives from a plane above. He has a slightly bumpy landing on the target and finds himself unable to move. Oscar calls for the Worm Ambulance and some paramedics (including Richard Hunt) take Slimey away on a (regular sized) stretcher. Gina follows them to the hospital.

Cartoon
Geronimo 10-0: Instead of a parachute, she has a helicopter propeller.
(First: Episode 2262)

Film
A zydeco band plays "Bayou Pon Pon" while people dance and the townspeople of New Orleans wave at the camera.
(First: Episode 2502)

Muppets
Prairie Dawn talks about three important parts of the face which are the eyes, the nose, and the ears, with assistance from Cookie Monster. Prairie agrees that cookies can be seen and smelled, but not heard - unless eaten by Cookie Monster.
(First: Episode 2838)

Cartoon
9 Ants
Artist: Owe Gustafson
(First: Episode 1485)




SCENE 2
Dr. Mudd (Bob Dishy) examines Slimey's X-rays and concludes that he has sprained his middle. He wraps it with a bandage and recommends Slimey not move for while, and especially refrains from skydiving. Oscar tells Slimey he's "grounded."
Cartoon
Small letter b (ball/bat)
(First: Episode 1131)

Video
Ann Marie DeAngelo and Skeeter Rabbit do their dance routine. The frame freezes whenever the word STOP comes on.
(First: Episode 2600)

Animation
An umbrella is shaped like an octagon ... and so is a STOP sign.
(First: Episode 2092)

Muppets
Ernie & Bert — Ernie keeps taking glasses of water outside the apartment. Bert thinks of possible uses Ernie could have for this water. As it turns out, the kitchen faucet is broken, and Ernie's trying to get rid of the water before the apartment floods.
(First: Episode 0425)

Cartoon
A family of snakes makes shapes, and rolls away.
(First: Episode 1506)

Film
In an Alaskan village, a doctor makes a regular visit to a clinic.
(First: Episode 2390)




SCENE 3
Luis and the kids sit out on the stoop and discuss going to the doctor. When the gang returns from the hospital, Luis learns what happened and asks if there's anything he can do. Oscar has something in mind - getting lost!

Cartoon
A caterpillar dances in ten socks.
(First: Episode 2246)

Muppets / Celebrity
Harry Belafonte sings of about the "Coconut Counting Man," who is actually The Count.
(First: Episode 1692)

Film
A boy climbs up a tree to gather coconuts.
(First: Episode 1125)

Cartoon
'j' minuscula
(First: Episode 0475)

Muppets
Kermit the Frog goes to see his doctor, who listens to his heart. Describing what he hears as "groovy", the doctor sings "Heart of a Frog" about different kinds of noises (backed by frog nurses)
(First: Episode 2650)

Animation
Arrows give a presentation of the human body.
(First: Episode 2839)




SCENE 4
Slimey's worm friend Michelle spends some time with him as he recovers. He asks Oscar to play a game with them. Oscar checks if the coast is clear and sings "Three of These Things" using their games and some sandwiches. Gina happens to see this and gives Oscar a pinch on the cheek.

Animation
Counting 1-9 in Spanish
(First: Episode 1594)

Film
How paper is recycled
(First: Episode 2710)

Muppets
"The Rhymies at Sea" - Larry, Mary and Barry sail on a ship, which sinks.
(First: Episode 1149)

Cartoon
Rap #9
(First: Episode 2509)




SCENE 5
Oscar puts up a worm-sized "Do Not Disturb" sign by Slimey so nobody bothers him. Telly wants to see how Slimey is recuperating, but is unable to read the sign because of its size. Oscar produces a larger one that's much easier to see, but Telly still can't read it - he doesn't know how.

Cartoon
"Animal Elevator": 1-10
(First: Episode 2530)

Song
"My New Computer"
(First: Episode 2857)

Muppets
Muppet & Kid Moment — Cookie Monster has Tara help him explain the word information by giving him cookies to eat.
(First: Episode 2589)

Cartoon
The 'J' Train
(First: Episode 1169)

Muppets
"The Ten Commandments of Health"
(First: Episode 1139)

Cartoon
B for boot
(First: Episode 1967)

Film
A man carves a wooden horse.
Music: Joe Raposo
(First: Episode 2209)

Muppets
Simon Soundman sounds out the word "call", and then demonstrates some calls of his own - including a bird call, cow call, pig call, and telephone call. (remake)
(First: Episode 2136)

Cartoon
Bud the Bird flies above and below in a bumper car.
Artist: Lisa Crafts

SCENE 6
Telly struggles to read what Oscar's sign says ("DO NOT DISTURB").




SCENE 6 cont'd
Luis and Gina come by Oscar's trash can, where Slimey is feeling better now. Telly rushes in, finally able to read the sign, just as Oscar takes it down; since Slimey's better, there's no need for it. Oscar puts it up again anyway, since he doesn't want to be disturbed...only Telly doesn't know what "disturb" means. When the grown-ups explain, he excitedly starts knocking on the can to tell Oscar he knows now. Big Bird announces the sponsors.
Community content is available under
CC-BY-SA
unless otherwise noted.