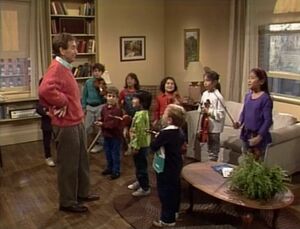 Picture
Segment
Description

SCENE 1
Telly practices his tuba for a music lesson later with Bob. Oscar, Grundgetta and another Grouch watch, heckle and applaud his missteps.

Cartoon
They'd play with me if I had...
(EKA: Episode 0815)

Muppets
"The Ballad of Slippery Slim"
(First: Episode 2827)

Cartoon
The Typewriter: B for Ball
(EKA: Episode 0900)

Film
Some kids observe a woman drawing pictures of a building, and eventually guess that she's an architect.
(EKA: Episode 0820)

Cartoon
A dog, a girl and a lizard dance to a bongo beat.
Artist: Karen Aqua
(EKA: Episode 2795)

SCENE 2
Telly starts to improve in his playing, making the Grouches think they should leave. They stay once they hear him continue.

Film
Kids talk about building sand castles and sand structures at the beach.
(EKA: Episode 1297)

Cartoon
Junior has to jump across the pond to make the frog chorus.
(EKA: Episode 0926)

Muppets
How Now Brown and the Moo Wave performs "Wet Paint."
(EKA: Episode 2326)
Short version

Cartoon
Y is for Yo-Yo
(First: Episode 0036)

Cast
Maria is dressed for summer weather, while Linda is dressed for the snow. They switch clothes and scenarios.
(EKA: Episode 2159)

Muppets
Grover applies to be a lifeguard, demonstrating to the employer that he has what it takes. He soon learns that there's only one thing he needs: swimming lessons.
(EKA: Episode 2509)

Song
"Five Onstage Dancers"
(EKA: Episode 0671)

SCENE 3
Telly keeps practicing his tuba, while Herry Monster practices lifting his dumbbells. They both note the importance of practicing in each pursuit.

SCENE 3 cont'd
Meanwhile, up in Bob's apartment, Biff and Sully partake in a piano lesson. Biff plays a wonky, out-of-tune version of "London Bridge" and asks Bob if he can teach Sully to play like him. Bob asserts that Sully already knows how to play piano and Sully plays a section of "Minute Waltz" flawlessly. Bob concludes that he wouldn't be able to make Sully play like Biff.

Cartoon
A painter pops out of a box and paints a lion, then hangs a "wet paint" sign on it.
(EKA: Episode 1733)

Muppets
As Bert takes a nap, Ernie tells the viewer how he knows that Bert is asleep - thus waking Bert up, just to tell him it's time for his nap.
(First: Episode 0027)

Cartoon
B for butterfly
(First: Episode 0006)

Film
Michael introduces his friend to the Afro-Brazilian martial art Capoeira.
(EKA: Episode 2752)

Cartoon
An apple, an orange, and a pear learn they can cooperate by rocking and rolling.
(EKA: Episode 0791)

SCENE 4
Bob visits Oscar to give a trumpet lesson to Fluffy. Oscar asks him to teach Fluffy just one single note, an F. Bob does so, fully preparing Fluffy to take part in the band, Herb Elephant and the Yucatan Brass. More elephant trunks emerge from the can and play the "Mexican Hat Dance," with Fluffy providing the final note.

Film
Kids play bongo drums loud and soft.
(EKA: Episode 2862)

Cartoon
Shorty reaches a water fountain with a stool.
(EKA: Episode 0984)

Muppets / Cast
Maria and Cookie Monster sing the "Computer Song" as they count digital cookies.
(EKA: Episode 2742)

Animation
Five ghosts carry the number 5 into a haunted house.
Artist: Ishu Patel
(EKA: Episode 2255)

SCENE 5
Bob gives the kids a violin lesson and sings "Practice, Practice."

Cartoon
A duckling dresses itself, naming all the parts of its coat.
Artist: Cathryn Aison
(First: Episode 1195)

Film
A piece of construction equipment and a giraffe are shown side-by-side.
(EKA: Episode 1931)

Cartoon
A mother and child make juice popsicles.
Artist: Cathryn Aison
(First: Episode 1193)

Muppets
Kermit the Frog sings "It's Alive."
(First: Episode 2029)

Cartoon
Sign Man: DIRTY
(EKA: Episode 1121)

SCENE 6
Telly arrives at Bob's for his music lesson. He plays his tuba piece without any mistakes, though the Grouches boo from down below. The other Grouches turn on Oscar for making them listen to such well-produced music.

Cartoon
Sand "Y"
(EKA: Episode 0871)

Song
Luis sings "Follow the Arrows" as a man does so.
(First: Episode 1642)

Celebrity
Itzhak Perlman and a girl demonstrate their strengths and weaknesses.
(EKA: Episode 1563)

Cartoon
Willie Wimple went a-boatin' and polluted the river.
Artist: Abe Levitow
(EKA: Episode 0857)

Muppets
"Five People in My Family"
(First: Episode 0008)

Animation
The number 5
(EKA: Episode 2486)

SCENE 7
Bob is pooped from all his music lessons today. Oscar invites him to watch his music lesson session, as Slimey teaches him to play the sousaphone.
Notes
This episode was taped on October 9, 1991.
The episode's plotline is a direct remake of Episode 1736, originally written by Tony Geiss. This episode's script was adapted by Judy Freudberg.