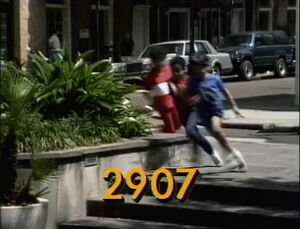 Picture
Segment
Description

SCENE 1
Mr. Handford greets the viewer in the midst of an argument with an Anything Muppet delivery person. She has delivered a box with three bongos, but Mr. Handford claims to have only ordered two. The delivery asserts her stance that there wasn't a mistake and won't take the extra bongo back; she's in the delivery business, not picking up business.




SCENE 1 cont'd
Mr. Handford tries calling the store to send someone to pick up the extra bongo, when Gordon and Luis purchase two of them. He sees that they're a hot item and decides order seven more instead. The delivery AM returns, this time to take back the extra bongo (she's taken on a second job).

Cartoon
Fruta Manzana sings about keeping the place clean by throwing away fruit peels and apple cores.
Artist: Don Duga and Irra Verbitsky
(First: Episode 1485)

Muppets
Beat the Time: Elmo must bring in three items that start with "SN" within thirty seconds. They turn out to be a man's snack of nuts and raisins, a sneaker (worn by Telly Monster), and finally, the massive Mr. Snuffleupagus! As his prize, he is given a snowman wearing a snorkel.
(First: Episode 2610)
Film
Flamingos walk around to classical music. (with child voice-overs)
(First: Episode 2498)

Animation
Number creatures #19
(First: Episode 2718)

SCENE 2
The delivery AM has now brought Mr. Handford thirteen bongos instead of just seven. He decides to temporary close the store and take the extra ones back to Bongo City himself. This reminds the AM that it's lunchtime and she orders a sandwich and since he's going the same way, asks him to deliver it to the store.

Muppets
Grover, on a surfboard, demonstrates near and far.
(First: Episode 2859)

Cartoon
An alien lands on Earth, looking for a Z to eat. He snatches one off a policeman's uniform, eats it, and rests.
(First: Episode 1481)

Muppets
Over the Top, a ZZ Top-like band, sings "ZZ Blues."
(First: Episode 2317)

Film
Looking for circles in the city (Maria voice-over)
(First: Episode 2711)

Cartoon
A letter for "me"
(First: Episode 0781)

Muppets
Whoopi Goldberg talks with Hoots the Owl about how proud they are of their body parts.
(First: Episode 2835)

Animation
Slide puzzle - elephant
(First: Episode 0389)

SCENE 3
Polly Darton, with her Git Along Little Doggies, sings "Here and There" as she is separated from her cowpoke lover.

Cartoon
A man explains that the letter E begins both Enter and Exit. Another man named Roy runs through the doors.
(First: Episode 0406)

Muppets
Sesame Street News Flash
The hare challenges The Tortoise to a rematch: this time, the Tortoise comes equipped with a jet-pack.
(First: Episode 2690)

Cartoon
Lazy Wanda's knees converse with each other.
Artist: Bruce Cayard
(First: Episode 1075)

Film
A group of kids pick apples in an orchard, and take them into the cider mill to make apple cider.
(First: Episode 1585)

Cartoon
A postal worker tells the viewer what the post office is good for.
Artist: Cliff Roberts
(First: Episode 0783)

Cast
Ask Oscar
A grumpy Linda substitutes for Oscar.
(First: Episode 2316)

Film
Kids play in the snow.
Music: Joe Raposo
(First: Episode 0292)

Muppets
Ernie & Bert — Ernie has a licorice whip that he offers to share with Bert. He divides it in half with a pair of scissors, but then discovers that Bert's half is longer than his. He cuts off a little bit of Bert's half, and eats it. Then he discovers that his own half is longer than Bert's, and that's not fair, so he cuts a bit off of his own, and eats it. Ernie goes back and forth, cutting off more and more, until the licorice whip is gone.
(First: Episode 0461)

Cartoon
The alphabet is presented in a chain reaction of events.
(First: Episode 1113)

Song
"Reach Your Hand Up High"
(First: Episode 2702)

Cartoon
A man saws a letter E through the wall.
(First: Episode 0370)

SCENE 4
Maria sees that Luis has bought the bongos for Gabi, hoping with practice, she can become great at playing them.

Animation
A kerosene lamp assembles itself in stop-motion.
(First: Episode 1473)

Cartoon
Colonel Travel takes the viewer on a tour of England.
(First: Episode 2763)

Muppets
Phil Harmonic hosts another evening at the Nestropolitan Opera, featuring a performance by Placido Flamingo, "The Dentist of Seville."
(First: Episode 2789)

Cartoon
Snacks on Parade: Peanut Butter
Artist: Bruce Cayard
(First: Episode 1301)

Muppets
A group of female Anything Muppets sing about the many things "Women Can Be."
(First: Episode 0773)

Animation
Abstract count to 19
(First: Episode 2827)




SCENE 5
Maria has been listening to Luis and Gabi practice in the back room for so long, she speaks and works in the same rhythm as the playing. She can't concentrate with the music and asks Luis to stop. He reports that Gabi is playing all on her own. Maria goes in to see, but she stops as soon as her mother enters. This happens again and again, as Polly Darton announces the sponsors.
Community content is available under
CC-BY-SA
unless otherwise noted.