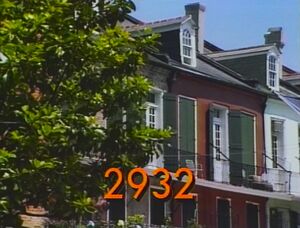 Picture
Segment
Description

SCENE 1
Telly wears a dashiki like his friend Amir, who teaches Telly and Luis how to welcome the viewer in Swahili ("Jambo!").

Cartoon
A map of Africa morphs into the shape of animals that are found there.
Artist: Fred Garbers
(First: Episode 2627)

Song
14 Karat Soul sings "Hand Talk."
(First: Episode 2622)

Muppets
Muppet & Kid Moment — Grover instructs Caroline to read the word you, and acts crazy when she keeps telling him to read it.
(First: Episode 2730)

Animation
Amelia likes to pretend she can fly.
(First: Episode 2902)

Animation
Rubber Stamp #12

Muppets
Clementine plays a game with the viewer to see if they can guess what Forgetful Jones is riding on.
(First: Episode 2218)

Animation
G/g musical notes (Gordon voiceover)
(First: Episode 2233)

Celebrity
Carly Simon sings "Be With Me" with Telly and some kids.
(First: Episode 2039)

Cartoon
A wizard turns into R things.
(First: Episode 0369)

Film
Two kids play drums as animated kid-drawn figures clap with the beat.
(First: Episode 2847)

Muppets
Stuie Monster and the Aristocrats sing "Fur".
(First: Episode 0812)

Animation
Two small stripes watch as two circles play with each other. The stripes try to bend themselves into circles, but soon find that they can both cooperate to make one big circle.
(First: Episode 0762)

Cartoon
"Animal Elevator": 10-1 (subtraction)
(First: Episode 2523)

Muppets
The Martians discover a radio. They tune into three different styles of music, none of which they like. Then they tune into some static, which they start joyfully dancing to.
(First: Episode 1329)

Cartoon
"Ladybugs' Picnic"
(First: Episode 0416)

SCENE 2
Prairie Dawn holds up the phone for Snuffy while he calls his mommy to ask if Prairie can come home with him for lunch and stay the afternoon. Mommy Snuffle says it's okay, and prepares another Snuffleupagus-size bowl of spaghetti ...

Cartoon
A detective decides to exercise on a slow day, as a crook attempts to get rid of him.
(First: Episode 2607)

Film
Storks fly around and dance in their nest as flamenco music plays.
(First: Episode 2862)

Cartoon
A man learns that it's better not to pick the flowers.
(First: Episode 0416)




Muppets
Mac TV host Old MacDonald introduces the newest music video, "A New Way to Walk" performed by The Oinker Sisters.
(First: Episode 2268)

Cartoon
A little girl tries to figure out why a dog is crying.
(First: Episode 0862)




SCENE 3
Mommy Snuffle expected Snuffy's friend to be another Snuffleupagus, not a little girl. Snuffy assures his mommy that Prairie is "good at everything," and to prove it, Prairie surprises them both by slurping up the entire bowl of spaghetti within seconds!

Cartoon
Name That Food ("Will you eat it?")
(First: Episode 1491)




Insert
Hoots introduces Biff and Sully and the Hard Hats (including Stella), who perform "This Song Is for the Birds."
(First: Episode 2874)

Cartoon
A goose and gander visit the land of the G's.
Artist: Jeff Hale
(First: Episode 1141)

Film
Two Navajo kids go to school in Arizona. This year, Dante enters pre-school.
(First: Episode 2680)

SCENE 4
While Snuffy takes his nap, Prairie finishes cleaning up the kitchen, and would like to have her own nap. She finds out that they don't have any blankets (Snuffleupaguses use their fur to keep warm), but she thinks Snuffy's wool hat will do just fine for someone her size.

Song
Joe Raposo sings "Everybody Sleeps."
(First: Episode 0406)
Edit: the shot of a man nodding off and falling out of a chair is replaced with a shot of astronauts on a space shuttle; the audio is also patched up in that area.

Cartoon
A gorilla applies for a job at the Gerfner Employment Agency.
(First: Episode 0131)

Muppets
"Just Around the Corner"
(First: Episode 1036)

Cartoon
A red man tries to get apples from a tree by himself, while a yellow man builds a ladder.
(First: Episode 0779)

SCENE 5
Prairie plays the piano while Snuffy sings a "guessing game" song he wrote about her.

Cartoon
A supermarket worker stacks 12 cans, which keep collapsing every time someone grabs one.
(First: Episode 0782)

Muppets
The Two-Headed Monster sounds out the word "Spin" and watch it spin around, getting dizzy in the process.
(First: Episode 2595)

Song
Joe Raposo sings "Little Things".
re-filmed version
(First: Episode 2485)

Cartoon
A small man and a big heavy man observe an imbalance on the seesaw ...
(First: Episode 1121)

Muppets
Lefty's boss makes sure Lefty knows the alphabet.
(First: Episode 0236)

Film
Ornate Rs fly through the sky to a song.
Artist: Jane Aaron

Animation
30 dots #1
(First: Episode 0001)

SCENE 6
Prairie beats Mommy Snuffle in another game of checkers, while Snuffy announces the sponsors.