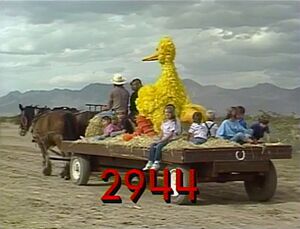 Picture
Segment
Description




SCENE 1
Gordon, Big Bird and the kids play "Find Elmo on the Map." Using a map of the street, they find Elmo hiding in the tree in front of 123.

Cartoon
Rubber Stamp #11
(First: Episode 2885)

Song
"Starfish" by Joe Raposo.
(re-filmed version)
(First: Episode 2487)

Cartoon
In the forest, a small tree feels insignificant, until a mother bird gives him a pep talk.
(First: Episode 1872)




Muppets
The Count reads some kids a poem about "The Countess Who Lived in the Woods." She is visited by cold, needy animals, all of whom she helps out by giving them the things she was about to count.

Cartoon
Rap #11
(First: Episode 2531)

Film
Some kids watch a silent film featuring a lady in a burning house. They instruct her to "go to the EXIT!"
(First: Episode 0536)

Cartoon
A honking orange ball follows signs to the EXIT.
(First: Episode 1879)

Muppets
"The Zizzy Zoomers"
(First: Episode 0359)

Cartoon
Z for Zebu
Artist: Bud Luckey
(First: Episode 1185)




SCENE 2
Elmo poses a question to the viewer: which glass has has the most juice - the tall or short one? In a flashback, Linda pours each glass separately using a measuring cup, showing they have the same amount. In the present, Elmo poses the same question to Snuffy, who has his own method of figuring it out - drinking from one glass, thus making the other one the most full.

Animation
T for toothbrush and toothpaste
(First: Episode 2811)

Film
A class goes on a field trip to Prospect Park, where Ranger Roseanne gives them a tour.

Muppets
Muppet and Kid Moments: Grover and Karlena talk about the word "love" on a sign.
(First: Episode 2392)

Cartoon
La letra T es para tigre, tomate, taxi, toro, telefono, televisión, y el terrible tiburon.
(First: Episode 0351)

Film
With their teacher, kids play clapping and dancing games about the rhythm in their names.
(First: Episode 1735)

SCENE 3
Bob, Elmo and the kids try to guess Linda's favorite food as she mimics making it (pizza).

Cartoon
Sign Man: BINGO
(First: Episode 1171)

Song
"Off to School"

Cartoon
At the circus, Tommy Trueheart displays his 11 trick-performing lions.
(First: Episode 0816)

SCENE 4
Shelly the Turtle, Natasha and Gordon demonstrate fast and slow.

Cartoon
The rabbit and the turtle race to the top of a building. The rabbit goes up 40 steps, but the turtle takes the elevator.
(First: Episode 2258)

Film
A man makes a shadow puppet of a dog.
(First: Episode 0601)

Cartoon
The Ringmaster displays 11 purple pooches. (new sound effects added)
Artist: Jeff Hale
(First: Episode 1347)

Celebrity
Maria and the kids visit Herbie Hancock's studio, where he demonstrates how to make electronic music.
(EKA: Episode 2037)

Cartoon
An alien lands on Earth, looking for a Z to eat. He snatches one off a policeman's uniform, eats it, and rests.
(First: Episode 1481)

Muppets
Ernie & Bert — Ernie can't sleep, so Bert tells him to count sheep. Ernie tries to count sheep, but it's dull -- so he starts counting fire engines. The noise from the imaginary fire engine wakes Bert up. Bert says that Ernie's waking up the whole neighborhood, and tells him to count something quieter. Ernie counts balloons -- but the balloon gets bigger and bigger, finally bursting with a huge explosion that wakes Bert up again.
(First: Episode 0276)

Cartoon
Snacks On Parade: The Raisin
Artist: Bruce Cayard
(First: Episode 1171)

SCENE 5
Gordon struggles getting Natasha to take her nap. Snuffy offers to help by rocking her to sleep on his snuffle.

Cartoon
"Signing Alphabet," an animated film by Steve Finkin. Music for voice and electronics by Joan La Barbara.
(First: Episode 1056)




Muppets
Spaceship Surprise
The crew lands on the Planet SH, where they are greeted by Sheriff Shrimp, and meet a shouting shovel and shopping sheep.
(First: Episode 2468)

Film
Island (in sped-up film, kids travel to an island)
(First: Episode 2731)

Cartoon
Three scribbles exercise.
Artist: Fred Garbers
(First: Episode 1579)

SCENE 6
Natasha is sound asleep on Snuffy's snuffle. Gordon announces the sponsors with a whisper.
Community content is available under
CC-BY-SA
unless otherwise noted.