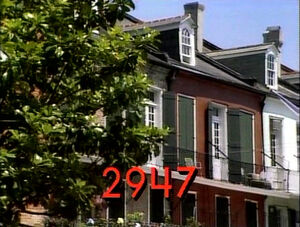 Picture
Segment
Description




SCENE 1
Mr. Handford comes outside and sits down with the Count, who is counting all the reasons he's happy:
1) He has 179 cornflakes in his bowl,
2) he hears birds, and
3) the viewer is here.

Animation
Three pretty kitties live in a celery house.
Artist: Evelyn Lambart
(First: Episode 1663)

Muppets
Phil Harmonic introduces Ernie and Placido Flamingo, who sing "Up and Down Opera" to demonstrate up and down.
(First: Episode 2440)

Cartoon
Actor demonstrates anger towards casting director - literally!
(First: Episode 2061)

Film
Two girls walk on an island together, and a map of the island is shown.
(First: Episode 2650)

Cartoon
zip, zoom, zoom, zig, zag, zany, zoo.
(First: Episode 0359)

Animation
A ball looks for its match on a brick wall.
(First: Episode 1470)

Cartoon
A stop-motion-animated train runs out of track.
(First: Episode 1447)

Muppets / Celebrity
Basketball player Isiah Thomas shows Elmo and Jesse how to dribble a ball, and Elmo asks Isaiah to dribble him.
(First: Episode 2877)

Cartoon
"Animal Elevator" (1-10)
(First: Episode 2530)

Muppets
Waiter Grover: Mr. Johnson wants to order a couple of poached eggs on toast, but Grover informs him that the restaurant is out of eggs, so he brings two corn cobs on toast to him. Grover gives a lecture on where eggs come from, by bringing a cornstalk, chicken feed, and a chicken to the table.
(First: Episode 2724)




Film
Number Three Ball Film: A red ball follows a rollercoaster-like track through checkpoints (each, a set of three) that are counted in voiceover. At the end, the ball turns into a cherry which is devoured by a girl.
(First: Episode 0744)

Cartoon
R for rhinoceros, raquet, robot
(First: Episode 2443)

Cast
Big Bird watches the shape dancers make a triangle.
(First: Episode 1265)

Animation
Cecille sings "I Wanna Be Me."
(First: Episode 2791)

SCENE 2
Big Bird and Snuffy play "This Little Piggy" with Big Bird's toes, and realize he has an extra "little piggy." Big Bird says that "little piggy" was on "Squeal of Fortune."




Muppets
Prairie Dawn and The Count are contestants on "Squeal of Fortune."
(First: Episode 2331)

Cartoon
A red armless character is stalked by the letter Z until he eats it.
(First: Episode 1340)

Film
Orangutans playing (piano music)
(First: Episode 2486)

Cartoon
R for Rhinoceros (poem)
Artist: Jeff Hale
(First: Episode 1151)

Film
A boy who lives in Alaska narrates a film of himself going ice-fishing with his grandfather and sister.
(First: Episode 2375)

Cartoon
Geometry of Circles #1 "Circle with Flower"
(First: Episode 1393)




SCENE 3
At Bob's apartment, Herry Monster tries to think of what to play with Daniel and Marcus. Bob sits Daniel down at the piano so he can play "Twinkle, Twinkle, Little Star." Next, Marcus sits at the piano and plays Bach's "Minuet in G Major."

SCENE 3
cont'd
When it's Herry's turn, he lifts the piano instead of playing it.

Cartoon
Z for zigzag, zero, zoo, and zebra
(First: Episode 1763)

Muppets
Hoots plays jazz in a park, accompanied by Chip and Dip. They are encountered by Mary, who wants them to play a new version of her nursery rhyme, which involves another lamb.
(First: Episode 2839)

Cartoon
The story of sheep, or where wool comes from.
Artist: Bruce Cayard
(First: Episode 1524)

Film
A girl narrates a segment about nature through winter and spring.
(First: Episode 1966)

Muppets
Muppet & Kid Moment — Forgetful Jones asks Daniela to read his sign, which she does.
(First: Episode 2031)

Cartoon
Two orange balls perform "Twinkle Twinkle Little Star."
Artist: Fred Garbers
(First: Episode 2160)

SCENE 4
Bob plays a "Three of These Things" game with the gang, using a grapefruit, a baseball, an orange, and a milk carton. Daniel, even though he's blind, formulates that the milk carton is different because of shape, and Marcus points out that the baseball is not consumable, unlike the other three.

Cartoon
Hortense counts 3 peas.
Artist: Michael Sporn
(First: Episode 2519)

Muppets
Ernie & Bert — Ernie wants to go outside and play catch, but Bert gets him interested in watching his goldfish.
(First: Episode 1422)

Cartoon
Men in boxes sound out the word RUN.
(First: Episode 0369)

Song
"Body Dance" (MC Lyte)
(First: Episode 2816)
Cartoon
Shorty reaches a water fountain with a stool.
(First: Episode 0954)

Muppets
The Two-Headed Monster reads the sign atop a miniature school building, and observes a small group of children that run out of it. Once they've left, the monster picks up the now empty building, and declares, "School's out!"
(First: Episode 1907)

Cartoon
Gerald's dog, Sparky, likes to pretend he's an alligator.
(First: Episode 1519)




SCENE 5
Bob starts to relax after the kids leave, but Big Bird comes by, insisting over and over again that he won't bother Bob because he needs his rest, until Bob gives in and plays the piano with Big Bird. Herry announces the sponsors.
Community content is available under
CC-BY-SA
unless otherwise noted.