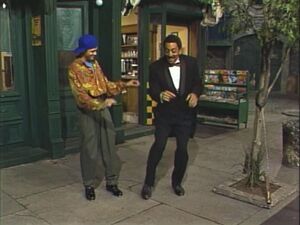 Picture
Segment
Description




SCENE 1
Mumford watches Savion tap dance as he prepares for his latest trick. He wants to tap dance, but doesn't want to go through the years of practice. With a "A la peanut butter sandwiches - shuffle shuffle step!," everyone but Mumford starts dancing and can't stop. Mumford goes consults his magic book.

Cartoon
A caterpillar sings "Exercise, Exercise."
Artist: ArtistMike
(First: Episode 2839)

Muppets
Monsterpiece Theater: The Taming of the Shoe
"Grovero" is accompanied by a talking shoe, whom he convinces to cooperate with him and help him get to the Padua Mall.
(First: Episode 2587)

Film
"Box City Recycling Rap"
Kids sing a rap song about recycling. They build a city out of boxes and cartons.
(First: Episode 2851)

Animation
Planet Q / q
(First: Episode 2838)




SCENE 2
Everyone is still dancing, so Gina decides to call a magician on the phone. She finds "Gregory the Great" in the phone book and Gordon summons him with the magic words - "A la sweet potato pie - house call!" Gregory the Great (Gregory Hines) appears...in his bathtub. He says he'll help as soon as someone gets him a towel.

Muppets
Baby Tooth and the Fuzzy Funk: "Make Waves"
Part 1

Film
A girl narrates a film of herself taking care of her horse, Strawberry.
(First: Episode 2641)

Muppets
Baby Tooth and the Fuzzy Funk: "Make Waves"
Part 2

Cartoon
Slot-machine legs: Cowboy & horse
(First: Episode 1702)

Muppets
Baby Tooth and the Fuzzy Funk: "Make Waves"
Part 3

Song
"There's a Lot of Different Ways to Get to School" (sung by Jerry Nelson)
(First: Episode 2751)

Muppets
Baby Tooth and the Fuzzy Funk: "Make Waves"
Part 4

Song
Ornate E's go easing by to a song.
(First: Episode 2937)

SCENE 3
Gregory states he and Mumford were friends at magic school and shows off his wand - a comb. He tries reversing the spell, causing everyone to stop dancing. But now, Gregory can't stop dancing.

Cartoon
Hypnotic "Q" rainbow
(First: Episode 0440)

Muppets
Cookie Monster sings "Healthy Food."
(First: Episode 2404)

Cartoon
"Name That Food" game show hosted by Don Carrot
Artist: Len Glasser
(First: Episode 1491)

Film
Two kids play drums as animated kid-drawn figures clap with the beat.
(First: Episode 2847)

Cartoon
The Four Squares sing "It's Hip To Be a Square."
Artists: Vincent Cafarelli & Candy Kugel
(First: Episode 2615)

SCENE 4
Big Bird suggests Gregory use a spell to make himself stop or get another magician to fix it. Gregory won't do either; he likes tap dancing, so he doesn't mind.

Song
"Dancin' Shoes"

Animation
Writing utensils form the upper and lowercase letter E.
(First: Episode 2880)

Film
Kids draw a map of their neighborhood, and then learn how maps are really made.
(First: Episode 2760)

Cartoon
Q/q (balloons)
(First: Episode 2241)

Muppets
Count von Count sings "Lambaba" as he counts sheep and other animals that pop into the room.
(First: Episode 2789)

Cartoon
Household appliances count 1-10 and 10-0.
(First: Episode 2840)

SCENE 5
Savion wants to learn some steps from Gregory, but he's too tried. He tries stopping himself with magic, but it doesn't work. Flo Bear appears, saying nothing's as powerful as the written word. She writes the word "STOP" and Gregory stops! After a break, he shows Savion some steps.

Film
The Count (in voiceover) subtracts from five to one to zero children on a park bench.
(First: Episode 2923)

Cartoon
A cat desperately tries to open a can of cat food by himself while his mistress is on the phone.
Artist: Dan Haskett
(First: Episode 2151)

Muppets
"African Alphabet Song"
(First: Episode 2360)

Cartoon
"Water Conservation": Frank the fish calls Carl and tells him not to leave the water running while brushing his teeth, otherwise the lake will be dry.
Artist: Peter Chung
(First: Episode 2689)

Film
Five girls play a clapping game.
(First: Episode 2763)

Muppets
Ernie & Bert — On the deck of The Love Boat, a uniformed Ernie expresses how much he loves this boat. "Ernest" shares his love with Amanda, a grumpy patron, a fish, and soon several passengers who join them in their love for this boat.
(First: Episode 1958)

Animation
Cecille sings "Up Down, In Out, Over and Under."
(First: Episode 2746)

SCENE 6
Savion and Gregory do the "Opposite Dance," tap-dancing in opposite ways.

Animation
Luxo Jr.: Heavy and light
(First: Episode 2860)

Muppets / Celebrity
Grover sings "Monster in the Mirror" assisted by several celebrities, including The Simpsons, Whoopi Goldberg, and Ray Charles.
(First: Episode 2835)

Cartoon
I Love You, in American Sign Language
Artist: Steve Finkin
(First: Episode 1170)

Film
Feet wearing all different types of shoes dance.
(First: Episode 2601)




SCENE 7
Mumford returns and sees everyone's not under the spell anymore. He decides to learn from Savion, one step at a time. Flo Bear announces the sponsors.
Notes