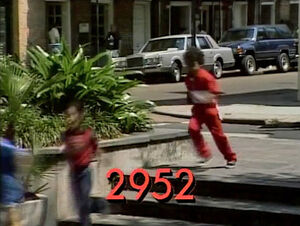 Picture
Segment
Description




COLD OPEN
Gina is approached by a man waiting for his student to arrive. He introduces himself as Professor Huggins (played by an on-screen Jerry Nelson), of the Professor Huggins Traveling School of Nice, where he teaches his students how to be nice. Grundgetta, his student, finally arrives. She explains it's Oscar's birthday today and she's going to surprise him by acting nice, which will make him angry ("The perfect gift for the Grouch who has everything."). He starts off the lesson with some nice music for them to listen to...the Sesame Street Theme. Grundgetta runs off in agony.

Muppets
The Hispanic community of Anything Muppets sings "It Sure is Hot!"
(First: Episode 2601)

Cartoon
L for Lion (poem)
Artist: Jeff Hale
(First: Episode 1149)

Film
Footage of a baby learning to walk.
Music: Joe Raposo
(First: Episode 0427)




Muppets
Spaceship Surprise
The crew lands on the Planet TR, where they are greeted by Trevor Trout.
(First: Episode 2607)

Cartoon
Two monkeys argue over what to watch on TV, growing bigger the angrier they get.
(First: Episode 0762)

SCENE 1
Professor Huggins catches up with Grundgetta and they begin the lesson. He hands her a broken wheel and a stuffed animal, then sets out some more stuffed animals and sings a musical matching game. Grundgetta successfully matches the animals together, but runs off again when she has to cuddle them all. Huggins decides it's time for recess.

Cartoon
A mouse riding an armadillo sings a song about 13, his lucky number.
(First: Episode 2828)

Muppets
Caveperson Days
Caveman Bert reminds Caveman Ernie (his son) to take out the trash. Ernie realizes that his drum can also be used as a wastebasket, and is able to take several pieces of garbage to the dump at once instead of one at a time.
(First: Episode 2667)

Song
A piece of land with water all around it is an "Island."
Artist: Jane Aaron
(First: Episode 2760)

Cartoon
"Why Bears Smile" - a story of a bear who learned which body part to cover when sneezing.
Artist: Bruce Cayard
(First: Episode 1109)

SCENE 2
Professor Huggins admits he cannot help Grundgetta; she's a Grouch and he can't change who she really is. But, she can pretend to be nice. He sings her a song with words most nice people use - "How Do You Do, Excuse Me, Thank You, Please." Grundgetta thinks she's got it, though uses the word "please" accidentally.

Cartoon
The Typewriter: W, Wall
(First: Episode 0790)




Muppets
Guy Smiley hosts "What's My Part?" The contestants are Bennett Snerf, Arlene Frantic and Professor Hastings, and the mystery part is a foot.
(First: Episode 0164)

Cartoon
Speech Balloon: L for Light
(First: Episode 0147)

Song
"Pig's Love Song" (live-action version)
(First: Episode 0572)

Insert
Elmo explores Sesame Street, and observes Susan as she grades test papers.
(First: Episode 2285)

Cartoon
Rap #13
(First: Episode 2547)

Muppets
Phil Harmonic hosts another evening at the Nestropolitan Opera, featuring a performance by Placido Flamingo, "The Telephone of Brazil," to the tune of "Funiculì, Funiculà."
(First: Episode 2457)

Film
Ornate Ws spin around in accompaniment to a song.

Film
"Visiting Iesha": Olivia sleeps over at Iesha's house, and spend the morning together. Olivia is white and Iesha and her family is black. Next time, Iesha wants to visit Olivia's family.
(First: Episode 2756)

Cartoon
Apple: a riddle
(First: Episode 2889)

SCENE 3
Mr. Handford is shocked to see Hooper's Store in such a messy condition under Gina's watch. She tells him that Oscar's surprise party is going to be held there, billed as a "Come as a Grouch" party. They both practice acting grouchy.

Cartoon
W for Wash
(First: Episode 0485)

Muppets
The Two-Headed Monster is in a disagreement about where to go for vacation: the mountains or the seashore. Cookie Monster says he likes both, better than going to Cucamonga for the National Cookie Convention. 2-Head gets inspired, and heads off for Cucamonga, leaving Cookie to choose between the mountains and the seashore.
(First: Episode 2837)

Film
Some kids learn how to use Logo, a computer programming language, to draw shapes on computers.
(First: Episode 1968)

Cartoon
With the help of his assistant, Dr. Geo shows the viewer what a globe is.
(First: Episode 2836)

Muppets
Story: "The Geefle and the Gonk"
The Geefle and the Gonk, two aliens, learn how to cooperate and gather nectarines together.
(First: Episode 0452)

Cartoon
Zork lands on the coast of California, where he meets a slick agent.
Artist: ArtistMike
(First: Episode 2687)

Song
"Conga Counting Song"
(First: Episode 2778)




SCENE 4
Mr. Handford invites Oscar to the store to collect some trash as a cover for getting him to the party. Grundgetta shows up in a nice dress and does some last minute reviewing with Professor Huggins. Bruno brings Oscar to the store and he's definitely surprised (though he hates surprises and parties). He's taken aback by Grundgetta when she speaks so kindly to him.
See also