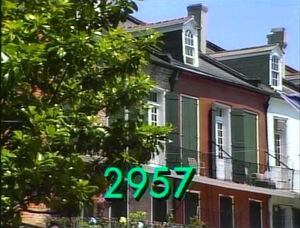 Picture
Segment
Description




SCENE 1
Hoots the Owl welcomes the viewer from the rooftop at night. Telly and Maria arrive, as Telly wants to meet a magical being known as "Radish Dude." He describes him, based on the story of "Izzy Monster and the Radish Dude": Izzy waits on the roof at night when Radish Dude appears. He gives Izzy a radish, which can grant his wish for a pony. Telly hopes Radish Dude can give him his wish of being able to whistle, but realizes he's forgotten some things he needs. Maria leaves to put Gabi to bed.

Cartoon
Bus Stop
(First: Episode 1396)

Muppets
A group of Anything Muppets sing about a "Bus Stop" sign.
(First: Episode 0978)

Cartoon
A story about an ape and a bird, using the letter A.
(First: Episode 0158)

Muppets / Celebrity
Robin Williams and a robin observe how similar they are. Afterwards, the robin sings "Lullaby of Birdland".
(First: Episode 2848)

Cartoon
3 song (butterflies, birthday presents, waving pennants etc.)
(First: Episode 0927)

Film
Some kids talk about a garden they have in the middle of the city.
(First: Episode 2889)




SCENE 2
Telly has set up the roof with balloons, a banner and a bowl of lettuce with thousand-island dressing. He imagines Radish Dude arriving in his worm-pulled wheelbarrow and instantly giving Telly the power to whistle. Telly also recalls Radish Dude likes jazz and has Hoots start playing his saxophone.

Song
"At the Coastline" (Beach Boys style)
(First: Episode 2792)

Muppets
The Two-Headed Monster finds a TELEPHONE, and reads the word.
(First: Episode 1569)

Cartoon
A man assembles the word LOVE, and a bird pecks the O into the shape of a heart.
(First: Episode 0791)

Film
A girl narrates a film about how things are recycled around the world.
(First: Episode 2913)

Animation
Sand W/w
(First: Episode 0641)

Muppets
Kermit shows what's inside of Herry Monster using the X-ray machine.
(First: Episode 1974)

Film
Body Part Shout-Out
Music: Joe Raposo
(First: Episode 0264)

Cartoon
Speech Balloon: W for water
(First: Episode 0062)

SCENE 3
Hoots takes a break from playing, but Telly doesn't want the music to stop. Hoots points him toward the hole in the brickwork, which is home to the Nightclub Bug, where...

SCENE 3 cont'd
A trio of bugs sing "Night Bug Boogie" for a group of jitterbugs.

SCENE 3 cont'd
After the song, Telly peers to the sky and asks aloud if Radish Dude heard the song.

Film
Children narrate footage of a termite colony.
(First: Episode 0408)

Muppets
The rainbow fish watches 3 seahorses race.
(First: Episode 2925)

Cartoon
Zork lands in Australia, where a kangaroo greets him.
Artist: ArtistMike
(First: Episode 2731)

Muppets
A little boy tells his grown-up friends to "Take My Hand" while they cross the street.
(First: Episode 1857)

Cartoon
A troll draws different faces on herself in front of a mirror.
(First: Episode 0800)

SCENE 4
Maria has a talk with Telly about reality vs. imagination, which Telly understands. He insists that Radish Dude is real, however.

Cartoon
A boy imagines his room turning into a jungle.
Artist: Karen Aqua
(First: Episode 2808)

Insert
Big Bird watches the shape dancers make a rectangle.
(First: Episode 1276)

Film
A boy takes dance lessons at The Alvin Ailey American Dance Theater.
(First: Episode 1716)

Cartoon
A for Acorn
(First: Episode 1626)

Muppets
Ernie & Bert — Ernie makes a clay bust of Bert, but runs out of clay for the nose, so he pulls Bert's nose off and puts it on the statue.
(First: Episode 0463)

Song
"At School," with animation bookended by live-action footage.
(First: Episode 2782)




SCENE 5
Telly has fallen asleep, so Maria sneaks a radish into his hand. He wakes up and assumes Radish Dude has visited. He tries whistling, but can't. Maria teaches him how and he learns he had the power to whistle, not Radish Dude. Telly thanks her and Hoots for their honesty and eats the radish.

Song
"Three Is My Favorite Number"
(First: Episode 0429)

Animation
A kid's father tells him what can be built out of the wheels and things he found. (Spanish version)
(First: Episode 0277)

Film
A girls' jump-rope team trains for a contest. They end up winning second place.
(First: Episode 2510)

Cartoon
An ostrich is born on a football field, and learns that he can't fly. He saves the game by scoring the winning touchdown.
(First: Episode 1870)

SCENE 6
As the sun rises, Hoots is ready for bed, but not before playing the Whistling Game with Telly. Hoots then plays the theme, with Telly whistling along and Maria announces the sponsors.
Notes