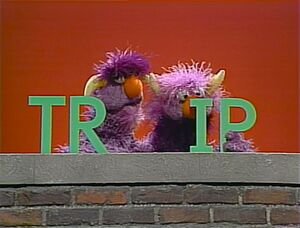 Picture
Segment
Description

SCENE 1
Elmo narrates scenes of Gabi being between Maria and Luis. He joins her between her parents out in the arbor and prepares to watch a between song...

Song
Jeff Redd sings "Between."
(First: Episode 2738)

Cartoon
Shooting stars form the letter I/i.
(First: Episode 2218)

Muppets
"Pond Full of Fish"
(First: Episode 2840)

Cartoon
A detective follows a path on the street which consists of a straight line, followed by dots. He finds out that the truck that paints the dividing road lines happens to sputter every few feet, which is where the dots come from.
(First: Episode 2248)

Film
Kids narrate what a bald eagle sees when it flies over islands.
Music: Joe Raposo
(First: Episode 0424)

SCENE 2
Lillian holds a false TV screen in front of her face, pretending to be a TV show. As she sings "The Alphabet Song," the kids adjust the volume.

Cartoon
An orchestra conductor asks "May I have an A, please?" at which point a giant letter A falls from the sky.
(First: Episode 0770)

Muppets
Phil Harmonic hosts another evening at the Nestropolitan Opera, featuring a performance by Placido Flamingo, "The Dentist of Seville".
(First: Episode 2789)

Cartoon
A man illustrates 'between' in various situations throughout his work day.
(First: Episode 0779)

Film
A man carves a wooden horse.
Music: Joe Raposo
(First: Episode 2209)

Cartoon
A man (voice of Richard Hunt) answers the TELEPHONE and gives it to the plant.
(First: Episode 1828)

SCENE 3
At Hooper's Store, Baby Bear awaits for an important phone call, when Goldilocks enters, wishing to use the phone. Gina claims it's a public phone, so she has the right to. As the two argue, the phone rings; it's Goldilocks' friend, who invites her to a party. She asks Baby Bear to join her and the two argue over how to get there.

Cartoon
The Bellhop must take Mrs. Stein's bags to floor 16.
(First: Episode 2496)

Muppets
Ernie & Bert — Bert tells Ernie not to open the locked door until he gets back from his shopping trip. After he leaves the apartment, however, he realizes he forgot his money, but no matter what he does, Ernie won't let him in the apartment because he thinks this is practice.
(First: Episode 1787)

Film
"Simple Pleasures" by Bobby McFerrin is played over footage of a girl trying to play frisbee with a dog on the beach.
(First: Episode 2876)

Cartoon
A boy and a dog fight over a letter "I."
(First: Episode 0143)

Film
Empty / full classroom (time-lapse)
(First: Episode 0415)

Muppets
Bo knows letters, counting, up/down, empty/full, near/far, COOKIES, and Bo Peep.
(First: Episode 2841)

Cartoon
CGI sheep graze out I and i.
(First: Episode 2896)

Muppets
As Telly wakes up in the morning, he sings "Shapes in My Room."
(First: Episode 2715)

Cartoon
A rolling circle becomes a square, then a triangle, and various other shapes.
(First: Episode 1465)

Cast
Savion plays a rhyming game with the viewer while tap-dancing.
(First: Episode 2859)

Cartoon
A man demonstrates up and down.
Artist: Al Jarnow
(First: Episode 0276)

Film
A girl and her friend David, a blacksmith, talk as he makes an iron wolf for his door.
(First: Episode 2276)

Animation
Sixteen TV sets are counted.
(First: Episode 2850)

Muppets
Betty Lou learns some Spanish words from her friend Carlos, including "Amigo."
(First: Episode 2042)

Cartoon
A report on homes around the world.
(First: Episode 1711)

SCENE 4
Linda learns to use the sander at the Fix-It Shop, but the loud noise drives Barkley crazy. Luis offers to take him for a walk, but the noise makes Barkley drag him all over.

Animation
Ornate Is swing through the air to a song.
(First: Episode 2921)

Cartoon
Mary Shaboom reluctantly moves to a new house, and muses about the consequences.
Artist: ArtistMike

Song
Joe Raposo asks the musical question, "Which Comes First, the Chicken or the Egg?"
(First: Episode 0276)

Animation
CH words (chop, choose, change, etc.)
(First: Episode 2893)

Muppets
Sesame Street News Flash
Kermit witnesses as Don Music tries to rewrite "Twinkle, Twinkle, Little Star." He succeeds and is joined by a country-western band, who sings "Whistle, Whistle, Little Bird."
(First: Episode 1210)

Song
Bob sings Joe Raposo's "Look a Little Closer." (dog)
(First: Episode 2677)

Cartoon
Something's missing ... is it a frog or a dog?
(First: Episode 2389)

Muppets
The Two-Headed Monster trips over the parts of the word TRIP.
(First: Episode 2721)

Animation
Rubber Stamp #16

SCENE 5
Lillian tries to announce the sponsors over the noise of Linda and her sander.