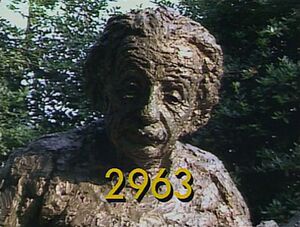 Picture
Segment
Description




SCENE 1
The Count counts Maria's spoonfuls of cereal as she eats her cereal while Elmo looks on. Elmo wants to count her spoonfuls too, but when Maria explains to him that he won't be able to "make kabooms", Elmo says he will find a way.

Video
Alphaquest - Letter D: dry dusty desert, drums, dance, dinosaur
(First: Episode 2723)

Muppets
News Flash: Kermit reports on the London Fog.
(First: Episode 2360)

Cartoon
Which legs belong on the man?
(First: Episode 1691)

Muppets
Muppet & Kid Moment — John-John and Herry Monster count to twenty.
(First: Episode 0441)

Cartoon
A girl explains the concept of relativity by explaining how her house is a part of a neighborhood, the neighborhood is part of a city, the city is part of a country, etc.
(First: Episode 2742)

SCENE 2
Gordon visits Rosita's hot chocolate stand, where she serves imaginary hot chocolate. When Gordon finally starts playing along correctly, we find that she is all out.

Film
Colored sand forms the letter B and a boat.
(First: Episode 2374)

Film
In a village in Africa, people catch fish and celebrate afterwards.
(First: Episode 2669)

Animation
OP words (Drop / stop / top / hop / pop)
(First: Episode 2886)

Muppets
"Street Garden Cooperation"
(First: Episode 1956)

Cartoon
Lady Marple-Bug solves "The Case of the Four Fliers" by identifying that the bird doesn't fit in amongst the group of butterflies.

SCENE 3
Elmo plans on hitting a cardboard box that he borrowed from Christopher with a wooden spoon to make the "kaboom", but just as he finishes counting, Christopher arrives stating that he needed the box after all, taking it away and leaving Elmo crestfallen.

Cartoon
A spoof of Alice Cooper's "Eighteen" - the number of sandwiches the singer has to choose from.
(First: Episode 2859)

Muppets
Super Grover: "Dial S for SuperGrover" - A little girl had plans to play with a friend, Bobby, but she has too much homework and has to cancel. Super Grover arrives to help her figure out how to tell him, but while Super Grover is busy coming up with ridiculous ploys, the girl decides to just telephone him.
(First: Episode 2745)

Cartoon
Wilma Wiggins makes the very best of a very silly situation by hiccoughing her way through an opera.
Artist: ArtistMike

Film
Two apples balance on a block seesaw.
(First: Episode 2176)

SCENE 4
Elmo enlists Frazzle to help him make "kaboom", but before he is able to, his mother calls him home for lunch.

Cartoon
Workmen construct a D building, filled with everything that begins with D.
(First: Episode 0406)

Film
Kids climb in and out of a tire.
Music: Joe Raposo
(First: Episode 0450)

Muppets
Mr. Johnson goes to Pizzeria Dos to get a piece of pizza, but comes to find that at this restaurant there is two of everything, including himself.
(First: Episode 2842)

Cartoon
Lillian is proud because she climbed a mountain all by herself.
Artist: Craig Bartlett
(First: Episode 2749)

Celebrity
Robin Williams demonstrates with his shoe how to tell if something is alive.
(First: Episode 2749)

Cartoon
"Part of the Whole"
Artist: Sally Cruikshank
(First: Episode 2714)

SCENE 5
Sherlock Hemlock helps Maria find a gear to a clock she was fixing, then goes off on a jolly bug hunt.

Cartoon
Letter B/b (bouncing circles)
(First: Episode 2222)

Muppets / Cast
"Singing in the Shower" - Olivia, Ernie, Oscar, and Big Bird sing about how they like to sing in their various modes of cleaning (shower, bathtub, mudbath, and birdbath respectively.)
(First: Episode 1834)

Cartoon
A boy builds a house out of blocks, and when the girl builds a Victorian house, the boy calls her a copycat.
(First: Episode 0780)

Film
"Operation Playground" Kids at a school come up with ideas for a new playground, and raise money for the effort. Together with their parents and other people from the neighborhood, they build the playground.
(First: Episode 2360)

Animation
A Navajo blanket is formed as tribal music plays.




SCENE 6
Elmo stacks up a bunch of objects and plans to knock them down to make the kaboom. Maria talks Elmo out of it, but he ends up making the kaboom anyway.

Animation
Growing Numbers #18
(First: Episode 2933)

Muppets
Muppets cheer on a rocket launch.
(First: Episode 0567)

Film
Stop-frame animation of a girl on a beach, reading a book containing pictures of various sea creatures that come to life as she comes to their pages.
(First: Episode 1434)

Video
A family prepares a picnic lunch in fast and slow motion with synthesized music in the background.
(First: Episode 2923)

Film
Colored sand forms the letter B and a buffalo.
(First: Episode 2427)




SCENE 7
Maria finally suggests that Elmo listen to a pre-recorded thunder clap for his kaboom with a walkman and headphones. Rosita announces the sponsors.
Notes