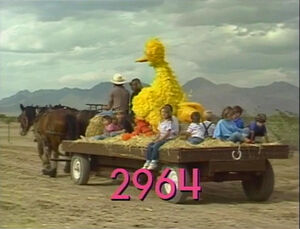 Picture
Segment
Description




SCENE 1
Polly Darton tells Susan and Rosita about a postcard she's received from her grandmother, Molly Darton. She's informed that Molly will visit her at Hooper's Store today. In anticipation, Polly sings "She'll Be Coming 'Round the Mountain," when she realizes the song doesn't accurately reflect city travel. She instead sings about Molly walking around tall buildings, riding the subway and getting caught in crosstown traffic.

Cartoon
A man talks about going to the city, without noticing he's walking right through it.
(First: Episode 0770)

Muppets
Sesame Street News Flash
Instead of a pea, this princess sleeps on things beginning with C.
(First: Episode 2527)

Film
Two Navajo kids go to school in Arizona. This year, Dante enters pre-school.
(First: Episode 2680)

Song
"Above and Below" (Christopher Cerf)
(First: Episode 2839)

Film
Footage of a coral reef, showcasing the plant life and the fish.
Music: Joe Raposo
(First: Episode 0466)

SCENE 2
Rosita wants Molly Darton to feel at home when she arrives and has the kids bring various farm items (vegetables, hay and a scarecrow) into Hooper's Store to decorate. Mr. Handford draws the line when she proposes some animals, only to realize it'll be the kids pretending they're animals.

Cartoon
Y for Yak
Artist: Jeff Hale
(First: Episode 1184)

Muppets
At the saloon, Clementine asks for Forgetful Jones to sing a song. Buster plays "What's the Name of That Song?" on the piano, and the crowd (including a cow) sings along, but Forgetful keeps asking what the name of the song is.
(First: Episode 1696)

Film
Kids have a lost-dog poster made using an old-style printing press.
(First: Episode 1222)

Cartoon
Rap #7
(First: Episode 2506)

Muppets
Ernie & Bert — Bert gets all dressed up for the Pigeon Lover's Party, but he looks so different that Ernie doesn't believe that it's him.
(First: Episode 1683)

Cartoon
A boy listens to his surroundings by the ocean, until his mom calls him for lunch.
(First: Episode 2053)

SCENE 3
Polly rehearses a country greeting for Molly with everyone. Molly Darton arrives moments later and they all welcome her with a "How-dee!"

Cartoon
A fan reveals the letter C.
(First: Episode 2746)

Film
Two boys working at the family Mexican restaurant show how they prepare for the day, and how tacos and enchiladas are made.
(First: Episode 1890)

Muppets
Four monsters, including Elmo, sing "We Are All Monsters". (redubbed version)
(First: Episode 2731)

Animation
Two seemingly identical machines - one black, one white - cooperate to make the sound of a choo-choo train.
(EKA: Episode 2843)




Cast
In a spoof of a famous Coke commercial, football player "Big Murray" (Gordon) accepts a number 7 from a young fan, whom he rewards with a towel that also has one on it.
(First: Episode 1535)

Song
"Garbageman's Blues Song"
(First: Episode 1875)

Cartoon
A caterpillar dances in ten socks.
(First: Episode 2246)

SCENE 4
While Polly runs out for awhile, Rosita tries to show Molly all the decorations they've made. Molly states that she doesn't want to be reminded of the country; she came to experience the city. She acknowledges the effort they took and kicks off a hoedown.

Film
Shapes vibrate as girls beat on their drums.
(EKA: Episode 2873)

Muppets
Monsterpiece Theater: "The Sun Also Rises"
(First: Episode 2860)

Cartoon
A shepherd plays hide-and-seek with his sheep.
Artist: Michael Sporn
(EKA: Episode 2274)

Film
Kids count 18 backflips.
Music: Joe Raposo
(First: Episode 0408)

Muppets
A diva sings the Alphabet Song while the stagehand instructs the gaffers to raise and lower the alphabet sign, but the diva thinks he's asking her to alter her singing voice.

Animation
A big paper clip and a small paper clip can hold papers together, and so can a small staple, with the help of its "mommy."
(First: Episode 2930)

Celebrity
Candice Bergen stops by the Fix-It Shop to check on her boombox, which Maria has just fixed. She tests it out with a cassette of "C is for Cookie," which she lip-syncs and dances to (complete with props).
(First: Episode 2710)
Cartoon
C is for Candle (the candle blows back)
(First: Episode 0703)

Film
Students prepare for a spelling bee.
(First: Episode 2208)

Cartoon
Two men go birdwatching, while one of them tries to alert the other about the closed bridge.
(First: Episode 1972)

Muppets
"Fat Cat"
(First: Episode 0536)

Cartoon
Dr. Annie Eyeball studies wet things which eventually become dry.
Artist: Bruce Cayard
(First: Episode 2613)

Film
Some kids have a bike race by the river.
(First: Episode 1419)

Cartoon
Y for yawn
(First: Episode 0301)

SCENE 5
Molly wonders what other city experiences she can have (aside from riding the subway or getting stuck in traffic). Rosita makes some suggestions, but they're all things she can do back in the country anyway. Mr. Handford points out one thing she can only do on Sesame Street - announce today's sponsors.
Community content is available under
CC-BY-SA
unless otherwise noted.