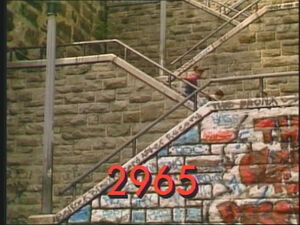 Picture
Segment
Description




SCENE 1
At Hooper's, Elmo wonders why Mr. Handford is playing with a toy fire truck. Mr. Handford explains, in song, that he used to have one when he was a kid, and it inspired him to be a firefighter.

Cartoon
Es un gato
(First: Episode 1966)

Muppets
Sesame Street News Flash
Old MacDonald opens a health resort for his animals.
(First: Episode 2688)

Animation
G/g musical notes (Gordon voiceover)
(First: Episode 2233)

Film
A boy makes fruit salad.
(First: Episode 1195)

Muppets
The Two-Headed Monster looks at different shapes.
(First: Episode 1629)

Cartoon
Fleas have fun in fur!
Artist: Bruce Cayard
(First: Episode 0630)




SCENE 2
Elmo tells Polly Darton about what Mr. Handford just told him. She sings a song about how ordinary sounds influenced her to make "Music."

Cartoon
A wizard walks through a door. A boy in pajamas tries to imitate him without success.
(First: Episode 1042)

Song
"Around and Around"
(First: Episode 2753)




Muppets
Game Show: Happiness Begins at 40
Guy Smiley gets the Sad Family out of their rut by having them count to 40.
(First: Episode 2467)

Cartoon
A bird watches as two monkeys climb above and below each other in a tree.

Film
Lobster fisherman
(First: Episode 0966)

Cartoon
The Alphabet Song (country, gospel, Mexican)
Artist: Paul Fierlinger
(First: Episode 1576)




SCENE 3
Elmo finds Gordon teaching Miles a simple experiment using a child's chemistry set. Gordon tells Elmo that his father took good care of him and taught him a lot, inspiring him to become a teacher and father one day. He sings a song ("Taking Care of You") over a flashback of himself learning from his father, him teaching his little sister and finally teaching Miles.

Cartoon
A ball goes up and down a musical staircase.
(First: Episode 2151)

Muppets
Fashion Report
Ernie gives a report on what the well-dressed trees are wearing each season.
(First: Episode 2417)

Cartoon
A gorilla names "G" words.
(First: Episode 1831)

Film
A boy narrates a film about how cheese is made.
(First: Episode 1124)

Cartoon
A bear (Jim Thurman) stacks 10 cans.
(First: Episode 1978)

SCENE 4
Gordon, Mr. Handford, Elmo and the kids discuss jobs. Elmo thinks he'd like to be a teacher one day and work at the same school with Gordon.

Cartoon
All the instruments in Sousaville love Mr. Tuba's music, but when he plays with them, he doesn't play the same music they're playing.
Artist: ArtistMike
(First: Episode 2829)
Muppets / Celebrity
"Pretty Great Performances" features Placido Flamingo singing "Italian Street Song" with the All-Animal Orchestra, led by conductor Seiji Ozawa
(First: Episode 2485)

Animation
Planet G / g
(First: Episode 2844)

Film
Kids talk about how many things they can do now that they're five years old.
(First: Episode 1403)

Cartoon
A chair displays the word SIT, and a beast sits on him.
(First: Episode 0399)

Muppets
Ernie & Bert — Ernie tries to use a scale to divide the cherries evenly, but he characteristically eats them all. Bert screams and faints.
(First: Episode 1386)

Cartoon
Pinball #10
Artist: Jeff Hale
(First: Episode 0990)

Insert
Big Bird and Snuffy sing a guessing game song about each other.
(First: Episode 2813)

Cartoon
A heart that says "I love you" is drawn.
(First: Episode 1971)

Muppets
Monsterpiece Theater: Twin Beaks
(First: Episode 2822)

Song
"Rollin' on the River"
(First: Episode 2783)

SCENE 5
Elmo tells Gordon that he hasn't settled on what he wants to be when he grows up, but he knows what he wants to be now - a little, red monster who likes playing games. He engages Gordon in a game of tag as the sponsors are announced.