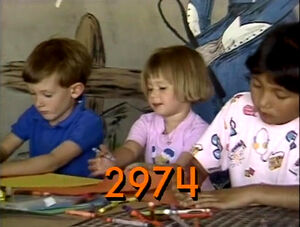 Picture
Segment
Description

COLD OPEN
Ruby demonstrates how a magnet works using a tin can. She wonders if it'll work on Oscar's trash can as well.

SCENE 1
Ruby bothers Oscar as she tries the magnet on his can - it works! He tells her to stop, then learns it's Snuffy's turn and he has a Snuffleupagus-sized magnet...

Cartoon
A girl inflates a balloon in the shape of an S.
(First: Episode 0414)

Song
Joe Raposo sings "Weaver Bird."
(First: Episode 0372)




Muppets
Dicky Tick hosts "Lifestyles of the Big and Little."
(First: Episode 2206)

Cartoon
A duckling dresses itself, naming all the parts of its coat.
Artist: Cathryn Aison
(First: Episode 1195)

Film
A CERRADO sign spins around. A girl tries opening the door, but it's closed.
(First: Episode 0937)

SCENE 2
Ruby and Ajara tie their magnet to a string and a stick and pretend it's a fishing pole. Ruby sings "Three of These Things" and they use the magnet to eliminate the item that doesn't belong.

Song
Joe Raposo sings "Little Things."
re-filmed version
(First: Episode 2485)

Cartoon
An orange ball tries to pet a green ball, which growls, scaring him away.
(First: Episode 2118)

Muppets / Celebrity
Elmo and Julia Roberts demonstrate fear.
(First: Episode 2790)

Film
A boy who lives in Arizona narrates a film of himself and his family, who travel through a canyon with their sheep to stay at their summer house.
(First: Episode 2678)

Cartoon
A horse falls apart into a jigsaw puzzle.
(First: Episode 0784)

Animation
Four butterflies fly across a film of a waterfall.
(First: Episode 2834)

Muppets
Oscar reads the story of "The Grouches Who Lost All Their Pickles."
(First: Episode 2863)

Cartoon
A map of Australia morphs into the shape of animals that are found there.
Artist: Fred Garbers
(First: Episode 2646)

Film
College students volunteer at the San Francisco Children's Zoo, which has such animals as ferrets, opossums, and chinchillas.
Music: Joe Raposo
(First: Episode 2227)

Cartoon
P is for Puddle
(First: Episode 0452)

Muppets
"Ballad of the Sad Café"

Animation
4 people, 4 wheels, 4 doors, and 4 windows make a carpool.
(First: Episode 0910)

Muppets
Elmo writes his own song and sings it for Big Bird and Snuffy, who then wish that they had their own songs. Elmo lets them insert their own names into the lyrics, resulting in "Big Bird's Song" and "Snuffy's Song."
(First: Episode 2710)

Cartoon
Dr. Nancy Einstein learns about ice cubes.
Artist: Bruce Cayard
(First: Episode 2582)

Film
Alphaquest: P
A pack of painted purple penguins practicing a pop song in a pine tree park, and a pink pig with a parachute.
(First: Episode 2711)

Cartoon
In Spanish, a man makes everything in the room cerrada, and considers making the basket abierto if only for the guitar band inside.
(First: Episode 0771)

Muppets
Bip Bippadotta and The Androoze Sisters sing "Everybody's Song."
(First: Episode 2064)

Film
Old paper, new paper
Music: "Blue Nosed Gopher" by Graham Preskett
(First: Episode 0972)

SCENE 3
Gordon and the kids are making air paintings and demonstrate how for Oscar. Gordon suggests Oscar give it a try and he ends up blowing his straw so hard, Gordon is splattered with paint.

Cartoon
Typewriter: S for spring
(First: Episode 0792)

Muppets
The Cereal Girl sings about her missing "Hair Brush."
(First: Episode 2940)

Film
Over (silent film)
(First: Episode 0517)

Muppets
The Two-Headed Monster demonstrates surprise.
(First: Episode 2924)

Cartoon
Leanna Williams must save the world by cleaning it.
Artist: ArtistMike
(EKA: Episode 2839)

Animation
A snail shell is uncovered in the sand.
(First: Episode 2039)

Cartoon
While fishing one day, a boy catches the letters of the alphabet. Frustrated at not having caught any fish to eat, he decides to use his catch for alphabet soup.
(First: Episode 0004)

SCENE 4
Ruby and Ajara use their magnet to "fish" out the sponsors.
Community content is available under
CC-BY-SA
unless otherwise noted.