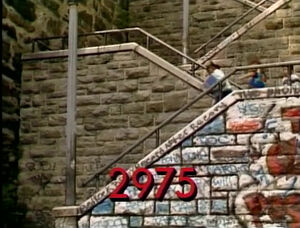 Picture
Segment
Description




SCENE 1
Oscar introduces Lillian to Singbad the Sailor, who sails the seas and serenades (off-key) Grouches all over the world. He's arrived on Sesame Street to open the "Singbad the Sailor School of Singing." Telly becomes his first student and impresses Singbad with his unnatural talent.

Cartoon
"Up and Down with Captain Brown"
(First: Episode 2493)

Muppets
Grover compares himself and the viewer, noting how much they are alike (except for the viewer's lack of blue fur).
(First: Episode 1804)

Cartoon
The Typewriter gets a check-up with help from an x-ray.
(First: Episode 0787)




Cast
Gordon hosts "The Crossing Zone," in which a boy named Jonathan has to find a way to cross the street. Susan helps him across.
(First: Episode 2729)

Cartoon
Dinah from South Carolina exchanges letters with her friend Ling Lu in China.
Artist: ArtistMike
(First: Episode 2727)

SCENE 2
Singbad is surprised to learn from Lillian that around Sesame Street, people prefer pleasant, on-key singing. She helps him get in tune with a song about the scales, drastically improving his singing quality.

Film
A conductor yells "STOP" to his off-key violinist trying to play Vittorio Monti's "Czardas".
(First: Episode 0516)

Cartoon
A race announcer doubles as the man who holds up the START and STOP sign.
(First: Episode 0623)

Animation
Growing Numbers #17

Muppets
Ernie is tossing and turning in bed. He sings to the viewers how he feels "When Bert's Not Here."
(First: Episode 2208)

Film
Kids draw a map of their neighborhood, and then learn how maps are really made.
(First: Episode 2760)

Animation
Where do the a's fit?
(First: Episode 1586)

Film
A piece of construction equipment and a giraffe are shown side-by-side.
(First: Episode 1550)




SCENE 3
Oscar has brought Grundgetta over to hear Singbad's awful singing, but he instead starts to sing "My Bonnie Lies Over the Ocean" in perfect voice. He isn't able to replicate how he used to sound, until he gets some help from his prized pupil Telly. Oscar suggests Singbad leave Sesame Street for good, lest someone else try to improve his singing again. Singbad sings one last ditty for the lot.

Cartoon
A man pulls a rabbit out of his hat, but the rabbit turns out to be a cow. "Surprise!"
Artist: John Schnall
(First: Episode 2770)

Muppets
Monsterpiece Theater: "The Postman Always Rings Twice"
(First: Episode 2729)

Song
"Beautiful Baby" song, over footage of various babies and their parents.
(First: Episode 1484)

SCENE 4
Snuffy practices being a spider for an upcoming Snufflegarten production of "The Itsy Bitsy Spider," but has trouble differentiating up and down. Gordon and the kids all pretend to be spiders and help Snuffy understand the difference. Savion happens by and asks, "What's up?" Snuffy then tells him the difference between up and down.

Cartoon
Various demonstrations of DOWN and UP
(First: Episode 0847)

Muppets
Baby Rocky performs "Cry" from his crib.
(First: Episode 1107)

Cartoon
Stamped and painted X animation.
(First: Episode 2934)

Song
Children of all kinds sing "We All Sing with the Same Voice".
(First: Episode 1708)

SCENE 5
Elmo and Rosita do something exciting that they've never done before - jump 40 times. Once they finish, they realize the thrill of doing it will never be the same, so they start jumping 41 times.

Animation
Rubber Stamp #17

Film
A kindergarten class takes a field trip to the fire station.
(First: Episode 1217)

Cartoon
Cat / fat / hat / sat / rat / bat / scat / splat / flat / pat
Voice: Daws Butler
(First: Episode 0770)

Muppets / Celebrity
Cab Calloway sings "Jumpin' Jive" when the Two-Headed Monster can't decide whether to jump or jive.
(First: Episode 1575)

Cartoon
A for apricot, alligator, acrobat, accordion, artist, airplane.
(First: Episode 1586)

Muppets
Muppet & Kid Moment — Forgetful Jones asks Daniela to read his sign, which she does.
(First: Episode 2031)

Cartoon
Once there were two men. Each had his own idea. One man told his thought to the other man, then the other man told his idea to the first man. Now both men knew twice as much.
(First: Episode 0268)

Song
"(Sittin' On) A Boat on a Lake"
(First: Episode 2807)

Muppets
Biff and Sully are about to start work, when Biff realizes he forgot his portable radio. He tells Sully not to start work until he comes back with it, but every time he's about to leave, he hears Sully doing a different kind of construction work. Sully's noisy building results in a piano, which Sully plays as Biff works.
(First: Episode 2120)

Film
Ornate Xs spin around in accompaniment to a song.
(First: Episode 2929)

SCENE 6
Telly and Oscar observe as Slimey and his friend Wilbur Worm make the letter X with their bodies. Savion announces the sponsors, and the Barkley credit sequence follows.
Community content is available under
CC-BY-SA
unless otherwise noted.