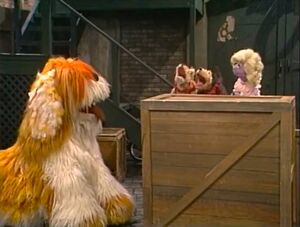 Picture
Segment
Description

SCENE 1
Polly Darton and her Get Along Little Doggies are considering letting Barkley join their group. The dogs bark out a short rhythm for him to repeat, but he has trouble doing so. Savion and the kids try helping, but Polly eventually gives up on him. Everyone leaves Barkley alone, where he successfully barks out the rhythm.
Cartoon
A trainer announces that his talking dog will say YES, but he says NO instead.
Artist: Derek Lamb
(EKA: Episode 1095)

Film
A film insert about washing elephants at the Bronx Zoo. The song "Splish Splash" is used in part of the segment.
(EKA: Episode 2096)

Muppets
Sesame Street News Flash: Kermit has received a phone call which tells him that there is someone who has been standing out in a terrible snow storm for a long time. Kermit asks everyone who passes by, "Are you that person?" But everyone he asks has been out in the snow for only a short time. Kermit refuses to give up, however, and tells us to stay tuned.
(First: Episode 0750)

Cartoon
V in space
(EKA: Episode 0560)

Muppets / Celebrity
Robin Williams shows Elmo the many fun things one can do with a stick.
(First: Episode 2835)

Cartoon
Rubber Stamp #11
(First: Episode 2885)

SCENE 2
Grundgetta is teaching Savion and Rosita how to paint like a Grouch, using a bowl of fruit as the subject. Savion and Rosita's look more or less like the fruit, but Grundgetta says they've missed the point. She shows them her canvas, which is just covered in brown paint. She points out she's painted the splotch of dry mud on the bowl.

Cartoon
H is for horseshoe.
(First: Episode 0020)

Cartoon
Teeny Little Super Guy
RW wants a pet spoon, so TLSG teaches him the importance of being responsible with a pet.
Artist: Paul Fierlinger
(EKA: Episode 2640)

Muppets
Sesame Street News Flash (cont'd): Kermit, now shivering a little, is still looking for the person who's been standing out in the snow for a long time. He even asks Farley, too. Still no success yet.
(First: Episode 0750)

Cartoon
An elephant, a zebra, a hedgehog, an ostrich, a frog and a ladybug create a rhythm with their footsteps.
Artist: Karen Aqua
(EKA: Episode 2794)

Song
"Off to School" A parody of Chuck Berry's "Hail Hail Rock & Roll," accompanied by footage of a day at school.
(EKA: Episode 2944)

Cartoon
The Typewriter: V for Vacuum
(EKA: Episode 0952)

Insert
Snuffy shows Susan and some kids how to do "The Snuffle Shuffle."
(EKA: Episode 2352)

Cartoon
Two boys peek into a fire house, and write HAT, HOSE, and HOOK on the window using their breath. Two dogs come by and wonder what a HAT HOSE HOOK is, but their question is answered when the fire truck leaves the station.
Artist: Paul Fierlinger
(EKA: Episode 1575)

Film
A class goes on a field trip to Prospect Park, where Ranger Roseanne gives them a tour.
(First: Episode 2944)

Cartoon
I am dry, he is wet (circus elephant)
Artist: Cliff Roberts
(EKA: Episode 0309)

Muppets
Annette Monster and Frankie Monster sing "Love the Ocean" to urge others to "show respect for the sea" and refrain from throwing trash in the water.
(EKA: Episode 2680)

Cartoon
Kids try to guess what a bunch of shapes will form; eventually they form a chicken.
(EKA: Episode 2838)




Cast
Luis reads Maria and the kids a musical story about two people in Mexico, who happen to be named Maria and Luis too, who love to have visitors and encourage them to visit Casa de Maria or Casa de Luis. Since they both enjoy to have people over, they turn their two casas into one for them all to enjoy.

Cartoon
A man makes a CASA for both him and his dog, who then makes a CASA for a bird.
(EKA: Episode 0825)

Muppets
Sesame Street News Flash (cont'd): Kermit is now buried up to his neck in snow, colder than ever. He calls the attention of passerby Harvey Kneeslapper, who tells Kermit that he is the one who made the call, which was a prank call. As it turns out, Kermit was the one standing out in the storm.
(First: Episode 0750)

Film
In Alaska, a sculptor makes carvings of cold climate animals.
Music: David Snell
(EKA: Episode 2365)

Cartoon
Jasper thinks that he has lost his elbow, but Julius shows him his elbow by bending his arm.
Artist: Cliff Roberts
(First: Episode 0410)

Muppets
"Forty Blocks From My Home"
(First: Episode 2614)

Cartoon
A map of Africa morphs into the shape of animals that are found there.
(EKA: Episode 2755)

Cast
Linda signs the word "pie," and gets hit with one, to Gordon's surprise.
(EKA: Episode 2734)

Cartoon
Uncle Al tells his nephew a story about a dog he had, but gets mixed up with the details.
Artist: Marv Newland
(EKA: Episode 1145)

Muppets / Celebrity
Prairie Dawn is sad because of how small she is; Ziggy Marley and the Melody Makers cheer her up by singing "Small People". They are joined by Big Bird, Snuffy, the Birdketeers, Natasha, Merry Monster, and Billy.
(First: Episode 2945)

Cartoon
A baby climbs up the stairs all by himself.
(EKA: Episode 1736)

Film
A boy hikes up a mountain with his family.
(EKA: Episode 2772)

Cartoon
Rap #11
(First: Episode 2531)

Muppets
Mysterious Theater
Sherlock Hemlock is commissioned to find the shape of a circle in an antique castle before time runs out at 5:00. Watson does his best to point out that the face of a clock is the shape of a circle.
(First: Episode 2706)

Cartoon
Violet climbs a vine with V words.
(EKA: Episode 0429)

Song
Spanish Food Market Song
(First: Episode 1111)

SCENE 3
Polly prompts Barkley to bark along with the sponsors.