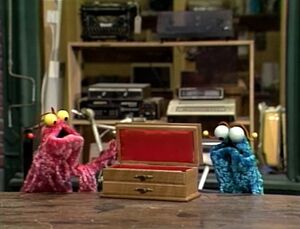 Picture
Segment
Description




SCENE 1
Maria finishes fixing Prairie Dawn's music box and goes into the shop to phone her. The Martians appear and inspect the box, initiating its melody ("Row, Row, Row Your Boat"). They enjoy the song, until Maria returns to take it inside.

Cartoon
Donnie Budd sings about three trios of animals who live on a fat lady's lap.
Artist: Bud Luckey
(First: Episode 0299)




Muppets
Camp Wannagohoma: Grover tries to teach his campers (including Roosevelt Franklin) about what an island is, but he gets his vocabulary mixed up. He also fails to notice when the campers board the motorboat for lunch, leaving him stranded.
(First: Episode 2656)

Film / Animation
Lake (time-lapse)
(First: Episode 2700)

Muppets / Celebrity
Linda Ronstadt sings "La Charreada" with Elmo and Parker Monster.
(First: Episode 2540)

Cartoon
Three turtles present the letter T.
(First: Episode 1666)

SCENE 2
Rosita, with Prairie's help, demonstrates the different uses of brazos (arms).

Cartoon
A chicken sings "It Ain't Heavy, It's My Feather."

Insert
Three of These Kids are playing policeman, but the other one is playing fireman.
(First: Episode 0408)

Cartoon
Speech Balloon: O for Open
(First: Episode 0014)

Muppets
Director Kermit is filming Oklahoma with Forgetful Jones as the star. Forgetful is supposed to enter singing "Oklahoma!" but sings "Ache-lahoma!", "Eeklahoma!", and "Ike-lahoma!" instead. When he finally gets it right, the production assistant says it's time for lunch.
(First: Episode 2544)

Animation
It's a crocodile
Artist: Ishu Patel
(First: Episode 1663)

SCENE 3
Bob sings "What Makes Music" with the kids and Oscar.

Cartoon
Gordon's Voiceover 'T/t': Two caterpillars form T and t.
(EKA: Episode 2223)

Muppets
Ernie & Bert — Ernie and Bert decide to use both Bert's canvas and Ernie's paints to paint a picture of something. Bert wants to paint a bowl of oatmeal, but Ernie wants to paint a purple monster. Finally, they decide to paint a purple monster eating a bowl of oatmeal.
(First: Episode 1446)

Song
David sings "I'm Pretty" over a film of fish and other sea creatures.
Refilmed version
(First: Episode 2490)

Cartoon
Two people think they hear a BARK in the DARK.
Artist: John Korty
(First: Episode 1941)

Cast
Savion, Gina and Big Bird play "Rhyme Out."

Cartoon
Three computer animated fish.
(First: Episode 2792)

Muppets
Little Chrissy and the Alphabeats sing "Cluck Around the Clock."
(First: Episode 2817)

Film
A boy draws a picture of his friend, Katie.
(First: Episode 2760)

Cartoon
A little girl leaves everything on in the house, until the TV set recites a poem about sharing electricity.
(First: Episode 2845)

Film
"Body Dance" (MC Lyte)
(First: Episode 2816)

SCENE 4
Bob, Maria and Kana look for rectangles embedded in a picture of three robots.

Cartoon
"Do the Continental" - two kids jump into Africa.
Artist: Peter Wallach Enterprises
(First: Episode 2733)

Muppets
The Count plans to count apples but, when he's not looking, Cookie Monster sneaks in and eats them. He gives The Count the apple cores to count. (ending edited)
(First: Episode 1403)

Animation
El numero tres (Luis V.O.)
(First: Episode 2119)

Muppets
Herry Monster wakes up and says "Good Morning, Morning" to everything.
(First: Episode 2847)

Cartoon
Kids see animals in their alphabet soup.
Artist: Michael Sporn
(First: Episode 1976)




Insert
Hoots the Owl and his Birdland Band perform a story about leaves, with the kids as the leaves. The last words in the song are, "Here comes the news!"
(First: Episode 2491)

Muppets
Sesame Street News Flash
The Big Bad Wolf opens a school for huffing and puffing.
(First: Episode 2578)

Cartoon
A loud-voiced girl talks about her dog, Pete.
Artist: Bruce Cayard
(First: Episode 1266)

Video
Ann Marie DeAngelo and Skeeter Rabbit do their dance routine. The frame freezes whenever the word STOP comes on.
(First: Episode 2600)

Cartoon
An elephant and a bear try to cross a bridge to deliver their packages, but they're in each other's way.
(First: Episode 0538)

SCENE 5
The kids play basketball in the arbor as Bob announces the sponsors.
Community content is available under
CC-BY-SA
unless otherwise noted.