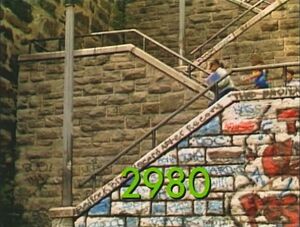 Picture
Segment
Description

SCENE 1
Maria welcomes the viewer to Sesame Street, and notices "those crazy lambs," who always have the best time ...

Muppets
Four lambs sing about how they always add up to four.

Cartoon
A girl puts imaginary things in a jar, which makes her laugh.
Artist: Bruce Cayard
(First: Episode 1304)

Song
Alone Song
(First: Episode 0921)

Muppets
Monsterpiece Theater
Grover plays the title role in "The Old Man and the C" by rocking atop the letter in a rowboat.
(First: Episode 2710)

Animation
Sand C/c
(First: Episode 0625)

Song
"Reach Your Hand Up High"
(First: Episode 2702)

Cartoon
A dinosaur demonstrates up and down with a pull-down window shade.
(First: Episode 2887)

SCENE 2
One of the four lambs is in a space ship, which is supposed to go to the moon ("If a cow can get there, why not us?"). They get everyone to count backwards from 10 to 1. The rocket doesn't take off, but the lamb is launched out of the rocket, and lands on the mailbox! The lambs are still proud of their achievement.

Cartoon
Jerry Nelson sings "Moonshine."
(First: Episode 2775)

Film
Two boys walk though a city neighborhood to some funky break dancing music.
(First: Episode 2679)

Muppets
Little Chrissy and the Alphabeats sing "Gonna Rock You to Sleep."

Film
Animal camouflage with kid voiceovers.
Music: Joe Raposo
(First: Episode 0366)

Cartoon
S - Serpiente
(First: Episode 0382)

Muppets / Cast
Bob reads "The King Who Wasted Paper."
(First: Episode 2738)

Cartoon
Hands embrace the word "LOVE."
(First: Episode 0926)

Song
"Litter Rap"
(First: Episode 2646)

Muppets
Sesame Street News Flash
Kermit interviews Alice, from the Lewis Carroll tales. For this adventure, she eats something that makes her grow.
(First: Episode 1765)

Cartoon
C for Cowboy
(First: Episode 0703)

Muppets
Oscar sings "I Love Trash."
(First: Episode 2785)

Cartoon
A supermarket worker stacks 12 cans, which keep collapsing every time someone grabs one.
(First: Episode 0782)

Muppets
The Two-Headed Monster shares a pair of headphones.
(First: Episode 1628)

Film
Looking for shapes in a metal junkyard (Maria voiceover)
(First: Episode 2702)




Muppets
Mac TV host Old MacDonald introduces the newest music video, "A New Way to Walk" performed by The Oinker Sisters.
(First: Episode 2268)

Cartoon
Big / bigger / biggest (bikes)
(First: Episode 1245)




SCENE 3
Alexia shows Big Bird and Maria the baby tooth she recently lost. Big Bird wishes he had teeth (since he's Alexia's age), so he could wait for the Tooth Fairy - but neither he nor Maria knows what the Tooth Fairy looks like. Suddenly, in a puff of smoke, a lady appears, having heard that someone just lost a tooth.
Cartoon
Shorty reaches a water fountain with a stool.
(First: Episode 0954)

Muppets / Celebrity
Carol Channing sings a spoof of "Hello, Dolly!" with Sammy the Snake, praising his ability to look and sound like an S.
(First: Episode 1951)

Animation
Rubber Stamp #12
(First: Episode 2932)

Muppets
Ernie & Bert — It's a sunny day at the beach, and Bert remembered to bring everything. Ernie, however, only brought an umbrella in case it rains... which it does.
(First: Episode 0284)

Cartoon
A caterpillar sings "Exercise, Exercise."
Artist: ArtistMike
(First: Episode 2839)

SCENE 4
The lady turns out to be not the Tooth Fairy, but the Toothpaste Fairy. Her job is to give toothpaste to children who lose their baby teeth. For everyone else, she has toothbrushes "and a squeeze." Big Bird doesn't have teeth, but he can still brush his beak.

Animation
"Toothpaste ... coming soon to a mouth near you!"
(First: Episode 2876)

Muppets
Telly and Elmo sing about the difference between "Heavy and Light."
(First: Episode 2809)

Animation
Henson Films: Number Twelve Rocks
(First: Episode 0195)

Cartoon
A girl picks the key that matches the keyhole in order to gain access to a cache of toys.
Artist: Dan Haskett
(First: Episode 2050)

Muppets
Harvey Kneeslapper looks inside a paper bag and laughs and asks his next victim, "Wanna see?" The man says yes, so Harvey puts a letter C on him.
(First: Episode 0294)

Song
Joe Raposo sings "Frog Struggle Song."
(First: Episode 0492)

SCENE 5
While the sheep arrange themselves in different ways and count to 4, Luis announces the sponsors.
Community content is available under
CC-BY-SA
unless otherwise noted.