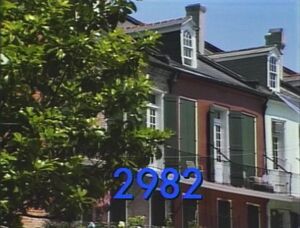 Picture
Segment
Description

SCENE 1
Susan welcomes the viewer and is called by Oscar to help put on his scarf and helmet. He quickly explains that Slimey is about to sneeze, which means a free ride for him. Slimey sneezes, and Oscar is launched into the air. After his crash landing, Susan provides Slimey with a tissue.

Cartoon
I hab a cauld ib by dose.
Artist: Bruce Cayard
(First: Episode 1170)

Muppets
"Six Kids Subtraction"
(First: Episode 2670)

Film
Joe Raposo: Road Runner (instrumental)
(First: Episode 0505)

Cartoon
Dogs cheer D-O-G and fight with cats.
(First: Episode 1148)

Film
A zydeco band plays "Bayou Pon Pon" while people dance and the townspeople of New Orleans wave at the camera.
(First: Episode 2502)

Animation
A montage of boys, all of whom are named Joe, saying what their favorite sports are. The last one turns out to be a girl named Joanne.
Artist: John Korty
(First: Episode 1871)




Muppets / Celebrity
Johnny Cash sings "Don't Take Your Ones to Town," while Big Bird, the Count and the Countess act it out.

Cartoon
Hortense beats one drum.
Artist: Michael Sporn
(First: Episode 2570)

Film
Two Navajo children visit their grandparents who live on a ranch.
(First: Episode 2665)

Cartoon
What if we celebrated Valentine's Day with chickens instead of hearts?
(First: Episode 0488)

Muppets
A monster sings "Comb Your Face."
(First: Episode 1851)

Cartoon
B is for bear, bicycle, bump, branch, and bee.
(First: Episode 0008)

Film
Kids play in the snow.
Music: Joe Raposo
(First: Episode 0292)

Muppets
Kermit has a leak in his roof, and the Monster Repair Team, consisting of plumber Grover, telephone repairman Herry, and a girl electrician monster, comes to the rescue. Grover fixes the leak, but he had to remove a telephone wire. Herry fixes the telephone and removes several electric wires. The electrician monster solves the problem; except she had to take away a pipe.
(First: Episode 2377)

Cartoon
Vaudeville duo Herman Happy and Stanley Sad sing a song about how they live up to their names.
(First: Episode 0772)

SCENE 2
Susan sees Oscar's still in his gear and assumes Slimey's going to sneeze again. Oscar says that instead his mother his coming for a surprise visit. Although he already knows she's coming, the surprise is where she'll land. An airplane passes overhead and Oscar's mother drops down into his can. She stays briefly, then makes a mighty leap onto her flight home. Oscar comments on how his mother's full of surprises!

Cartoon
A boy says he has a big surprise in his hand.
(First: Episode 0557)

Cast
A voiceover instructs Maria as Chaplin where to put the shirts and the towels. (piano underscore version)
(First: Episode 0541)

Cartoon
B for banana and ballerina
(First: Episode 2515)

Muppets
Guy Smiley hosts "What's Prairie's Problem?" in which contestants try to figure out why Prairie Dawn can't use one of her senses (i.e., which part of her face is covered).
(First: Episode 2466)

Cartoon
A little girl shows the building and apartment where she lives -- both with the number 6.
(First: Episode 0783)




SCENE 3
Lillian is reading Pat the Bunny to Henrietta, when Benny Rabbit shows up when they mention the word "bunny" to correct them as usual. She shows him they're talking about the book, which features a furry rabbit Henrietta loves to pet. Benny gets a little sad, since no one would want to pet a rabbit like him. Henrietta cheers him up by petting him.

Film
Joe Raposo sings "Everybody Eats."
Re-filmed version
(First: Episode 2855)

Cartoon
D for danger, dragon, doctor, dinner, and dessert
(First: Episode 2235)

Muppets
Hammy Swinette sings "Stand By Your Can."
(First: Episode 2796)

Cartoon
A shy girl wants to join a group bouncing a ball. (inaudible dialogue)
Artist: Joanna Priestley
(First: Episode 2849)

Film
A look at how families do chores both on a farm and in the city.
(First: Episode 2226)

Cartoon
The Typewriter: D - Daisy
(First: Episode 0795)

SCENE 4
Big Bird calls Gina out of Hooper's Store while she tries to work to show her some rollerskating moves. She tells him he's distracting her and needs to stop. He promises to not call her over about rollerskating, then calls her over to sing her a song he made up.

Animation
A piece of paper floats down onto a table, then folds itself into a paper crane, which flies away.
(First: Episode 2892)

Muppets
Monsterpiece Theater: One Flew Over the Cuckoo's Nest
(First: Episode 2674)

Cartoon
A Spanish-speaking man falls into a hole, and a dragon helps him out.
Artist: Chris Hinton
(First: Episode 2211)

Song
"One of These Things" (with Fay Ray)
(First: Episode 2604)

SCENE 5
Gina is sweeping the floor, while Elmo remains motionless at the counter. He asks her to wind him up, as he's pretending to be a wind-up toy. She finds the right key and winds him up, and he begins hopping and shouting "Hello! I'm Elmo the Toy!", until slowing down and staying still again, in need of winding. Gina does this again, then decides to wind him up so much, he won't need to be winded again. She does so, giving him too much energy and he flies out the door.

Cartoon
What if I looked like George Washington...
(First: Episode 0586)

Muppets
Ernie & Bert — Ernie gets Bert to participate in a rhyming game, but ends the game just as Bert is starting to enjoy it.
(First: Episode 0798)

Cartoon
A man lifts a rock and finds the word UNDER.
(First: Episode 0685)

Film
Footage of a baby learning to walk.
Music: Joe Raposo
(First: Episode 0427)

Cartoon
A man tries to get directions to a parking space, and eventually uses a map to get there.
Artist: Paul Fierlinger
(First: Episode 2734)




SCENE 6
Gina winds up Elmo again, who announces the sponsors before winding down again.