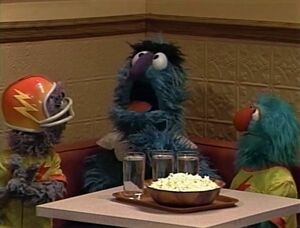 Picture
Segment
Description

SCENE 1
Elmo, Telly, and Isaiah are practicing writing their names. Savion sings "My Name" with them.

Cartoon
V for volcano
(EKA: Episode 1980)

Muppets
Two Anything Muppet beatniks say the alphabet.
(First: Episode 1846)

Cartoon
"Do the Continental" - two kids jump into Asia.
(First: Episode 2712)

Muppets
Monsterpiece Theater: The 400 Blows
Grover has to blow out the candles on his birthday cake 400 times, but since this is Part 1, he only gets up to 40 before he faints.
(First: Episode 2680)

Film
Jerry Nelson sings "The Inside Story," which shows what's inside various household objects.
(First: Episode 2724)

Insert
Elmo explores Sesame Street, and observes Susan as she grades test papers.
(First: Episode 2285)

Cartoon
A boy and his dog demonstrate addition and subtraction with balancing hamburgers.
Artist: Bill Davis
(First: Episode 2204)

Muppets
Muppet & Kid Moment — Bert tells John-John that he's lost his paper clips, and he feels sad. He asks John-John to show how he looks when he feels sad. Then Bert feels angry about losing his paper clips, and John-John acts out that emotion. Bert remembers where he left his collection, and John-John acts happy, too.
(First: Episode 0443)

Film
Island (in sped-up film, kids travel to an island)
(First: Episode 2731)

Cartoon
Brand X
(First: Episode 0299)

Film
Some kids watch a silent film featuring a lady in a burning house. They instruct her to "go to the EXIT!"
(First: Episode 0536)

Cartoon
"Five Baby Oysters"
(EKA: Episode 2257)

Muppets
In the woods, a nature-loving baritone (Jim Henson) sings "Ah, For the Joys of the Countryside" about how much he loves the country, without noticing that his surroundings are being converted into a city.
(First: Episode 1008)

Cartoon
A purple elephant tries to get 10 peanuts in his trunk at once, but can't, so he smushes them into peanut butter instead.

Song
"Brothers Song"
(First: Episode 1476)

Cartoon
Vitamins give vim, vigor and vitality to a droopy V
Artist: John Hubley
(First: Episode 0311)

Muppets
Little Jerry and the Monotones sing "Telephone Rock."
(First: Episode 0733)

Cartoon
A boy imagines his room turning into a jungle.
Artist: Karen Aqua
(First: Episode 2808)

Insert
Preston Rabbit presents Sesame Street with a large stone inscribed with a word he thinks they don't have: "ABCDEFGHIJKLMNOPQRSTUVWXYZ". Elmo has no idea what it is and sings "ABC-DEF-GHI". Big Bird and the kids point out it's the alphabet, and they already have plenty of them on Sesame Street. Preston takes it away and goes off in search of a different present.
(First: Episode 2616)

Cartoon
A mouse demonstrates between by squeezing between two elephants.
(First: Episode 2750)

Animation
Ornate Vs spin around as a song about them plays.
(First: Episode 2942)

Film
A boy's mother and grandmother make him a pair of moccasins.

Muppets
Guy Smiley promotes the use of "Air." He leads his marching band through the walls of a barber shop every time someone there says a word out loud that rhymes with "air."
(First: Episode 2682)

Cartoon
Nine penguins slide down a hill.
Artist: Owe Gustafson
(First: Episode 1532)

SCENE 2
Herry and some other monsters enter Hooper's Store, cheering. They act out for Mr. Handford a recap of the football game they just won, and Mr. Handford ends up getting tackled by Awilda. Herry orders a round of water for everyone.

Cartoon
A story/song about a duckling who wants to join the others playing at the water's edge.
(First: Episode 2852)

Film
Sesame Street Animal Films: Skeleton fish.
(First: Episode 0287)

Song
Patti LaBelle sings "Oh, How I Miss My X".
(First: Episode 2168)

Cartoon
The letter X
(First: Episode 0482)

Cast
Maria as Chaplin falls in love with a painting (Linda) at the art museum.
(First: Episode 2033)

Cartoon
Gloria Globe sings "I Am the World."
(First: Episode 2744)

SCENE 3
Savion comes in and orders popcorn while the monsters are still celebrating, now tossing around a football. Mr. Handford tells them to stop playing ball inside, so they play another game. They sing "Three of These Things" with the three glasses of water and the bowl of popcorn. Mr. Handford guesses the popcorn doesn't belong, because you eat it, but Herry adds it's because they didn't order it.

Cartoon
Rap #9
(First: Episode 2509)

Film
A man makes a shadow puppet of a laughing man.
(First: Episode 1845)

Muppets
Ernie & Bert — Bert goes out to mail a letter, and depends on Ernie to let him in when he knocks. Instead of letting Bert in, Ernie repeats Bert's knocks on the drums.
(First: Episode 0280)

Cartoon
A man tries to get to sleep, but is woken up by a fly, a chicken and a drum-playing rabbit, all of whom call him on the phone after he throws them out.
Artists: The Hubleys
(First: Episode 0257)

SCENE 4
Herry and the monsters are still cheering, spelling out "monster" with "Gimme an M!" etc. Mr. Handford gets their attention by leading a cheer to spell the word "closed," then he kicks them out of the store and announces the sponsors (getting trampled in the process).
Community content is available under
CC-BY-SA
unless otherwise noted.