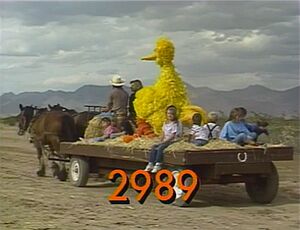 Picture
Segment
Description




SCENE 1
Grundgetta stays in Oscar's trash can while he visits his cousin Smudgley. She becomes annoyed when Elmo welcomes the viewer, preferring an "unwelcome." Elmo tries to comply by saying welcome so quietly, she can't hear him. She's pleased with the result, until Gordon happens by and welcomes the viewer on his own.

Animation
Thirteen hamburgers dance around.
(First: Episode 2785)

Muppets
Bip Bipadotta sings about "Air."
(First: Episode 2568)

Cartoon
Dr. Annie Eyeball, PhD., looks at breathing.
Artist: Bruce Cayard
(First: Episode 2586)

Song
"It's Easy"
(First: Episode 1727)




SCENE 2
Preposterous gnaws on his pickle, accidentally dropping it on the sidewalk. Linda and Barkley pass by, and Barkley snatches it up. When they stop for a break in the arbor, Preposterous reclaims his pickle.

Cartoon
A poem about dogs of different sizes, feelings and colors.
Artist: Deanna Morse
(First: Episode 2924)

Muppets
Kermit sings "I Love My Elbows."
(First: Episode 2582)

Cartoon
Why did the chicken cross the road?
(First: Episode 2050)

Film
"Visiting Iesha": Olivia sleeps over at Iesha's house, and spend the morning together. Olivia is white and Iesha and her family is black. Next time, Iesha wants to visit Olivia's family.
(First: Episode 2756)

Cartoon
Typewriter: U for Umbrella
(First: Episode 0808)

SCENE 3
Grundgetta is disgusted as Gordon prepares to give Susan a bouquet of flowers. Before he can, Preposterous eats them all, leaving only stems. Grundgetta is shocked when they don't become angry, merely amused at the dog's antics. She then becomes the one who is angry.

Cartoon
A boy's friends bring him flowers to cheer him up, not knowing that he's allergic to them.
(First: Episode 1524)

Muppets
Miami Mice
Ernie goes to a repair shop to pick up his broken Rubber Duckie, but neither he nor the mice can get into the shop because it's cerrado.
(First: Episode 2209)

Cartoon
La palabra cerrado
(First: Episode 0481)

Film
Looking for rectangles in the city (Maria voice-over)
(First: Episode 2714)




SCENE 4
Elmo, Alice and a kid observe as Linda and Lisa set up the library before opening it to the public. They both like seeing the library in a calm, clean state, but like it more when it's full of friendly, book-hungry patrons.

Cartoon
The detective sees a hippo bouncing on a trampoline, and wonders how the hippo can bounce, since hippos are heavy, but the hippo thinks that he is light.
(First: Episode 2537)

Film
A child narrates a film of him and his brother, Andrew, taking a ride on the ferry.
(First: Episode 2951)

Cartoon
Y for yawn
(First: Episode 0301)

Muppets
Here is Your Life
Disguised as a dentist, Guy Smiley surprises a tooth at a dentist's office. The tooth is reunited with healthy food (represented by Carl Carrot and Melvin Milk), his dentist, and toothbrush/toothpaste pair Bristly and Pastey.
(First: Episode 1057)

Cartoon
A map of India morphs into the shape of animals that are found there.
(First: Episode 2668)

Song
Jeff Redd sings "Between."
(First: Episode 2738)

Cartoon
What's missing? (cow)
(First: Episode 2028)




SCENE 5
Grundgetta carries a large stack of rotten-sounding books to the front desk. Since she's only allowed to check out four at a time, she tries to narrow down her choices. She comes to realize that the books she's picked out (including The Story of a Bad Boy, The Ugly Duckling and The Tale of Two Bad Mice) are actually much nicer than their titles let on. Linda leads her to their special Grouch section. Grundgetta sticks her large pile with Gordon, whom Lisa playfully reminds of their four-book policy.

Song
"Every Bit of Litter Hurts"
(First: Episode 2721)

Muppets
Waiter Grover: Mr. Johnson orders soup, roast beef, and peach pie, wants them to be presented in that order (one at a time). Grover doesn't understand the order, keeps bringing wrong item. Upon seeing pie (twice), explains he after "everything else," prompting bring everything else on menu.
(First: Episode 1318)

Animation
Growing Numbers #13
(First: Episode 2924)

Muppets / Celebrity
Celia Cruz tells Big Bird about a hummingbird, and sings "Zunzun."
(First: Episode 2298)

Animation
Sand Y/y
(First: Episode 0626)




SCENE 6
Lisa and Linda are confused when they see an entire shelf of books is missing. They find Elmo and Alice have them for the purposes of answering an important question - are all the books in the library shaped like rectangles? Linda takes them over the children's section, where they have books in many non-traditional shapes. Elmo is pleased with the answer, then poses another question - will Linda and Lisa read to them?

Film
Anne Meara narrates a silent film of a woman in a burning building, who needs HELP.
(First: Episode 0506)

Muppets
The Oinker Sisters sing "The Boogie-Woogie Piggies."
(First: Episode 2922)

Cartoon
A girl builds a sand castle at the beach, but the ocean keeps washing it away, so she builds one away from the waves.
Artist: Fred Garbers
(First: Episode 1452)

SCENE 7
Alice and Elmo help the staff put all the books they took back onto the shelves.