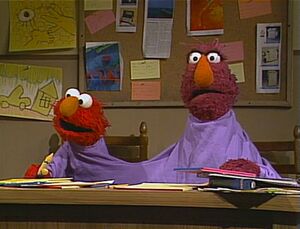 Picture
Segment
Description

SCENE 1
Chicago the Lion arrives at Hooper's Store and eyes the vegetable stock. He orders a few, then wants the whole bundle. Gina points out that wouldn't be fair to the other customers and says he can collect them later in the day.

Animation
Abstract count to 14.
(First: Episode 2811)




Muppets
The Two-Headed Monster are the teachers of a two-headed-oriented classroom, with Elmo and Telly as their pupil/pupils (they are sharing the same shirt). The first lesson is to say "Good Morning" in monster language, then how to argue over what to read.
(First: Episode 2853)

Song
Joe Raposo sings "Water Baby" over footage of seals and kids swimming.
(EKA: Episode 2228)

Animation
WH words (wheel, which, whiz, where, white, whale)
(First: Episode 2937)

Celebrity
Whoopi Goldberg introduces the sound "WH" and then yells, "Whoopi!"
(EKA: Episode 2861)

Cartoon
Geometry of Circles #3 "Six Colored Circles"
(First: Episode 1395)

SCENE 2
Chicago returns to the store, disguised as a bird. Gina sees through his disguise, but humors him anyway. Instead of vegetables, she instead gives him something birds actually eat - a bowl of birdseed. "At least it's not a worm," Chicago laments.

Song
Joe Raposo sings "Bird on Me."
(First: Episode 0416)

Muppets / Celebrity
Pretty Great Performances
Live from Sesame Hall, Phil Harmonic introduces Maria and James Galway, who perform "Concerto for Flute and Pool Toy" by Ludwig von Splash.
(First: Episode 2541)

Cartoon
A for astronaut, airplane, airport and automobile.
(EKA: Episode 2404)

Video
A black family prepares a picnic lunch in fast and slow motion with synthesized music in the background.
(First: Episode 2923)

Cartoon
Jim Thurman sings "Calcutta Joe."
Animation by Buzzco Associates, Inc.
(First: Episode 2492)

SCENE 3
As Gina explains to Luis Chicago's bird disguise, the lion returns once more, this time disguised as Luis. He orders some vegetables in Spanish, when Gina points out the real Luis is right in the store. Chicago sheepishly scurries out, claiming to be picking up Gabi.

Cartoon
A shy girl wants to join a group bouncing a ball. (audible dialogue)
Artist: Joanna Priestley
(First: Episode 2849)

Muppets
Polly Darton and Benny Rabbit sing "14 Carrot Love."
(First: Episode 2811)

Cartoon
A hand draws a guitarist serenading a maiden, as well as the background.
(EKA: Episode 0822)

Film
How paper is recycled
(First: Episode 2710)

Cartoon
Gloria talks about 'W'
(EKA: Episode 1201)

SCENE 4
Luis reads his newspaper in the Arbor, when Monty appears to host the "Not a Dog" show. He interviews a chicken, which Luis agrees is not a dog. A dog does appear, wanting to be interviewed too, but Monty shoos him off.

Cartoon
Find the camouflaged parrot.
Voice: Paul Dooley
(EKA: Episode 0592)

Muppets
Grover is about to talk about rhymes when a fox shows him a box that has locks and a hand inside that knocks and drops rocks and socks. An ox comes by and reveals he's the owner of the box. After all the commotion, Grover tries to finish his talk, but can't think of any rhymes.
(First: Episode 2572)

Animation
Can you find the animals in the painting?
Artists: The Hubleys
(First: Episode 2705)

Song
Olivia sings "The Riddle."
(EKA: Episode 1958)

Cartoon
A - acrobat ball
(EKA: Episode 2453)

SCENE 5
Over at the Fix-It Shop, Monty continues his "Not a Dog Show" while Luis works. He plans on interviewing a telephone. Luis points out it's not alive. Since dog's are alive and the phone is not, it makes for the perfect guest. The phone rings and the caller turns out to be the dog, whom Monty again rejects.

Cartoon
Esme's wooden clown breaks, and she is about to throw it away, when it suggests she use glue to fix it.
Artist: Lisa Crafts
(EKA: Episode 2843)

Muppets
Phil Harmonic hosts another evening at the Nestropolitan Opera, featuring a performance by Placido Flamingo, "The Telephone of Brazil," to the tune of "Funiculì, Funiculà."
(EKA: Episode 2400)

Film
Two girls walk on an island together, and a map of the island is shown.
(First: Episode 2650)

Film
Ornate Ws spin around in accompaniment to a song.
(First: Episode 2952)

SCENE 6
Monty's next guest is an odd-looking cat that barks. Despite the disguise and "CAT" sign, Luis recognizes it as a dog. Monty has the dog exit and brings on his next guest - an odd-looking bunny who barks while wearing a "BUNNY" sign.

Cartoon
A dog tries desperately to meow, but can only bark.
(First: Episode 0829)

Muppets
Sesame Street News Flash: Kermit interviews a servant who tells him that the queen wants to test the maiden by placing a cookie under the mattresses to see if she can feel it. The "princess" (Cookie Monster) lies down, feels something, then devours the mattresses.
(First: Episode 0417)

Cartoon
Household appliances count 1-10 and 10-0.
(First: Episode 2840)

Cast
Big Bird winds up Linda, who displays the word TOY.
(First: Episode 2908)

Film
At a zoo, monkeys clean each other and run around.
Music: Joe Raposo
(First: Episode 2505)

SCENE 7
At the end of the day, Chicago returns to Hooper's to collect his vegetables, but must wait until Luis is through ordering. To his dismay, Luis orders the vegetables...to give to Chicago! Chicago digs in as Gina announces the sponsors.