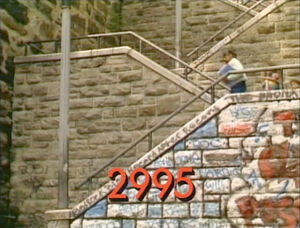 Picture
Segment
Description




SCENE 1
As Big Bird welcomes the viewers, Maria reads him and Radar the story of The Sad King Pierre. To try to make their king happy, people brought him things that rhymed with Pierre. Finally, a "swell, fuzzy bear" made him happy, which is why the story is Radar's favorite.

Cartoon
Growing Numbers #14
(First: Episode 2930)

Muppets
"I Am Chicken"

Cartoon
"We Are Kids From Far and Wide": Sierra Leone
(First: Episode 2770)

Film
A girl wants to learn a playground rhyme after watching some other girls do it, so one of them teaches her.
(First: Episode 2284)

Muppets
An Anything Muppet sings "Big Round Nose" while pulling the noses off of passersby.
(First: Episode 1950)

Animation
Number creatures #14
(First: Episode 2712)

Muppets / Celebrity
Oscar and Danny DeVito laugh it up.
(EKA: Episode 2292)

Cartoon
At the Pride Day Ceremony, Donald is waiting to describe his proudest accomplishment, and is initially unsure of himself next to other impressive students. He finally proudly acclaims his achievement, tying his shoes all by himself.
Artist: John Korty
(First: Episode 2085)

Video
Four break-dancers dance.
(First: Episode 2607)

Cartoon
A bird watches as two monkeys climb above and below each other in a tree.
(First: Episode 2965)




Muppets
Bushman Bill introduces Didi O'Day and the Dew Drops performing "D Duah Duah."
(First: Episode 1449)

Cartoon
Consonant Sound Limerick: D—Dog
Artist: Jeff Hale
(First: Episode 1149)

Muppets
Herry Monster and Louisey sing "I Can Sing."
(First: Episode 2976)

Film
Armadillos on film
(First: Episode 2488)

SCENE 2
Gina, Linda, and the kids sing a song that teaches the signs for spaghetti, hamburger, and french fries.
Cartoon
"Name That Food" game show hosted by Don Carrot
Artist: Len Glasser
(First: Episode 1491)
Cast
Gordon presents a lowercase letter D. He shows off other D words as he gets caught in a downpour.

Song
"Starfish" by Joe Raposo (re-filmed version)
(First: Episode 2487)

Muppets
Prairie Dawn directs Grover in "Singin' in the Rain."
(First: Episode 2961)

Animation
Sand G/g
(First: Episode 0643)

SCENE 3
Lord Hog recites a poem about pigs to a group of kids.

Song
"Pig's Love Song" (live-action version)
(First: Episode 0572)

Cartoon
A honking orange ball follows signs to the EXIT.
(First: Episode 1879)

Muppets
Sesame Street News Flash
Old MacDonald's Health Farm
(First: Episode 2688)

Cartoon
"Sing a Song of Fourteen"
(First: Episode 2670)

Film
Kids take swimming lessons.
(First: Episode 1232)

Cartoon
"There's an Exercise That's Right" even for a snake.
(First: Episode 2962)

Film
The Count counts four kids on a park bench, then adds one more.
(First: Episode 2958)




SCENE 4
Big Bird asks some kids what they're doing. They are making sandwiches to bring to the park. One of the kids is blind, so he assembles his sandwich by feeling for the ingredients. The kids roller-skate away, and Big Bird runs after them.

Cartoon
Dr. Annie Eyeball looks at air.
Artist: Bruce Cayard
(First: Episode 2592)

Muppets
How Now Brown and the Moo Wave perform the song "Danger's No Stranger".
(First: Episode 2030)

Cartoon
A girl explains the concept of relativity by explaining how her house is a part of a neighborhood, the neighborhood is part of a city, the city is part of a country, etc.
(First: Episode 2742)

Film
A girl visits the stamp factory to see how stamps are made.
(First: Episode 2263)

Animation
G/g musical notes (Gordon voiceover)
(First: Episode 2233)




SCENE 5
Big Bird introduces Slimey and his Worm Country Band, with guest singer Mr. Snuffleupagus, sing a song about how size doesn't matter--they are friends and they have fun together even though Snuffy is big and Slimey is small. As most of the cast continue to dance, Big Bird announces the sponsors and Slimey's band plays the Sesame Street Theme during the credits.
Notes