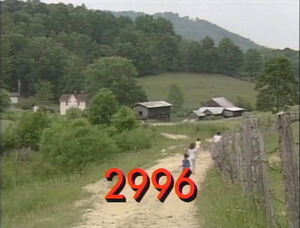 Picture
Segment
Description

SCENE 1
Telly and Rosita are fascinated by the word agua, but Maria is not as impressed. Telly suggests they sing a song about agua, but he doesn't know what it means. Maria tells him it means water, and they go off to find things that agua does so they can write a song about it.

Cartoon
The word AGUA fills up with water.
(First: Episode 0523)

Muppets
Sesame Street News Flash: The first day of school in history
(First: Episode 1953)

Cartoon
Gordon voiceover N/n
(First: Episode 2283)

Film
A group of kids pick apples in an orchard, and take them into the cider mill to make apple cider.
(First: Episode 1585)

Cartoon
An ape takes a bite out of a yellow A.
(First: Episode 2813)




SCENE 2
Maria asks Telly and Rosita how their agua song is coming, and they are frustrated that they can't learn anything about agua. The Amazing Mumford appears, and is eager to help by showing them his new trick to make it rain. It only rains on Maria.

Cartoon
A mother sings the story of how water travels down the drain and becomes rain.
(First: Episode 2865)

Muppets
The Two-Headed Monster looks at different shapes.
(First: Episode 1629)

Cartoon
A tiny ant pushes the huge N into its place in the alphabet.
(First: Episode 0780)

Song
Joe Raposo sings "Little Things".
re-filmed version
(First: Episode 2485)

Animation
Counting to 16 on quilt patterns




SCENE 3
Mumford tries another agua trick, this time an attempt to make ice without a freezer. After he says his magic words, there are still no ice cubes in the glass of water. However, there is a slick sheet of ice on the ground and Maria slips on it. A group of penguins comes and starts a hockey game.

Cartoon
Actor demonstrates anger towards casting director - literally!
(First: Episode 2061)

Song
"At the Coastline" (Beach Boys style)
(First: Episode 2792)

Muppets
Ernie & Bert — Ernie is sad because it's raining and he can't play baseball. Bert encourages him to imagine that he's playing instead. In Ernie's imagination, he hits a high fly ball that lands in the ocean. Bert tells Ernie that the sun is out, and he can go out and play now. Ernie says that he can't play -- his ball fell in the ocean.
(First: Episode 0410)

Cartoon
Big, Bigger, Biggest (oxen pulling rocks)
(First: Episode 0764)




Cast
Gordon hosts "What Happens Next," in which the viewer has to guess what kind of humiliation Maria as Chaplin is going to face before Gordon rings the Dinger's ding-dong bell. First, the tramp slips on a banana peel, then collapses when sitting on a three-legged bench. Finally, when a rain cloud is about to rain on him, he shifts the cloud over to the left of the screen so it rains on Gordon instead.
(First: Episode 2328)

Cartoon
A cartoon man (voiced by Bob Arbogast) is irritated to find that he has a succession of animal noses.
(First: Episode 0769)

Song
Lillian sings "Face Facts."
(First: Episode 2760)

SCENE 4
Telly doesn't think they'll be able to finish their song because he can't think of a word that rhymes with rain. After brainstorming a few words that rhyme but don't fit the song, a penguin asks them where he can catch a bus to the arctic, since the ice patch he was playing on melted and went down the drain. The penguins then offer their services as musicians.

Cartoon
The Great Inventors Series: Willy Pinkham, intern at the rubber glove factory, invents the balloon.
Artist: Bruce Cayard
(First: Episode 2579)

Muppets
"Sixteen Samba"
(First: Episode 2822)

Cartoon
A report on homes around the world.
(First: Episode 1711)

Film
Lobster fisherman
(First: Episode 0966)

Cartoon
A for apricot, alligator, acrobat, accordion, artist, airplane.
(First: Episode 1586)

SCENE 5
Telly and Rosita sing Maria their musical tribute to the word agua, accompanied by the penguin musicians and Mumford on glockenspiel.

Animation
Growing Numbers #16

Muppets
Grover the Salesman: When Grover comes to Kermit's home dressed in salesman attire, Kermit quickly tells Grover that he doesn't want whatever it is that Grover is selling, since Grover always tries to sell him things that he has no use for. However, Grover tells Kermit that he has come to give him something: a hairpiece. Once it is on Kermit's head, Kermit decides that it doesn't look very good. Grover agrees, and offers to sell him a comb, a hair brush, some shampoo, and hair tonic.
(First: Episode 1972)

Song
"Fixin' My Hair"
(First: Episode 2734)

Cartoon
An alien asks a boy for directions to the baseball diamond.
Artist: Bill Davis
(First: Episode 1877)

Celebrity
Blair Underwood swings Elmo sixteen times.
(First: Episode 2794)

Cartoon
"Song of the Inuit Child"
(First: Episode 2112)

SCENE 6
Chicago wants to show Telly and Savion his trick. Telly gets excited for a circus trick like the lion jumping through a ring of fire, but Chicago's trick is a card trick. Savion picks a card, and Chicago tells him which card he picked...by guessing each number in sequence. Telly is impressed, and Chicago gives away his secret--he just counted. Savion tells Chicago that even though that's not really a magic trick, he counted very well. Savion announces the sponsors.
Notes