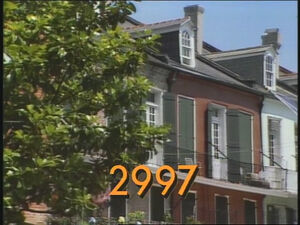 Picture
Segment
Description




SCENE 1
Bob tells the viewer that he and the kids are about to start band rehearsal, but they're waiting for Gordon to show up. Gordon has got something else to do, so he instructs Monty to tell Bob that he is coming, but he is going to be late. Monty tries to memorize what Gordon told him by reciting it over and over, but ends up muddling the phrase beyond comprehension (turing it into "Ordon is humming, but he's going to have an eight.") When he reaches Bob with the message, Bob and the kids can't understand what he's talking about. They figure out through rhyming that Monty's message is "Gordon is coming, but he's going to be late."

SCENE 1 cont'd
A humming monster (Peter Linz) then passes by with a number 8 and is revealed that his name is Ordon. Monty and Ordon walk off, scatting to "Ordon is humming, but he's gonna have an eight."

Cartoon
How Andy Fritz Ate the Sun.
Artist: ArtistMike
(First: Episode 2730)

Song
"What Do You Do With a Fruit?"
(First: Episode 2050)

Muppets
Muppet & Kid Moment — Ernie, Bert and Shola talk about taking a nap.
(First: Episode 0537)

Film
Forward and backward are demonstrated as a family prepares breakfast.
(First: Episode 2921)

Cartoon
The Typewriter: C-cat
(First: Episode 0779)

Celebrity
Candice Bergen stops by the Fix-It Shop to check on her boombox, which Maria has just fixed. She tests it out with a cassette of "C is for Cookie," which she lip-syncs and dances to (complete with props).
(First: Episode 2710)

Cartoon
Geometry of Circles #1 "Circle with Flower"
(First: Episode 1393)

Muppets
Bad Bart is looking for Marshal Earp.
(First: Episode 0537)

Cartoon
A domestic cat paints various wild feline versions of himself on his owner's canvas.
(First: Episode 1521)

Muppets
Sesame Street News Flash: Mary's Little Lamb
After an interview with Mary, the lamb follows Kermit.
(First: Episode 1943)

Film
Kids have a lost-dog poster made using an old-style printing press.
(First: Episode 1222)

SCENE 2
At day care, Elmo shows Lillian his drawing. She's able to identify the shapes as different objects, though Elmo insists they're just simple shapes. His other drawing is much more complex, however.

Cartoon
Number factory 1-10
(First: Episode 2541)

Insert
Big Bird watches the shape dancers form a rectangle.
(First: Episode 1276)

Cartoon
J family jamboree
(First: Episode 0365)

Muppets
Waiter Grover: Mr. Johnson eats at an airport restaurant and is on his way to South America. When Grover learns about Mr. Johnson's trip, he gives a big lecture on South America, causing Mr. Johnson to miss his flight.
(First: Episode 2616)

Song
Joe Raposo sings "Doggy Paddle."
(First: Episode 1967)

Cartoon
The letters H, E, L and P try to arrange themselves to form the word "Help" while stuck on an island.
(First: Episode 1176)

SCENE 3
A cow named Ruby (Alison Mork) visits day care and teaches Elmo and the other kids how to be cows. She then asks Christopher to "give" Lillian a glass of milk, then the kids follow Ruby to practice eating grass.

Film
A gymnastics team practices tricks for the circus.
(First: Episode 2889)

Cartoon
C for cap (oversized cap)
(First: Episode 0154)

Muppets
Monsterpiece Theater
Grover is playing an old man in a rowboat, which is on a giant letter C.
(First: Episode 2710)

Cartoon
Mother Nature shows how earthworms help trees grow.
Artist: ArtistMike
(First: Episode 2736)

Film
Empty / full classroom (time-lapse)
(First: Episode 0415)

Cast
Ask Oscar
A grumpy Linda substitutes for Oscar.
(First: Episode 2316)

Cartoon
Four ducks
(First: Episode 1481)

Film
Shapes vibrate as girls beat on their drums.
(First: Episode 2873)

Muppets
"Do De Rubber Duck"
(First: Episode 2304)

Film
A kid recites a poem about adding penguins.
Music: Joe Raposo
(First: Episode 0255)

Cartoon
Gloria Globe appears sick and ailing, because of pollution and damage to the planet. Only by taking better care of the Earth can Gloria become well again.
(First: Episode 2781)

SCENE 4
Elmo and Alice dance as Bob and his band play the "Skater's Waltz." Alice swings Elmo on her snuffle towards the end, making him dizzy.

Film
The Count (in voiceover) counts five children standing behind a park bench.
(First: Episode 2931)
Cartoon
A boy acts out his feelings as animals. ("There's a zoo in me!")
(First: Episode 0783)

Muppets
A lady brings her J to Al's Alphabet Garage because it won't jump. Al asks if it can jog, jiggle, play jazz and determines that it needs a jump start. After he gets it working, the J smashes through the wall.

Animation
Planet J/j
(First: Episode 2833)




Film
A girl named Maria and her family are having a Cuban barbecue. She invited her friend, Stewart, to enjoy in the fun and learn about Cuban culture.
(First: Episode 2760)

Animation
Four genies carry the number 4 into a castle.
Artist: Ishu Patel
(First: Episode 2244)

SCENE 5
Elmo hangs onto Alice's snuffle as she dances to the "Sesame Street Theme." Monty announces the sponsors.