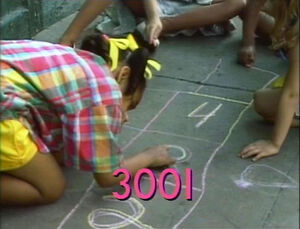 Picture
Segment
Description

COLD OPEN
Elmo announces that today you'll see the letter P and X and the number 6, and you'll also see Elmo driving his pretend car everywhere on Sesame Street. Oscar the Grouch decides to go back in his can for the rest of the episode.

SCENE 1
Elmo tells Gordon that his pretend car can go anywhere on Sesame Street--to the Fix-It Shop, to Hooper's Store, and even to the pink flamingos.




Film
Flamingos walk around to classical music.
(First: Episode 2498)
Elmo enters the film, and asks the birds if they know his friend Placido Flamingo.

SCENE 1 cont'd
Elmo returns to Gordon, reminding him that when he says the Elmo-mobile can go anywhere, he means anywhere!

Cartoon
A lizard sings about how she likes to be "Above it All", as well as below.
Artist: Sally Cruikshank
(First: Episode 2559)

Film
Squares are shown in close-up.
(First: Episode 0420)




Muppets
An Anything Muppet family sings "Let's Go Driving."
(First: Episode 2095)
Elmo appears over the segment, singing along.

Cartoon
The letter X appears on-screen.
(First: Episode 2779)

Song
A girl invites the listener to "Swing Up High."
(First: Episode 0408)




SCENE 2
Susan is reading Little Red Riding Hood to Big Bird and the kids, when Big Bird says that he'd like to interrupt this fairy tale with a few words that begin with the letter P. On his cue, a parade of P-word characters pass by (a penguin, prince, pirate, and pineapple), but he wants one more before he will let Susan continue the story. Elmo then drives by with a pig (David Rudman) in the Elmo-mobile, and Big Bird allows Susan to keep reading.

Animation
P - Pyramid
(First: Episode 2061)

Film
In an Alaskan village, a doctor makes a regular visit to a clinic.
(First: Episode 2390)

Muppets
The Big Bad Wolf sings about himself and his family.

Cartoon
Jill walks up a hill to pick a daffodil.
Artist: Jim Jinkins
(First: Episode 2538)

Film
Fay Ray dresses up as different animals. ("It's Kermit the Dog!")
(First: Episode 2639)

Muppets
Ernie & Bert — Bert refuses to share his cookie with Ernie, who tells Bert that if the cookie was his, he wouldn't mind sharing. Ernie takes the cookie, and asks Bert to ask him if he would share it.
(First: Episode 0472)

Film
Ornate Xs spin around in accompaniment to a song.
(First: Episode 2929)

SCENE 3
The Elmo-mobile lets the pig off in the arbor, but now it needs fuel. Gordon offers Elmo a tuna sandwich, which the Elmo-mobile is reluctant to try. But the tuna sandwich does the trick, and after a few bites the Elmo-mobile is off!

Cartoon
A girl tries to describe what kind of sandwich she wants, but her dad keeps misunderstanding her.
Artist: Cathryn Aison
(First: Episode 1715)

Celebrity
Take 6 sings "Take 6," a song about themselves that counts to the number 6.

Cartoon
6 mice, 6 snakes, 6 fish, 6 monkeys, 6 witches
(First: Episode 1711)




Muppets
Spaceship Surprise
The crew lands on the Planet TR, where they are greeted by Trevor Trout.
(First: Episode 2607)

Cartoon
A lizard, a girl and a dog dance.
Artist: Karen Aqua
(First: Episode 2795)

SCENE 4
Susan finds Telly holding a stop sign. The Elmo-mobile stops at the stop sign, and Telly hops in.

Cartoon
A man juggles until he is told to STOP.
Artist: Cliff Roberts
(First: Episode 1340)

Muppets
Betty Lou learns some Spanish words from her friend Carlos, including "Amigo."
(First: Episode 2042)

Cartoon
The Story of Cowboy X, with the voices of Jean Shepherd
(First: Episode 0325)




Film
Ducks swim and fly. (piano music)
(First: Episode 2510)
Elmo and Telly appear in the film. Elmo assures Telly that they're not lost, they just don't know where they are.

Animation
"Six Circus Balls"
Artist: Jane Aaron
Film
Footage of a Chinese noodle factory.
(First: Episode 0984)

Cartoon
P for Pack
(First: Episode 0504)




SCENE 5
The Elmo-mobile arrives in a throne room of 15th century middle Europe, where the King (Rudman) and his servant (Jim Martin) are planning a birthday party. Elmo and Telly ask for a map, which the King's servant provides. Now they know how to get back to Sesame Street, and the servant asks to go with them.

Cartoon
A British man narrates how chewing gum is made in Guatemala.
Artist: ArtistMike
(First: Episode 2830)

Film
A boy takes dance lessons at The Alvin Ailey American Dance Theater.
(First: Episode 1716)

Animation
It's a crocodile
Artist: Ishu Patel
(First: Episode 1663)

Muppets
Kermit sings "Caribbean Amphibian."
(First: Episode 2205)

Cartoon
Junior has to jump across the pond to make the frog chorus.
(First: Episode 0926)

Cast
Savion and some kids do "The Arm."
(First: Episode 2908)

Cartoon
A spider refuses to give up spinning a web, no matter how badly injured he becomes.
(First: Episode 1652)

Film
Empty / full playground (time-lapse)
(First: Episode 0415)

Film
Six apples minus three equals three
(First: Episode 2257)

Muppets
Super Grover crash-lands inside an apartment, and when he sees that the lamp light is on, he decides that he needs to save energy by turning off the lamp. His method to turning off the lamp is blowing the light out, but a girl just turns off the switch.

Cartoon
A little girl sings "There Is Only One Me."
(First: Episode 1942)




SCENE 6
Telly is very relieved that the Elmo-mobile is safely home. The servant asks who the king is here, and they say they don't have one. Then he spots Gordon, but Gordon says he's not the king, he's a science teacher. The servant decides to follow this wise ruler everywhere. Oscar emerges from his can when he thinks Elmo is gone, but he is too soon--Elmo comes back to announce the sponsors.