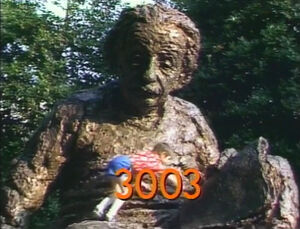 Picture
Segment
Description

COLD OPEN
Big Bird, Rosita, Telly, Elmo and three kids have pooled all their money together to buy something they can all share. Big Bird plops down their combined three dollars onto the Hooper's Store counter, but they start arguing over what they should spend the money on.




SCENE 1
The gang has reduced their desired purchase to be for either juice or crayons. Mr. Handford tells them they don't have enough to buy both and tells them conducting a vote will be the fairest way of deciding. Big Bird and Elmo make passionate speeches for their respective choices (crayons and juice) before every starts their vote. It ends up in a two-way tie and Telly is left as the tie-breaker. He leaves to think about the best way to use his vote.

Animation
Cecille sings "I Wanna Be Me."
(First: Episode 2791)

Film
A baby messes around (literally) with a chocolate cookie, as Cookie Monster (in voice-over) wishes it were for him.
(First: Episode 0407)

Muppets
Ernie & Bert — Bert wants to sort his paper clips, but he can't concentrate because Ernie is counting fruit. Bert decides to wait until Ernie is done. This proves to be a bad idea: after counting all of the fruit in the bowl, Ernie begins to count all the fruits of which he has zero.
(First: Episode 2315)

Cartoon
Kids observe cloud formations, until it starts to rain.
(First: Episode 2074)




SCENE 2
Luis reads a story, The Kingdom That Had No King. In the story, the citizens of a kingdom are devastated when their king leaves them, and ultimately decide what to do on their own.

Cartoon
A boy counts down to 0 as he eats his soup.
(First: Episode 2283)

Song
"My New Computer"
(First: Episode 2857)

Muppets
Grover's Health Minute: Kermit the Frog and Grover talk about teeth. Grover notices that Kermit does not have any teeth at all, so he puts a pair of teeth in Kermit's mouth. Grover says to see a "tooth checker," to eat crunchy things like bananas and to clean teeth with a "tooth comb."
(First: Episode 1949)
Song
Joe Raposo sings "Dressed Up."
(First: Episode 0302)

Cast
Maria and Linda sew quilts with a Q on them.
(First: Episode 1508)

Animation
Sand Q/q
(First: Episode 0623)




SCENE 3
Telly still can't decide what to vote on. He imagines what would happen if he voted for each option and envisions his friends struggling without crayons or juice. Everyone votes to check if Hooper's even still has their options, leaving Telly behind. Gordon passes by and informs Telly that his vote is based on what he wants, not what everyone else wants. Telly realizes what his vote should be for and rushes off to Hooper's.

Film
How Crayons are Made
Music: "Water Course A" and "Exchange" by Richard Harvey
(First: Episode 1579)
Cartoon
C is for Candle (the candle blows back)
(First: Episode 0703)

Muppets / Celebrity
Robin Williams and a robin observe how similar they are. Afterwards, the robin sings "Lullaby of Birdland."
(First: Episode 2848)

Film
The Count (in voiceover) subtracts from five to one to zero children on a park bench.
(First: Episode 2923)




SCENE 4
Telly returns to Hooper's just in time to place his vote. He's finally decided on buying crayons. Elmo is disappointed, having wanted juice. There's fifty cents in change left, which is enough to buy him a glass, plus seven straws for everyone to share.

Animation
Fans unveil Q and q.
(First: Episode 2895)

Film
Looking for circles in the city (Maria voice-over)
(First: Episode 2711)

Muppets
The Count is all dressed up for Bat Day, which is when he takes his bats for an outing downtown. He counts the votes from his bats, which is more fun to him than an outing.

Animation
Carrot subtraction (4-1)
(First: Episode 1537)

Song
"Frog Kick"
(First: Episode 2155)

Cartoon
Black cat, white cat, orange cat, marmalade cat, mouse cat, bird cat, chasing balls of string cat.
Artist: Jeff Hale
(First: Episode 1141)




SCENE 5
Gordon and Susan tell the youngsters how adults vote too, describing how they voted for the President of the United States. They then field questions about all the other grown-ups who can vote (except Barkley, who cannot vote).

Cartoon
Q for Quiet
Artist: John Korty
(First: Episode 0441)

Muppets
"They Can't Take That Away from Me": Cookie Monster's six cookies are subtracted down to zero.
(First: Episode 2351)

Film
A boy makes fruit salad.
(First: Episode 1195)

Cartoon
A peacock counts twenty feathers on his tail.
(First: Episode 0406)

Muppets
Sesame Street News Flash
Kermit interviews a bird who sings about how her parents still love her even though they don't live together anymore (though it is not directly stated whether her parents are divorced or separated).
(First: Episode 2695)

Cartoon
Speech Balloon: C for carrot
(First: Episode 0203)

Film
A park ranger speaks to a group of kids about trees and the fruits that come from them. Then all the kids hug a tree.
(First: Episode 2891)

Song
"Zero Song": A female voiceover sings about the food that keeps being taken away to make 0.
Artist: Jane Aaron

SCENE 6
Everyone votes on whether to announce the sponsors; they are all unanimously in favor of it.
See also
Episode 4169, in which Telly serves as a tie-breaking vote once more