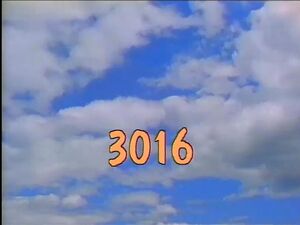 Picture
Segment
Description




SCENE 1
Rosita gets Telly to participate in her new game, entitled "The Beauty and the Cheese." Telly gladly takes the role of the cheese and recalls being friends with one once. Rosita begins her store, where a witch (Zelda) puts a curse on a prince, turning him into a cheese. Suddenly, a cheese monster (Elmo) finds him and chases him, looking for a snack. The princess (Rosita) is able to return him to normal with a kiss. Elmo notes there wasn't a happy ending for him; he's still hungry. Rosita now switches the story to "Beauty and the Tuna Fish Sandwich," and Telly is chased some more.

Cartoon
A dinosaur tries to eat an apple on a tree. A group of kids keep telling him to "GO HIGHER!"
(First: Episode 2908)

Muppets
"Street Garden Cooperation"
(First: Episode 1956)

Film
Letter H hoist
Music: Joe Raposo
(First: Episode 0336)

Film
A variety of H's are grown in a garden.




SCENE 2
Zelda keeps playing her role at Hooper's Store, chanting, "You're a cheese!" to an actual block of cheese. Mr. Handford goes into the basement to get some plastic wrap for it. Telly and Rosita, overhearing Zelda, go inside the store and see the block of cheese and assume it's Mr. Handford under a spell! Rosita kisses it, but nothing happens. They theorize that saying "You're Mr. Handford" three times, with their eyes closed, will help. Mr. Handford returns to the counter while they do this and wraps up the cheese. They're glad to see he's turned out okay and he offers them some cheese. They shake, wondering who the block of cheese really is now.

Cartoon
Nineteen kernels of popcorn pop.
(First: Episode 2855)

Muppets
"Readers of the Open Range"
(First: Episode 2141)

Cartoon
W - wallpaper
(First: Episode 0291)




Muppets
Big Bird's Video Postcards
Big Bird finds himself in Phoenix, Arizona, where he hangs out with Diego and his family. He learns that cacti can survive the hot, dry weather, and is treated to birdseed burritos at a picnic with the family later on.

Animation
"Front Back Ballet"
Artist: Jane Aaron

SCENE 3
Bob is the special guest at today's Countketeer meeting. First, the Count counts every Countketeer member they have. The meeting cannot proceed, however, until every kid gets a chance to count how many members there are.

Cartoon
A juggling bear helps a little girl learn to juggle.
(First: Episode 1834)

Song
Sesame Street Creature Feature: The Marmoset.
(First: Episode 2487)

Muppets
Ernie & Bert — Bert thinks that Ernie has eaten his cookies, but it turns out that Cookie Monster (dressed as Ernie) ate the cookies.
(First: Episode 0158)

Film
Ornate Ws spin around in accompaniment to a song.
(First: Episode 2952)

Cast
Gordon and the word "wand."
(First: Episode 1491)

Cartoon
A curious cat chases after a ball of string and explores various places in its home.
Artist: Michael Sporn
(EKA: Episode 2238)

SCENE 4
Bob is ready to read the Countketeers a story, but first, they all must count the number of pages there are. Then, they count every word of the book as Bob reads it.

Cartoon
Lots of bunnies are needed to pull the huge carrot from the ground.
Artist: Irra Verbitsky
(First: Episode 1473)

Film
"Box City Recycling Rap"
Kids sing a rap song about recycling. They build a city out of boxes and cartons.
(First: Episode 2851)

Muppets
Grover and Mr. Johnson: Grover the taxi driver picks up Mr. Johnson, who's startled to find his usual waiter driving a cab. Mr. Johnson wants to go to the library. Grover says that that is a very wise choice, and talks about the great things about a library. "Of course, you could also go to the zoo," he observes, and talks about the benefits of visiting the zoo. He also suggests the museum, or a movie. Mr. Johnson insists that they go to the library -- but Grover says they'll have to wait until he gets his cab fixed.
(First: Episode 2984)

Song
"Spanish Foods Song"
(First: Episode 1111)

Cartoon
Two kids want to use their empty box as a pretend submarine or airplane. They agree to imagine it's a rocketship.
Artist: Cordell Barker
(First: Episode 2369)




SCENE 5
Bob and the kids sing about a worm, played by Slimey, who crawled all over the world ("Worm 'Round the World"), using their globe as a prop. After the song, Slimey takes a nap.

Cartoon
We Are Kids from Far and Wide: Rice harvesting in Sierra Leone
(First: Episode 2774)

Muppets
"Home to Me"
(First: Episode 2093)

Cartoon
A clam tells a fisherman why he's not catching any fish: he pulled all the plants out of the pond.
(First: Episode 0408)

Muppets
The Oinker Sisters sing about what's "Important" to them.
(First: Episode 2818)

Animation
Finding shapes in colored pixel-blocks
(First: Episode 1455)

Film
EXIT
(First: Episode 0935)

SCENE 6
Snuffy can't go home, as Natasha has latched onto his snuffle and won't let go. Maria tries to help, but they find Natasha has a strong grip. She gets the baby to let go by offering her a bottle. Snuffle is glad the problem has been solved, until Natasha grabs hold again.

Animation
Planet H / h
(First: Episode 2851)

Muppets
Phil Harmonic introduces Ernie and Placido Flamingo, who sing "Up and Down Opera" to demonstrate up and down.
(First: Episode 2440)

Animation
Yellow drops don't want to play with a red ball at first, but they make a good flower together.
(First: Episode 1895)

Muppets / Celebrity
Cab Calloway sings "Hi De Ho Man."
(First: Episode 1540)

Animation
A chair (voice of Martin P. Robinson) keeps bumping into things, until he finds his glasses. "See ya later!"
(First: Episode 1981)

SCENE 7
Maria asks about Grundgetta's new earrings, which Oscar picked out for her at a Puerto Rican boutique. They read "Entrada" and "Salida," because that's how everyone's pleasant conversation sounds to her - entrada in one ear and salida the other.
Community content is available under
CC-BY-SA
unless otherwise noted.