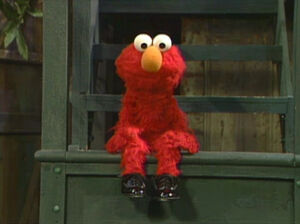 Picture
Segment
Description

SCENE 1
Elmo greets the viewer as he waits for Savion's dance class to begin. He's full prepared, when Savion and Jelani happen by. They have to go to school, so the lesson won't be until later. In the meantime, Elmo decides to think about the letter Z and repeats "z-zip."

Cartoon
Zig...zag...zoom...zoo.
(EKA: Episode 0307)

SCENE 1 cont'd
Elmo now thinks about "zizzag."

Muppets
"Zig Zag Dance"
(First: Episode 1567)

SCENE 1 cont'd
Elmo now thinks the letter Z, out in the cosmos...

Cartoon
Z In Space
(EKA: Episode 0872)

Song
Joe Raposo sings "Everybody Eats."
Re-filmed version
(First: Episode 2855)

Cartoon
Nine Ants
Owe Gustafson
(EKA: Episode 2159)
Muppets
Sesame Street News Flash
Cinderella's Fairy Godmother tries to make a beautiful ball dress appear on Cinderella without success: it ends up on Kermit instead.
(EKA: Episode 2442)

Cartoon
A poem about dogs of different sizes, feelings and colors.
Artist: Deanna Morse
(First: Episode 2924)

Song
"Dancin' Shoes"
(First: Episode 2949)

Cartoon
AMOR, amor, amor ... amoramor ... amoramor ...
(EKA: Episode 0801)

Muppets
Muppet & Kid Moment — Telly and Sean come up with R words, including roar, which attracts Chicago.

Film
Letter R hoist
Music: Joe Raposo
(EKA: Episode 0901)

Cartoon
Gloria Globe attempts to pull a rabbit out of her hat, but pulls out a camel instead, which belongs in Egypt.
(First: Episode 2792)

Muppets
Waiter Grover: Grover tells Mr. Johnson the menu, which has the items numbered. Number 9 is the special of the day. It turns out to be a real number nine, but Mr. Johnson doesn't want it. (It's medium rare, and he likes his nines well-done.)
(First: Episode 1377)

Cartoon
Jerry Nelson sings "Moonshine."
(First: Episode 2775)

Film
Wendy makes cookies with her grandmother. They later visit Wendy's great-grandmother at the nursing home, and give her some of the cookies.
(EKA: Episode 2244)

Cartoon
Which legs belong on the man?
(EKA: Episode 1691)




SCENE 2
Tap class still hasn't begun, so Elmo imagines himself as the world's greatest tap dancer as he sings "Happy Tappin' with Elmo." Back in reality, everyone is gathered for class, though Elmo still considers himself a great dancer. He falls down trying to prove it and admits some lessons won't hurt.

Cartoon
Two orange balls perform "Twinkle Twinkle Little Star"
Artist: Fred Garbers
(EKA: Episode 2375)

Animation
Kids narrate how a Navajo blanket is weaved.
(First: Episode 2976)

Muppets
"Muppets Rhyme in School"
(EKA: Episode 2291)

Cartoon
Number factory 1-10
(EKA: Episode 2755)

SCENE 3
Gina, Luis, Jelani, Elmo and Mr. Snuffleupagus practice the steps Savion teaches them, but Snuffy has a harder time than everyone else. Since he has four feet instead of two, Savion suggests he try the steps using only his back feet. Snuffy is able to mimic the steps and feels very proud to be tap dancing.

Animation
Stop-motion: tap-dancing shoes.
(EKA: Episode 2367)

Muppets
"Cereal Girl"
(EKA: Episode 2687)

Cartoon
A boy gets lost in a mall, and a security guard shows him how to use a map.
Artist: ArtistMike
(EKA: Episode 2856)

Muppets / Celebrity
Celia Cruz tells Big Bird about a hummingbird, and sings "Zunzun."
(EKA: Episode 2492)

Cartoon
The detective sees a lever, and thinks about what might happen if he pulls the lever, being prepared for anything.
(EKA: Episode 2641)

Film
Some kids have a bike race by the river.
(First: Episode 1419)

Cartoon
Howard Coolsell finds out about exercise.
(EKA: Episode 2243)

SCENE 4
Mr. Snuffleupagus feels sad that his back half is better at tap-dancing than his front. In song, Savion shows him that his front half can rap while his back half taps.




Cast
Gordon hosts "The Crossing Zone," in which a boy named Jonathan has to find a way to cross the street. Susan helps him across.
(EKA: Episode 2729)

Cartoon
"Dinner for Nine"
Artist: Paul Fierlinger
(EKA: Episode 1736)

Film
College students volunteer at the San Francisco Children's Zoo, which has such animals as ferrets, opossums, and chinchillas.
Music: Joe Raposo
(EKA: Episode 2227)

Cartoon
An owl flies, carrying a sign that says "PELIGRO."
(EKA: Episode 0811)

Muppets
How Now Brown and the Moo Wave perform "Danger's No Stranger."
(EKA: Episode 2201)

Film
A girl draws a picture of her friend, Dai Xi.
(First: Episode 2791)

SCENE 5
Savion and Dayle practice some tap moves as the sponsors are announced.