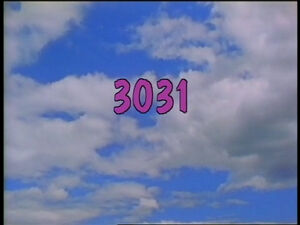 Picture
Segment
Description

SCENE 1
Telly waits at Bob's door early in the morning, as today, he is going to do everything Bob does. He wakes Bob up with his knocking and asks if he's missed anything Bob has done. Bob tells him all he's done is sleep, heard Telly's knocking, and woke up. Telly jumps into Bob's bed and has Bob knock on the door so he can do what Bob just did. Unfortunately, Telly falls asleep and can't hear Bob knocking on the door.

Cartoon
Gerald's dog, Sparky, likes to pretend he's an alligator.
(First: Episode 1519)

Film
Alphaquest: H
Heading over the hills in a helicopter to a hippo's house.
(First: Episode 2741)

Muppets
Astronaut Prairie Dawn floats on a space shuttle, when Elmo pops up out of nowhere, offering to help her. He soon learns that there is no need for a policeman, a construction worker, or a farmer in space (unless there's a cow).
(First: Episode 2862)

Cartoon
Gloria Globe sings "I Am the World."
(First: Episode 2744)

SCENE 2
Telly finally wakes up and remembers Bob is outside. He opens the door and lets him in. Telly then tries to take a shower with Bob, but Bob insists that he does that alone. Instead, Telly decides to listen from outside the bathroom, and pretends to do what Bob does based on the sounds he hears. He mistakes the sound of Bob's electric razor as an airplane.

Film
An insert about washing elephants at the Bronx Zoo. The song "Splish Splash" is used in part of the segment.
(First: Episode 1934)

Muppets
Caveman Days
King Ernie needs to clean his yucky teeth. The Royal Smart Person brings a big brush (used for sweeping), then a middle-sized brush (used for brushing hair), then a smaller brush (used for painting), and finally a really small brush (a toothbrush). Just as Ernie proclaims that he'll "brush every tooth in the entire kingdom," a saber-toothed tiger comes in, seizes the toothbrush, and begins to use it himself!
(First: Episode 1388)

Cartoon
Toothpaste March
Artist: Ray Favata
(First: Episode 1446)

Song
14 Karat Soul sings "Hand Talk."
(First: Episode 2622)

Cartoon
The 8 Brothers Circus displays 8 elephants.
Artist: Paul Fierlinger
(First: Episode 1645)

SCENE 3
Telly and Bob are going to have the same thing for breakfast – granola. Telly refuses to eat it, since he's never had it before. He gives it a taste and likes it so much, that he begins to eat Bob's whole portion.

Cartoon
Fruta Manzana (original)
Artist: Irra Verbitsky
(First: Episode 1231)

Muppets
The Rhymies go camping, but a bear disrupts their campsite.
(First: Episode 1389)

Film
A group of girls do a playground cheer ("One step forward, one step back").

Cartoon
A shy girl wants to join a group bouncing a ball.
Artist: Joanna Priestley
(First: Episode 2849)

SCENE 4
Back in Bob's apartment, Telly and Bob wait for his music students to arrive. Telly counts the students that just arrive, and then adds the late comers. Telly wants to help teach, but Bob suggests Telly sing with the chorus. He joins them in singing "One Small Voice." Telly then joins Bob in congratulating the chorus.

Film
Ornate Rs fly through the sky to a song.
(First: Episode 2932)

Cartoon
How Andy Fritz Ate the Sun.
Artist: ArtistMike
(First: Episode 2730)

Film
Kids talk about building sand castles and sand structures at the beach.
(First: Episode 1122)

Celebrity
Linda Ronstadt sings a special rewritten version of "Y Andalé" with a mariachi band.
(First: Episode 2487)

Cartoon
H for hola (Spanish soundtrack).
(First: Episode 0362)

SCENE 5
Bob is about to jog when Telly arrives, wearing the same workout clothes as Bob, and tells him that he is no longer copying Bob; he and the Bobketeers are! Telly worries, however, that if they go jogging, they'll love it so much they'll keep on jogging and never come home (and he and the Bobketeers have school in the morning). Bob assures Telly he's going around the block a few times and that they'll be back before tomorrow.

Cartoon
Two boys peek into a fire house, and write HAT, HOSE, and HOOK on the window using their breath. Two dogs come by and wonder what a HAT HOSE HOOK is, but their question is answered when the fire truck leaves the station ...
Artist: Paul Fierlinger
(First: Episode 1204)

Muppets
Muppet & Kid Moment — Chip and Dip hold a sign with the word "CAT" written on it and ask Danny if he knows what it says. When they learn that he can't read the sign, they give him clues.
(First: Episode 2805)

Cartoon
R for rose
(EKA: Episode 2363)

Film
"Simple Pleasures" by Bobby McFerrin is played over footage of a girl trying to play frisbee with a dog on the beach.
(First: Episode 2876)

Cartoon
A man explains the letter R with a radio. Once he starts singing, the radio decides to turn him off by tweaking his nose.
(First: Episode 0011)

SCENE 6
Bob, Telly and the Bobketeers are all waiting under the bus stop sign, wearing glasses and reading the newspaper. The bus zooms past without stopping, making Bob mad (throwing his newspaper down in frustration). The Bobketeers get angry and throw their newspapers as well.

Animation
CH words (chop, choose, change, etc.)
(First: Episode 2893)

Muppets
Little Chrissy and the Alphabeats sing "Cluck Around the Clock."
(First: Episode 2817)

Cartoon
Candy Man
Artist: Bud Luckey
(First: Episode 0359)

Song
Olivia sings "The Riddle."
(First: Episode 1721)

Cartoon
A map of Brazil morphs into the shape of animals that are found there.
(First: Episode 2806)

SCENE 7
Now nighttime, Bob plans to go back to his apartment, read, and then go to sleep. Telly and the club are excited to go to Bob's apartment and do the same thing, until Bob points out they will do the same thing at their own houses. The closing music begins playing, which means the Bobketeers can announce the sponsors the same way Bob does. Telly suggests doing this again tomorrow, to which Bob replies "Let's not."
Community content is available under
CC-BY-SA
unless otherwise noted.