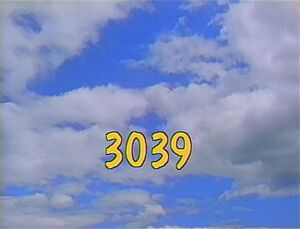 Picture
Segment
Description

SCENE 1
Two Martians materialize in front of a letter W. They consult their book to find out what it is, and think of words that begin with W, including "walk", "wind", and "welcome".

Film
Ornate Ws spin around in accompaniment to a song.
(First: Episode 2952)

Film
A girl wants to learn a playground rhyme after watching some other girls do it, so one of them teaches her.
(First: Episode 2284)

Muppets
"I Love You (More or Less)"
(First: Episode 2990)

Animation
Computer N / n

Cast
A voiceover instructs Maria as Chaplin where to put the shirts and the towels. (piano underscore version)
(First: Episode 0541)

Cartoon
A lizard sings about how she likes to be "Above it All" as well as below.
Artist: Sally Cruikshank
(First: Episode 2559)

SCENE 2
The Martians materialize in front of a DANGER sign, and find out what the word means when the sign falls on the blue one.

Animation
Teeny Little Super Guy recalls how he learned about the meaning of DANGER.
Artist: Paul Fierlinger
(First: Episode 1971)

Film
Cat block structure
(First: Episode 1824)

Cartoon
Nancy the nanny goat nibbles her nails and notices noodles.
Artist: Tee Collins
(First: Episode 0240)

Muppets
The Bicuspids sing "Kids Just Love to Brush."
(First: Episode 2060)

Cartoon
A gorilla outgrows his toy fire truck, and is about to throw it away, when he decides to pass it on to his little brother.
(First: Episode 2840)

SCENE 3
The Martians find a SH, with a milkSHake next to it. The blue one starts to drink it, then gets the idea to SHare it with the orange one.

Animation
It's a crocodile
Artist: Ishu Patel
(First: Episode 1663)




Muppets
Spaceship Surprise
The crew lands on the Planet SH, where they are greeted by Sheriff Shrimp, and meet a shouting shovel and shopping sheep.
(First: Episode 2468)

Cartoon
The Typewriter: N for Nose
(First: Episode 0763)

Song
Joe Raposo sings "I'm an Aardvark."
Re-filmed version
(First: Episode 2520)

Muppets
Mr. Johnson is at home when he calls for pizza delivery. Naturally, the delivery comes by way of Grover who keeps messing things up because he's not listening to the order. He brings a carpenter's saw and a potted flower attached to his head as a result of cutting Mr. Johnson off mid-sentence.
(First: Episode 2971)

Animation
Counting 1-10 and 10-0 in Spanish (Maria voice-over)
(First: Episode 3008)

Cast / Celebrity
It's just a normal day on Sesame Street, until Gloria Estefan leads everyone in a conga line as she performs her hit single "Conga." When she leaves, everything returns to normal.
(First: Episode 2887)

Cartoon
Hortense counts four ants.
Artist: Michael Sporn
(First: Episode 2501)

Muppets
The Count is all dressed up for Bat Day, which is when he takes his bats for an outing downtown. He counts the votes from his bats, which is more fun to him than an outing.
(First: Episode 3003)

Cartoon
Bud the Bird flies above and below in a bumper car.
Artist: Lisa Crafts
(First: Episode 2901)

Song
"When You Grow Up"
(First: Episode 2912)

Cartoon
Babies and doggies pattern: What comes next?
Artist: Keith Haring

Muppets
Cookie Monster and Prairie Dawn are out in the fresh air. Prairie loves the outdoors, but Cookie Monster can't get over that she did not bring any cookies. She tries to get his mind off cookies by getting him to focus on the clouds, trees, and flowers. Everything he sees reminds him of eating cookies, but Prairie Dawn reminds him that if he ate all the flowers, there wouldn't be any left for other people to enjoy.
(First: Episode 2955)

Cartoon
A hand draws a bridge, which a train crosses.
(First: Episode 0793)




Cast
Gordon reads "The Legend of Big Mouth." The title character, portrayed by Elmo, annoys the townspeople with his constant talking, because he doesn't have anything important to say. The mayor teaches him the meaning of "important," and he becomes a hero when he warns the townspeople about a giant foot coming out of the sky. (underscore removed)
(First: Episode 2866)

Cartoon
Donnie Budd counts four lions.
Artist: Bud Luckey
(First: Episode 0300)

Muppets
The Two-Headed Monster demonstrates surprise.
(First: Episode 2924)

Film
Kids have a lost-dog poster made using an old-style printing press.
(First: Episode 1222)

Cartoon
Dinah from South Carolina exchanges letters with her friend Ling Lu in China.
Artist: ArtistMike
(First: Episode 2727)

Muppets
Bert sings the club song for The National Association of W Lovers.
(First: Episode 0366)

Cartoon
Jasper thinks that he has lost his elbow, but Julius shows him his elbow by bending his arm.
Artist: Cliff Roberts
(First: Episode 0410)




SCENE 4
Oscar the Grouch holds a Grouchketeer meeting, which Snuffy and Alice participate in. Oscar tells them to say "NO", whatever he asks them. They continue saying NO, even when Oscar tells them to stop. Maria announces the sponsors.