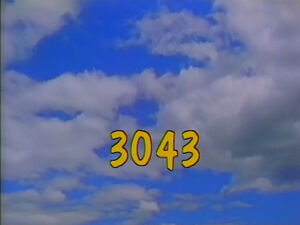 Picture
Segment
Description

COLD OPEN
Big Bird, Elmo, Telly Monster, and the kids introduce today's sponsors. They all rush out, except for Telly, and return with superhero costumes. Telly hasn't decided what kind of superhero he wants to be yet.

SCENE 1
Mr. Handford runs into the youngsters, who tell them their superhero identities. Mr. Handford calls himself "Ultra Store Keeper Man." The superheroes start running all over, looking for adventures to go on, leaving Telly to think of his own super alter ego.

Cartoon
What if a frog and a fly switched bodies? What do you think would happen?
Artist: Cliff Roberts
(First: Episode 0406)

Muppets
Super Grover
When a boy has trouble finding the gate in a fence, Super Grover attempts to bend the pickets. But eventually, the boy finds an EXIT sign.
(First: Episode 0746)

Animation
A Keith Haring mural comes to life after some kids EXIT.
(First: Episode 3006)
cut from the HBO Max version

Cartoon
A dinosaur demonstrates up and down with a pull-down window shade.
(First: Episode 2887)

SCENE 2
"Super Elmo" whooshes over to the Fix-It Shop to help Luis fix a toaster. He uses his "x-ray vision" to see what the problem is, then speaks kindly to the toaster. Luis immediately sees the issue and fixes it, while Super Elmo takes all the credit.

Animation
Pencil box Y / y




Film
Lamont, who lives in the city, visits his friend Adrian, who lives in the country. Together they ride bikes, swim, and have dinner with Adrian's family.
(First: Episode 2800)

Animation
Can you find the flamingos?
(First: Episode 2791)

SCENE 3
Big Bird, as the "Yellow Avenger," asks if Bob and Linda need to be saved from any bad guys or have heavy cars lifted. They tell him they're good, when Linda finds it a shame that someone has littered some paper on the ground. The Yellow Avenger fights the litter by throwing it in the can where it belongs.

Song
Yakety Yak - Take It Back

Cartoon
Christopher Clumsy demonstrates shapes.
Artist: Cliff Roberts
(First: Episode 0416)

Muppets
Sesame Street News Flash: Kermit the Frog reports on the story of Jack and Jill. Jack needs someone to go up the hill with him. First he chooses Mervin, then Francine and Gladys the Cow. Finally Jack chooses Jill, who refuses go up the hill with him again, so he asks Kermit to fill in.
(First: Episode 1071)

Cartoon
Bruce the moose invites Toulouse LaGoose over for juice.
(First: Episode 2498)

Film
At the harbor, kids learn about dolphins, and how to communicate with them using signals.
(First: Episode 3010)
cut from the HBO Max version

SCENE 4
Merry Monster sees everyone else pretending they're superheroes and they notice Telly's absence. Merry becomes the "Quiet Crusader," the quietest superhero of all, in order to find him. She suggests some things they can call out to find Telly, but because she's so quiet, nobody can hear her. She becomes the "LOUD Crusader" instead.

Cartoon
A fan reveals the letter C.
(First: Episode 2746)

Film
Old bottles are made into new bottles at a recycling plant.
Music: "Black Eyed Peas" by Graham Preskett
(First: Episode 0917)

Cartoon
Dr. Nancy Einstein learns about ice cubes.
Artist: Bruce Cayard
(First: Episode 2582)

Muppets
On a boring day, two hipsters sing "Meet Me at the Bus Stop" and decide to do so.
(First: Episode 1451)

Film
Two kids play drums as animated kid-drawn figures clap with the beat.
(First: Episode 2847)

Cartoon
Y for Yak
Artist: Jeff Hale
(First: Episode 1184)

SCENE 5
Telly finally returns to the yard, having been eating lunch. He reveals that during lunch, he finally got an idea for his superhero - Soup Telly, who brings soup to those who need it. Since he's only imagining he's a superhero, he has imaginary soup.

Cartoon
"Alphabet Jungle"
(First: Episode 2733)

Muppets
Monsterpiece Theater: 12 Angry Men
(First: Episode 3002)

Cartoon
Actor demonstrates anger towards casting director - literally!
(First: Episode 2061)

Muppets
Polly Darton sings about how ordinary sounds influenced her to make "Music."
(First: Episode 2965)
Cartoon
C is for Canary
(First: Episode 0703)

Insert
At Birdland, Lillian sings "Transylvania 1-2-3-4-5" with The Count and his All-Bat Band.
(First: Episode 2834)

Cartoon
Nine sheep (Maria voice-over added)
Aritst: Owe Gustafson
(First: Episode 1501)

Muppets
Ernie & Bert — Ernie brings an umbrella, a flashlight, and Bert's bowling ball to the bathtub, just in case the electricity goes out, the roof leaks, and somebody shows up asking to borrow a bowling ball. Bert thinks that Ernie is being ridiculous -- but everything happens, just as Ernie predicted.
(First: Episode 0269)

Film
Counting 10 cars on a ferry boat.
(First: Episode 2925)

Animation
A girl unfolds a map and uses it to describe her trip to Mexico, stopping in Texas along the way.
(First: Episode 2689)

Song
Joe Raposo sings "Little Things".
re-filmed version
(First: Episode 2485)

SCENE 6
Super Elmo and his team announces the sponsors in heroic fashions.
Community content is available under
CC-BY-SA
unless otherwise noted.