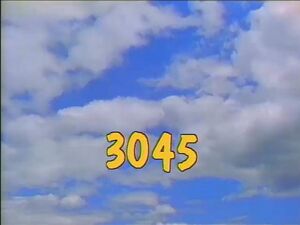 Picture
Segment
Description

SCENE 1
Big Bird watches Maria singing and dancing and tries to follow along. She explains her old friend, Gloria Montoya, is visiting. She's Cuban and the two love the song.

Cartoon
A penguin repeats the rhythms of the sounds it hears, which include a drum, a door knock, a saw, and a typewriter.
Artists: The Hubleys
(First: Episode 0239)

Film
Cheri goes fishing with her abuelo.
(First: Episode 2784)

Cartoon
A dog-shaped television
Animation inspired by Keith Haring.

Muppets
Kermit says his "ABC's of the Swamp."
(First: Episode 1960)

Cartoon
Six snakes spent Saturday on the sand.
(First: Episode 1669)

Muppets / Celebrity
Prairie Dawn is sad because of how small she is; Ziggy Marley and the Melody Makers cheer her up by singing "Small People". They are joined by Big Bird, Snuffy, the Birdketeers, Natasha, Merry Monster, and Billy.
(First: Episode 2945)

Cartoon
A girl talks about imagination.
(First: Episode 0353)




Muppets
Spaceship Surprise
The crew lands on the Planet TR, where they are greeted by Trevor Trout.
(First: Episode 2607)

Cartoon
F stands for flower, forest, fox, frog and fantastic.
(First: Episode 1102)

Muppets
An Anything Muppet man sings about the word "Salida"...and refuses to stop.
(First: Episode 1300)

Film / Muppets
Alphaquest: S
A swimsuit, Grover as a silly surfer, a seagull, the sunset and a submarine.
(First: Episode 2729)

Animation
Cecille sings "I'm Gonna Get to You."
(First: Episode 2873)

Cartoon
A flame burns through a capital letter F, ultimately revealing a lowercase letter f.
(First: Episode 2288)




SCENE 2
Using what Maria's told them about Gloria, Big Bird and Snuffy try to picture what she's like. Snuffy figures she's like Big Bird, who pictures her being like Snuffy. The real Gloria (Olga Merediz) arrives and the two doubt it's her, until they hear her singing Maria's song. They offer to bring her to the Fix-It Shop.

Cartoon
Rap #6
(First: Episode 2502)
Muppets
Ernie doesn't want to play with Bert, who sings "I Wish I Had a Friend to Play With Me".
(First: Episode 1819)




Animation
Beads arrange themselves in different ways, and finally stick themselves to a boy's jacket.

Muppets
Monsterpiece Theater: "The Monsters of Venice"
(First: Episode 2836)

Animation
"Six Circus Balls"
Artist: Jane Aaron
(First: Episode 3001)

SCENE 3
Maria and Gloria reunite and confuse Big Bird and Snuffy when the two start discussing their differences and similarities. They explain that friends can be different, comparing their own relationship to Big Bird and Snuffy's.

Animation
Counting to 10 (Latin rhythm) (Spanish version)

Film
Sesame Street Animal Films: Sidewinder Snake.
(First: Episode 0514)

Muppets
Teacher Little Chrissy sings about how important it is to "Raise Your Hand."
(First: Episode 1959)

Cartoon
S for sing
(First: Episode 0824)

SCENE 4
Gloria shows some childhood pictures of herself and Maria. She also discloses her current career - skywriter. She offers to take Maria and Big Bird in her plane.

Song
"When You Grow Up"
(First: Episode 2912)

Cartoon
"Pinball Number Count" #6
Artist: Jeff Hale
(First: Episode 0991)




Muppets
The Adventures of Prairie Dawn: Turning Off the Television To Save Energy
(First: Episode 3002)

Cartoon
A satellite view of the earth is shown on television, while a group of geese decide to fly south.
Artist: Paul Fierlinger
(First: Episode 2710)

Animation
The word EGGS is shown, followed by eggs frying in a skillet.




SCENE 5
In Gloria's plane, she asks for a word to write; Big Bird suggests "EGGS." Gloria then proceeds to write and announce the sponsors.
Community content is available under
CC-BY-SA
unless otherwise noted.