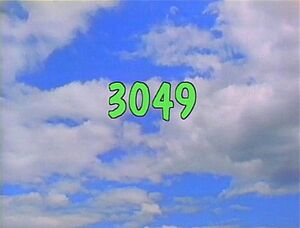 Picture
Segment
Description

COLD OPEN
Big Bird announces "Today on Sesame Street: Natasha Crawls."

SCENE 1
Humphrey has to go to the store, so he leaves Natasha in Maria's care. He warns her that Natasha has just learned to crawl, and will do so all over the place if not in someone's watchful eye. As Maria prepares Natasha's milk, Natasha slips out of her high chair and begins crawling away. Maria runs all over the street looking for her, finding her on the steps of 123.

Cartoon
Pistons push a capital H through a tunnel, where it breaks and turns into a lowercase h. (with voiceover by Roscoe Orman)
(First: Episode 2217)




Muppets
Big Bird's Video Postcards
In Arizona, Big Bird sees how kids help charros put on a rodeo, and rides a horse.

Cartoon
"Mother Brown's Farm (Number Fifteen Song)"
(First: Episode 2693)

Muppets
"Readers of the Open Range"
(First: Episode 2141)

Song
Bob sings Joe Raposo's "Look a Little Closer." (horse)
(First: Episode 2642)

SCENE 2
Maria plays a game of "peek-a-boo" with Natasha, but when it's her turn to duck and pop up, she uses the opportunity to crawl away again.

SCENE 2 cont'd
Oscar plays "peek-a-boo" with Irvine, until he has to go and sort his trash. Natasha soon finds herself at Oscar's can, and begins playing "peek-a-boo" with Irvine. When Maria comes by to bring Natasha back to the Fix-It-Shop, Irvine begins crying, but Oscar cheers her up by playing "peek-a-boo" with her again.

Cartoon
Number creatures: 15.
(First: Episode 2693)

Muppets / Celebrity
Joe Williams sings "The Birdland Jump."
(First: Episode 2260)

Cartoon
Fluffy recalls being a homeless dog, getting taken in to the dog pound, and meeting his new pal Petey.
Artist: ArtistMike
(First: Episode 2981)

Film
Fay Ray subtracts four balls.
(First: Episode 2586)

Animation
Sand O/o
(First: Episode 0621)

Muppets
Ernie sings "Dance Myself to Sleep."
(First: Episode 1705)

Cartoon
An orange ball tries to pet a green ball, which growls, scaring him away.
(First: Episode 2118)

Film
Alphaquest: H
Heading over the hills in a helicopter to a hippo's house.
(First: Episode 2741)




SCENE 3
Maria works while Natasha takes her nap. Unbeknownst to Maria, Natasha wakes up and begins crawling away again. Oscar calls the shop to let Maria know that Natasha has crawled away again, and is currently inside his can with Irvine. She rushes to the can, and walks down the dark staircase of 20 stairs (the last of which is broken), while Natasha crawls out the back door and heads for the street. A wet, dirty Maria emerges from the can and catches her.

Cartoon
A little boy describes a time when he got angry after his toy truck was destroyed by a big kid.
Artist: ArtistMike
(First: Episode 2764)




Muppets
Great Movie Classics: Casablanca
Rick keeps telling the pianist to keep saying the alphabet ("Say it again, Sam").
(First: Episode 2687)

Cartoon
O for orange
Artist: Bruce Cayard
(First: Episode 0673)

Film
The Count (in voiceover) subtracts from five to four to two children on a park bench.
(First: Episode 2951)

Muppets
Muppet & Kid Moment — Grover talks to Chelsea about what their eyes, ears, nose, and mouth can do. Chelsea mentions that they both have them and also have hands, feet, bellies, necks, arms, backs, and shoulders. Grover replies they have a cornucopia of parts, which means they have a lot of good stuff.
(First: Episode 2389)

Cartoon
Willie Wimple: Tree Destruction
(First: Episode 0516)

SCENE 4
Maria has pinned bells to Natasha's bonnet so she will know when she leaves and where she is. After Humphrey calls, Maria finds Natasha has escaped again, so she listens for the bells.

SCENE 4 cont'd
She heads for the arbor, where Linda and Barkley have found the bells that fell off Natasha. They think of where she may be, not noticing Natasha crawl down the street. Barkley picks up a scent from the bells and begins taking them all over the street, but instead finds his dinner bowl. Maria and Linda round up a search party, while Natasha appears behind Oscar's can.

Film
A dolphin walks backwards on the water.
Music: Joe Raposo
(First: Episode 0278)

Cartoon
A detective decides to exercise on a slow day, as a crook attempts to get rid of him.
(First: Episode 2607)

Muppets
Two Anything Muppets sing the "City-Country Song" about the difference between life in the country and in the city.
(First: Episode 0681)

Animation
Looking for shapes on the Aztec Calendar Stone (Maria voiceover)

Muppets
Three Honkers teach a newly-hatched baby Honker to honk.
(First: Episode 1616)

Animation
Looking for shapes on the Aztec Calendar Stone (Maria voiceover in Spanish)

Song
"Brothers Song"
(First: Episode 1476)

Cartoon
Abstract count to 15
(First: Episode 2851)

SCENE 5
Humphrey arrives back from the store, just as Natasha returns to her high chair. Maria tries talking her way out of watching her again tomorrow as a confused Humphrey hears the street residents call for Natasha. Big Bird announces the sponsors.