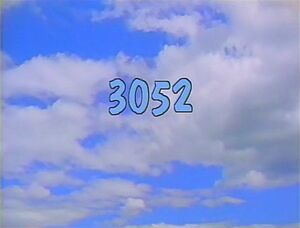 Picture
Segment
Description

COLD OPEN
Big Bird tells the viewer that Snuffy's puppet Gus has something important to say after the theme song.




SCENE 1
Just when Gus is about to speak, Gina appears, notices the viewer and welcomes them. Gus throws a fit, as he wanted to say "Welcome to Sesame Street." Gina whispers to Snuffy and Gus what he can say: what Sesame Street is sponsored by today. Gus thanks her with a kiss (albeit with the back of his head).

Cartoon
A spoof of Alice Cooper's "Eighteen" - the number of sandwiches the singer has to choose from.
(First: Episode 2859)

Film
A park ranger speaks to a group of kids about trees and the fruits that come from them. Then all the kids hug a tree.
(First: Episode 2891)

Muppets
Here is Your Life
Guy Smiley salutes a still life painting of a bowl of fruit.
(First: Episode 2572)

Animation
A snail shell is uncovered in the sand.
(First: Episode 2039)

Animation
Cecille sings "Brushin' Down the Doggies."
(First: Episode 2862)

SCENE 2
Gordon comes over and asks what their puppet show is about. However, none of them seem to know. Gordon explains that they should've planned their show in advance. Gus begins to give Snuffy a beating after hearing he knew how to plan, but didn't.

Cartoon
Two groups of mountain goats try to pass each other on a mountain road.
(First: Episode 0780)

Film
How Crayons are Made
Music: "Water Course A" and "Exchange" by Richard Harvey
(First: Episode 1579)

Cartoon
A man jumps up onto an UP.
(First: Episode 0546)

Muppets
"I'm in Love with U"
(First: Episode 1701)

Cartoon
A dinosaur tries to eat an apple on a tree. A group of kids keep telling him to "GO HIGHER!"
(First: Episode 2908)

Muppets
The Three Little Pigs look for the Big Bad Wolf in a police line-up.
(First: Episode 2541)

Animation
The word BUS is displayed, followed by a graphic of a school bus leaving.

Muppets / Cast
"Brush Boogie"
(First: Episode 2827)

Cartoon
A man (Jim Thurman) is interrupted as he tries to recite the alphabet.
Artist: Cliff Roberts
(First: Episode 1499)

Muppets
The Two-Headed Monster reads the sign atop a miniature school building, and observes a small group of children that run out of it. Once they've left, the monster picks up the now empty building, and declares, "School's out!"
(First: Episode 1907)

Song
"There's a Lot of Different Ways to Get to School" (sung by Jerry Nelson)
(First: Episode 2751)

Muppets
Sesame Street News Flash
Kermit the Frog reports from an alphabet mine where they dig Js. The miners tell him various words that begin with J and Richard presents him with his own J.
(EKA: Episode 2302)

Cartoon
J family jamboree
(First: Episode 0365)

Film
A boy makes fruit salad.
(First: Episode 1195)

Animation
Abstract #18
(First: Episode 2859)




SCENE 3
Gordon comes back and finds Big Bird and Gus arguing over whether Big Bird can be in the show. Gus wants to say a poem, but then Big Bird won't be involved. Gordon suggests Big Bird write the poem, so he can still be a part of the show. They shake hands on the deal, but Big Bird accidentally removes Gus from Snuffy's snuffle.

Cartoon
A dog, a girl and a lizard dance to a bongo beat.
Artist: Karen Aqua
(First: Episode 2795)

Song
"Conga Counting Song"
(First: Episode 2778)

Cartoon
Two itchy gorillas agree to scratch each other's backs.
(First: Episode 1456)

Muppets
Cookie Monster sings "What is Friend?"
(First: Episode 2840)

Animation
Planet J/j
(First: Episode 2833)

Song
A piece of land with water all around it is an "Island."
Artist: Jane Aaron
(First: Episode 2760)




SCENE 4
Now it is time for the Snuffle puppet show! Gus gives credit to Big Bird before reciting his poem. In the poem, Gus gives a demonstration of in and out and top and bottom (occasionally having to check the script). Gus improvises the last line, claiming to fly. Snuffy gives his snuffle a whirl and tosses Gus into the air, but they didn't see where he landed.

Animation
Growing Numbers #18
(First: Episode 2933)

Muppets
Phil Harmonic hosts another evening at the Nestropolitan Opera, featuring a performance by Placido Flamingo, "The Dentist of Seville."
(First: Episode 2789)

Cartoon
U for uniform.
(First: Episode 0702)




SCENE 5
While everyone searches for Gus, Oscar is bothered thrice from the inside of his can by Gina, Big Bird, and Gordon, asking if he has Gus. Oscar tells them he doesn't, until he discovers him on top of his broken golf clubs. He hurls Gus out and he is put back on Snuffy while Gina announces the sponsors, letting Gus mention the Children's Television Workshop.
Community content is available under
CC-BY-SA
unless otherwise noted.