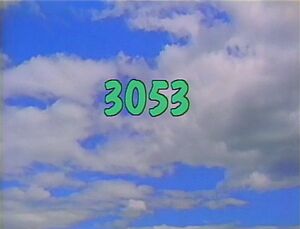 Picture
Segment
Description

COLD OPEN
Elmo displays a letter B that he made, and says he's going to play the "letter B game" today.

SCENE 1
Elmo encounters Bob reading a book and eating a banana. Elmo also spots some buffalo ...




Film
Buffalo in the water (jazz soundtrack)
(First: Episode 1736)
Elmo appears during the film to show B for "buffalo" and "beautiful."

Cartoon
"Magic Pig Calypso Song"
Artist: Vince Collins
(First: Episode 0772)

Film
A group of kids paint a mural with the help of a mural artist.
(First: Episode 3007)

Cartoon
Two kids argue over a cat and a dog, who chase each other around the fence.
(First: Episode 1210)

Muppets
Little Chrissy and the Alphabeats sing "Count it Higher."
(First: Episode 0553)

Film / Animation
Four butterflies fly across a film of a waterfall.
(First: Episode 2834)

Muppets / Celebrity
Telly and Prairie Dawn play "The Alphabet Song" with Midori Gotō on the violin. They observe that their individual parts don't sound like the song, but it sounds better when they all play together.

Cartoon
Willie Wimple went a-boatin' and polluted the river.
Artist: Abe Levitow
(EKA: Episode 0590)

Muppets
Sesame Street News Flash: Kermit goes to Peter Piper's Pickled Peppers Patch to interview Peter Piper, but he only gets to meet other members of his family, whose names all begin with a common letter. At the end, Peter Piper's cousin states that Peter Piper is in Portland pressing pants.
(First: Episode 1342)

Film
Body Part Shout-Out
Music: Joe Raposo
(First: Episode 0264)

Cartoon
When a bird pops a balloon, the balls represent Sad and Happy.
(First: Episode 2102)

Muppets
A heartbroken groom sings "Don't Walk."
(EKA: Episode 2504)

Cartoon
I have all, I have none (men w/ grapes)
Artist: Bruce Cayard
(First: Episode 0624)

SCENE 2
Gina encounters Elmo looking through binoculars, which also start with B.

SCENE 2 cont'd
Through his binoculars, Elmo sees a lush Southern hillside, where Whitney tries to propose to Miss Isabelle. Elmo pops up and points out the many B words they say.

SCENE 2 cont'd
When Elmo returns to Gina, she points him to something else she sees: a bear.

Cartoon
Big Daniel Boone looks for a bear.
Artist: Bruce Cayard
(First: Episode 0627)

Muppets
The Cereal Girl sings about her missing "Hair Brush."
(First: Episode 2940)

Film
A kindergarten class takes a field trip to the fire station.
(First: Episode 1217)

Cartoon
A caterpillar sings "Exercise, Exercise."
Artist: ArtistMike
(EKA: Episode 2839)

Muppets
Elmo explains the importance of sleep, but the audience won't stop applauding and let him sleep afterwards.
(First: Episode 2985)

Cartoon
A map of India morphs into the shape of animals that are found there.
(First: Episode 2668)




Cast
Luis reads Maria and the kids a musical story about two people in Mexico, who happen to be named Maria and Luis too, who love to have visitors and encourage them to visit Casa de Maria or Casa de Luis. Since they both enjoy to have people over, they turn their two casas into one for them all to enjoy.
(First: Episode 2978)

Cartoon
Stop-motion NUTS
(First: Episode 1178)

Song
"Beautiful Baby" song, over footage of various babies and their parents.
(First: Episode 1484)

Cartoon / Film
A cartoon man climbs a live-action boy.
(First: Episode 0494)

Cartoon
What Do You Do With a Pet?
(First: Episode 0465)

Muppets
Four lambs sing about how they always add up to four.
(First: Episode 2980)

Cartoon
Three scribbles exercise.
Artist: Fred Garbers
(First: Episode 1579)

Song
"Paying Attention Song" (Charlie Tyson)
(First: Episode 0934)

SCENE 3
Elmo recalls the B words he found to Bob, and then plays "the letter B game — NOT", where he finds things that do not begin with B.

Cartoon
One of These Footprints says "excuse me."
(First: Episode 0487)

Song
Sesame Street Creature Feature: The Iguana
(First: Episode 2938)

Cartoon
A scientist builds a robot that has real feelings, such as sad, happy and afraid.
(First: Episode 0769)

Muppets
Prairie Dawn directs Grover in "Singin' in the Rain."
(First: Episode 2961)

Cartoon
Four construction workers make a 4.
(First: Episode 0507)

Cast
Linda signs as Gordon says "Rain" and gets wet.
(First: Episode 2712)

Cartoon
Dot Bridge (last dot shows up early)
(First: Episode 0001)

Film
Animals fight.
Music: Joe Raposo
(First: Episode 0567)

Animation
The big green balls and one little orange ball ride over the top of the hills. The little one can't make it over the big hill, but conquers the small hill.
(EKA: Episode 1906)

SCENE 4
Elmo is still playing "the letter B game — NOT", but finds it hard when Buster, Big Bird, Bob and Barkley show up. He shrugs, and announces the sponsors.
Community content is available under
CC-BY-SA
unless otherwise noted.