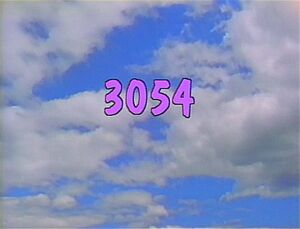 Picture
Segment
Description




SCENE 1
Oscar dumps out some stone replicas of today's sponsors, when Grouch Air flies over head. Falling from it comes Mrs. Grouch, Oscar's mom, who lands right in his trash can. She's arrived to check on her son and to make sure he's still grouchy. She ducks into his can to re-mess it up and refuses to let him come in.

Cartoon
A boy says he has a big surprise in his hand.
(First: Episode 0557)

Film
A boy hikes up a mountain with his family.
(First: Episode 2734)

Cartoon
"Part of the Whole"
Artist: Sally Cruikshank
(First: Episode 2714)

Muppets
Kermit smells smoke. An Anything Muppet girl tells him that there's a fire "over there", and Kermit screams for the fireman. Grover comes along wearing a white coat and a stethoscope; then carrying a pitchfork, and talking about his cows, chickens and the barn. Kermit reminds him that a fireman puts out fires. When Grover finally arrives with a hose, they discover that the fire is coming from the girl toasting marshmallows over a small campfire.
(First: Episode 0348)

Animation
A girl's narration describing the city is illustrated with cutout animation.
(First: Episode 2838)




SCENE 2
Telly comes by, having heard Mrs. Grouch is in town, and wants to see her. Oscar declines, stating his mom can't see him hanging around someone so nice. In a desperate attempt to get Telly to leave, Oscar says "please." Telly sees how serious he is (Grouches would never say "please") and leaves. However, Mrs. Grouch heard Oscar use the p-word and washes his mouth with ice cream.

Cartoon
How they say "good night" in Haiti and in India.
(First: Episode 1824)

Film
Kids play bongo drums loud and soft.
(First: Episode 2862)

Muppets
As a Sesame Street Travel Tip, a pair of Anything Muppets sing about the latest travel destination, Antarctica!
(First: Episode 2938)

Cartoon
N is for nose.
(First: Episode 1206)

Song
Joe Raposo sings "Whale Brushing Teeth," with a film of a trainer brushing a whale's teeth.
(First: Episode 0276)

SCENE 3
Telly returns, dressed as a Grouch. Oscar states him mom knows a fake Grouch from a real one and his disguise is doomed to fail. Telly leaves again, but Mrs. Grouch thinks his "please" came from Oscar and gives him another ice cream mouth washing.

Song
Gina and Maria sing The Word is "No."
(First: Episode 2548)

Cartoon
A girl draws in her entire body.
Artist: Bruce Cayard
(First: Episode 1008)

Song
"Let's Go Tubbin' Today"
(First: Episode 3024)

Muppets
Construction worker Sally Smith is the surprise contestant of the on-location game "This Is Your Lunch." Sally must guess the contents of her lunchbox correctly after each food item gives her clues.
(First: Episode 1631)

Animation
Letter Garden: D
(First: Episode 3015)

SCENE 4
Telly comes back, this time as a pig (a popular animal among Grouches). Oscar shoos him away and when trying to explain himself, he lets a "please" slip and earns another ice cream cone.

Animation
Amelia likes to pretend she can fly.
(First: Episode 2902)

Muppets
The Oinker Sisters sing about what's "Important" to them.
(First: Episode 2818)

Cartoon
A dog tries desperately to meow, but can only bark.
(First: Episode 0829)

Film
Two boys walk though a city neighborhood to some funky break dancing music.
(First: Episode 2679)

Cartoon
The Typewriter: D - Daisy
(First: Episode 0795)




SCENE 5
Oscar sees right through Telly's latest pile of trash disguise. Telly gets angry and yells at Oscar, then refuses to see his mother at all. As he storms off, Mrs. Grouch, overhearing what's happened, chides Oscar for not letting her meet such an angry pile of trash.

Cartoon
A woodpecker drills through a tree to demonstrate entrada and salida.
(First: Episode 0808)

Song
"Me and My Chair"
(First: Episode 1706)

Celebrity
Blair Underwood swings Elmo sixteen times.
(First: Episode 2794)

Cartoon
Number creatures #16
(First: Episode 2755)

Muppets
"We Got a Brand New Baby"
(First: Episode 2061)

Cartoon
A boy builds a house out of blocks, and when the girl builds a Victorian house, the boy calls her a copycat.
(First: Episode 0780)

Cast
Lillian sings a "Simple Clapping Song" with some kids.
(First: Episode 2827)

Muppets
Grover, on a surfboard, demonstrates near and far.
(First: Episode 2859)

Animation
Computer N / n
(First: Episode 3039)

Muppets
Caveman Days: EXIT sign
(First: Episode 0300)

Cartoon
A honking orange ball follows signs to the EXIT.
(First: Episode 1879)

Film
Lobster fisherman
(First: Episode 0966)

SCENE 6
Mrs. Grouch is done messing up Oscar's can and catches her next plane (via jumping on Oscar's trampoline). Telly announces the sponsors.