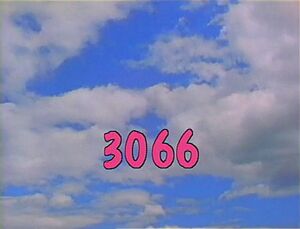 Picture
Segment
Description

COLD OPEN
Maria announces that today you'll be seeing the letters O and P and the number 13, as well as her extended family.

Muppets / Celebrity
"That's the Letter O"

Cartoon
A boy narrates a poem about how he met Eleanor, the monster under his bed.
Artist: ArtistMike
(First: Episode 2773)

Film
Five girls play a clapping game.
(First: Episode 2763)

Cartoon
A baby and father illustrate up and down.
(First: Episode 2687)




Muppets
Big Bird's Video Postcards
Big Bird visits a Puerto Rican casita in East Harlem. He tries to find out what people do there, but everyone is too busy raising chickens, planting tomatoes, cooking, and planning music to answer.
(First: Episode 3018)

Animation
The word BUS is displayed, followed by a graphic of a school bus leaving.
(First: Episode 3052)




SCENE 1
Maria and Luis tell Telly that they're going to the supermarket and want him to tell any of their arriving family members they'll be right back. Soon after, a Spanish speaking man appears, asking for directions to "La parade de la guaga." Telly thinks he's one of Maria's cousins, but doesn't understand him. After finally figuring out what he means, Telly points the man to the bus stop at the corner and is proud he learned a Spanish word without trying, but he wasn't one of Maria's cousins.

Animation
Counting to 10 (Latin rhythm)
(First: Episode 3045)

Muppets
Ernie plays Old King Cole and calls for his pipe and bowl. When he calls for his fiddlers three, they each appear one at a time allowing Ernie to practice his addition.
(First: Episode 1951)

Song
"Fixin' My Hair"
(First: Episode 2734)

Cartoon
A cat desperately tries to open a can of cat food by himself while his mistress is on the phone.
Artist: Dan Haskett
(First: Episode 2151)
Song
Joe Raposo sings "Peanut Butter". (re-filmed version)
(First: Episode 1966)

Cartoon
A map of Puerto Rico forms into the shape of animals and other things that are found there.
(First: Episode 3030)

SCENE 2
Telly's still waiting for Maria's cousins. Maria and Luis arrive back, where her Cousin Carlos meets them. Telly doesn't believe they are cousins, since they have different skin colors. Maria tells him her whole family has different skin tones, when they all suddenly arrive. Maria introduces Telly to all of them before they head upstairs.

Song
Kevin Clash sings "Skin."
(First: Episode 2749)

Cartoon
A dog-shaped television
Animation inspired by Keith Haring
(First: Episode 3045)

Muppets
Kermit shows what's inside of Herry Monster using the X-ray machine.
(First: Episode 1974)

Cartoon
"I'm Curious"
Artist: Sally Cruikshank

Muppets
A baby Honker hatches from an egg and learns to honk like all the Honkers.
(First: Episode 1616)

Film
Alphaquest: P
A pack of painted purple penguins practicing a pop song in a pine tree park, and a pink pig with a parachute.
(First: Episode 2711)




SCENE 3
While everyone has a Spanish conversation around him, Telly wonders what they're saying and wishes to speak Spanish. Luis and the family have the perfect song for him – "No Matter What Your Language". After the song, they all start to eat and give Telly a small taste of each food.

Animation
Abstract count to 13.
(First: Episode 2809)
Muppets
The Count sings "The Batty Bat".
(First: Episode 2096)

Film
Wegman's dogs get next to each other in pictures.
(First: Episode 3011)

Cartoon
A boy imagines his room turning into a jungle.
Artist: Karen Aqua
(First: Episode 2808)




Muppets
While Ernie is away visiting the Count, Bert has the place all to himself... or so he thinks! A group of sheep burst into the room and proceed to sing him a song ("Bert's Blanket") about how his blanket was made (with a flashback scene where Ernie is portrayed as a rancher). Bert then corrects them on the actual production phase.
(First: Episode 2391)

Cartoon
P for paper, point, poke, paint, pat, peel

SCENE 4
After getting more samples of dessert, Telly asks how to say enough in Spanish, because he's full. Maria shows what her family does when they're full – the mambo! Luis puts on a salsa cassette and Maria shows Telly the moves.

Cartoon
"Banana Samba"
(First: Episode 2920)

Film
A class makes a quilt of their faces.
(First: Episode 3034)

Cartoon
Jerry Nelson sings and counts thirteen turkeys.
(First: Episode 2711)




Muppets
In honor of Charlie's birthday, Grover is only serving items that begin with a "CH" sound. Mr. Johnson orders a cheeseburger, chips, cherry pie, and chocolate ice cream, and he actually gets his food in no time, but before he can eat, the table (which the plate is on) gets taken away because it does not begin with a "CH" sound.
(First: Episode 3005)

Film
I hab a cauld ib by dose.
Artist: Bruce Cayard
(First: Episode 1170)

Video
Ann Marie DeAngelo and Skeeter Rabbit do their dance routine. The frame freezes whenever the word STOP comes on.
(First: Episode 2600)




SCENE 5
Telly and Maria are still dancing to the song, but it's time for her family to leave. Telly asks Luis how to say "Nice to meet all of you" in Spanish, but by the time he learns it, they've already gone downstairs. So, he shouts it to them from the window. Maria announces the sponsors.
Community content is available under
CC-BY-SA
unless otherwise noted.