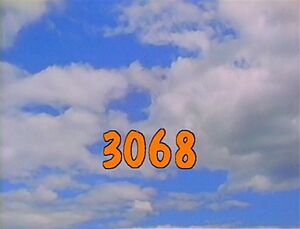 Picture
Segment
Description




SCENE 1
Big Bird welcomes the viewer as Luis announces to him and Rosita that Maria's aunt, Tia Lola (Graciela Lecube), has arrived from Puerto Rico. Big Bird calls over Mr. Handford to meet her, but he claims he's busy, until he sees her and is smitten. The rest of them take notice, and the two kids begin scheming on how to get them together. Rosita recalls how her grandfather won her grandmother over: by playing a song outside her window. But first, they need to write him a song.

Cartoon
The letter F morphs into cartoon faces.
(First: Episode 2916)

Film
Kids draw a map of their neighborhood, and then learn how maps are really made.
(First: Episode 2760)

Cartoon
An elephant, a zebra, a hedgehog, an ostrich, a frog, and a ladybug create a rhythm with their footsteps.
Artist: Karen Aqua
(First: Episode 2794)

Muppets
Kermit the Frog sings "Do-Op Hop".
(First: Episode 2071)

Cartoon
Hortense counts 3 peas.
Artist: Michael Sporn
(First: Episode 2519)

SCENE 2
Rosita and Big Bird go to Mr. Handford and explain their plan and sing their song for him. However, he points out that Tia Lola knows little English and their song is completely English. They leave to rewrite the song.

Film
Letter Garden: F
(First: Episode 3048)

Muppets
Here is Your Life: Carton of Eggs
(First: Episode 2661)

Cartoon
Two white squares try to push a great big object, and are reluctant to let a black square join them at first.
Artist: Fred Garbers
(First: Episode 2849)

Song
"At School", with animation bookended by live-action footage.
(First: Episode 2782)

Cartoon
It's a squirrel
Artist: Ishu Patel
(EKA: Episode 1736)

SCENE 3
Mr. Handford, with Luis on guitar, is ready to sing the Spanish lyrics. They sing toward their window, but she doesn't respond. Maria and Lola appear from behind them, having been in Hooper's the whole time. Maria sees they're preoccupied and leaves with Lola.

Cartoon
A baby climbs up the stairs all by himself.
(First: Episode 1717)

Song
"Reach Your Hand Up High"
(First: Episode 2702)

Cartoon
Letter B/b (bouncing circles)
(First: Episode 2222)

Muppets
Live from the Nestropolitan Opera, Phil Harmonic introduces the staged production of Peligro starring Placido Flamingo.
(First: Episode 2273)

Cartoon
A red PELI and an explosive GRO form the word PELIGRO.
(First: Episode 0787)

SCENE 4
They find Lola with Maria inside the Fix-It Shop, but Big Bird points out that the lyrics mention her coming to the window and the shop doesn't have a window that will open. They change it to "puerta" (door). However, Lola is busy listening to her headphones and can't hear the song.

Cartoon
AMOR, amor, amor ... amoramor ... amoramor ...
(EKA: Episode 0801)

Muppets / Celebrity
Randy Travis sings "How Should I Tell You I Love You" while Telly acts it out.
(First: Episode 2800)

Film
Wegman's dogs slide past, counting one, two and three.

Muppets
Marshal Grover and Fred the Wonder Horse look for water in the desert. Grover sees mirages of a waterfall and a fountain, and Fred reminds him that he brought a canteen.
(First: Episode 2874)

Song
"(Sittin' On) A Boat on a Lake"
(First: Episode 2807)

Film
How paper is recycled
(First: Episode 2710)

SCENE 5
Rosita and Big Bird try to cheer Mr. Handford up, despite his protests that he's not sad. Just then, Tia Lola arrives singing the song for Mr. Handford.

Cartoon
A hand draws a guitarist serenading a maiden, as well as the background.
(First: Episode 0791)

Muppets
While shopping in a China store, Simon Soundman helps Old McDonald find his lost animal - however his animal sounds attract animals to barge into the fragile store.

Cartoon
Sporty 3 demonstrates his agility in various sports.
(First: Episode 1642)

Song
Spanish Food Market Song
(First: Episode 1111)

SCENE 6
Monty enters the store to help Mr. Handford prepare for his date, claiming to know Spanish. However, the only word he knows is "hola".

Film
Joe Raposo sings "Everybody Eats".
Re-filmed version
(First: Episode 2855)

Animation
Pencil Box B / b
(First: Episode 3040)




Muppets
Caveperson Days
Caveperson Bert invents a window so that he and Ernie can see outside without going all the way to the cave's exit.
(First: Episode 2607)

Song
Joe Raposo sings "Bein' a Pig."
(First: Episode 2356)

Cartoon
A man counts forty stars at night.
(First: Episode 2243)




SCENE 7
Maria and Luis watch Mr. Handford and Lola arrive back from their date. He tells them they went dancing. They all begin to dance together as a tango version of the theme plays, and Rosita announces the sponsors.
Notes
Community content is available under
CC-BY-SA
unless otherwise noted.