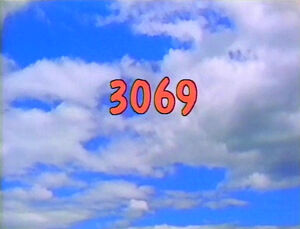 Picture
Segment
Description




COLD OPEN
Monty, anchoring for RNN (Ridiculous News Network), pops in with a bulletin: pirates are coming to Sesame Street! Prairie Dawn and Susan don't believe it at first, but sure enough, a captain and first mate pass by them singing a sea chanty.

SCENE 1
The leader of the pirate duo, Captain Shnook, introduces himself and his first mate Mr. Shneeze. Prairie doesn't believe they are real pirates, but Shneeze does his best to convince her of Shnook's greatness. Shnook explains that they need someone to play the piano while they sing, and chooses Prairie. She agrees to do it, but soon finds out that they don't have a ship ... so it's off to find one.

SCENE 1
cont'd
Monty pops in with another bulletin about a gorilla coming towards Sesame Street ...

Cartoon
G for Gorilla
(First: Episode 2491)

Muppets
Bip Bipadotta sings about "Air".
(First: Episode 2568)

Film
A boy draws a picture of his friend, Kerry.
(First: Episode 2776)

Film
Exploring on the ocean rocks
(First: Episode 1414)

Muppets / Celebrity
Randy Travis sings "You Gotta Ask Some Questions."
(First: Episode 2782)

Cartoon
Sign language: Day, morning, noon, night
(First: Episode 1173)

SCENE 2
Monty: "And now for something completely silly. In fact, it is so silly, that we thought we'd better prepare you for it ahead of time."

SCENE 2
cont'd
The pirates (including Prairie) enter the Fix-It Shop, and Captain Shnook chooses it as their ship (he misheard Maria while she was on the phone). "Shop" and "ship" sound similar because of the "SH" sound, but Shnook, feeling ambitious, decides to sail the seven seas in a shop-ship, and tells Shneeze to get it into ship-shop-shape.

Film
"Box City Recycling Rap"
Kids sing a rap song about recycling. They build a city out of boxes and cartons.
(First: Episode 2851)

Muppets
Guy Smiley hosts a dinner for all things that begin with the sound SH. Guests include a shirt, a shrieking shovel, a shepherd, and a shark.
(First: Episode 2564)

Cast
Linda signs the word wind, and Gordon is blown away.
(First: Episode 2734)

Muppets
Polly Darton and Benny Rabbit sing "14 Carrot Love."
(First: Episode 2811)

Cartoon
Growing Numbers #14
(First: Episode 2930)

SCENE 3
Monty pops in with another bulletin: "The pirates have set sail on their Fix-it Shop ship, called the Jolly Maria. I would have gone with them, but I prefer to sail the ocean blue in a honeydew melon myself."




SCENE 3
cont'd
The Fix-it Shop has been decked with a ship's wheel, a pirate flag, and a mast. Maria, to the viewer: "In case you're wondering why I'm going along with this, I'm wondering about that too, and as soon as I figure it out, I'll let you know." Prairie plays them a yo-ho-ho tune as they sing a pirate song. Shneeze gets hungry, and Shnook proposes that they fish (despite the fact that they're not really at sea). Shneeze catches an egg beater and a portable radio, which they consider dining on (with a lemon and butter sauce), but Prairie says they're not edible. Shnook and Shneeze immediately proceed to abandon shop.

SCENE 3
cont'd
Unlike the pirates, Monty prefers his portable radio with whipped cream and chocolate sauce.

Song
Christopher Cerf sings "I'm a Manatee."

Cartoon
Travis Travel demonstrates different methods of transportation.
(First: Episode 1459)

Muppets
Bip Bippadotta and The Androoze Sisters sing "Everybody's Song."
(First: Episode 2064)

Film
Girls dance and chant about the number 14.
(First: Episode 3014)

Animation
A kid's father tells him what can be built out of the wheels and things he found.
(First: Episode 0268)

Muppets
Muppet & Kid Moment — Grover asks Jesse to define marriage. They conclude that married people kiss, hug, live together, and help each other.
(First: Episode 2441)

SCENE 4
Still in search of a ship to sail on, Shnook and Shneeze browse Sesame Street, but all they find is a bus. Monty then pops in to give them a carrot to put on their shoulder (in accordance with an unwritten law of the sea). Prairie corrects them and says it's a parrot that belongs on the shoulder of a pirate, not a carrot. Since there aren't any parrots around, however, Shnook takes the carrot.

Cartoon
Shooting stars form the letter I/i.
(First: Episode 2218)

Song
Everyone has the same feelings, "No Matter What." Kids of all types play with a huge beach ball.
(First: Episode 2782)




Muppets
Dicky Tick hosts "Lifestyles of the Big and Little".
(First: Episode 2206)

Cartoon
A boy imagines his room turning into a jungle.
Artist: Karen Aqua
(First: Episode 2808)

Muppets
Captain Elmo Cousteau searches for the treasure of the missing soap, with the help of a policeman fishy.
(First: Episode 2637)

Film
The Count (in voiceover) subtracts from five to one to zero children on a park bench.
(First: Episode 2923)

Cartoon
A little girl sings "There Is Only One Me."
(First: Episode 1942)




SCENE 5
Prairie decides to quit the pirate crew, because of their bumbling ineptitude at their craft. Captain Shnook sadly confesses that they aren't really pirates (he's a used car salesman and Shneeze is an accountant) - they were just pretending. They're about to leave, when Prairie stops them and says it's okay for them to use their imaginations. She sings a song which helps them imagine, and Shneeze becomes seasick.

Cartoon
Gerald's dog Sparky likes to pretend he's an alligator.
(First: Episode 1519)

Film
A boy's mother and grandmother make him a pair of moccasins.
(First: Episode 2987)

Cartoon
Pencil box I/i
(First: Episode 2890)

Muppets
"Do De Rubber Duck"
(First: Episode 2304)

Animation
Planet G / g
(First: Episode 2844)

Animation
Arrows give a presentation of the human body.
(First: Episode 2839)




SCENE 6
Monty announces that there will be no more bulletins. The camera then zooms out to reveal two Montys (both on and off the TV set). The second Monty turns off the TV, and announces that the former pirates have decided to become Russian folk dancers. He mentions the sponsors, while Shneeze kicks across the newsroom.
Community content is available under
CC-BY-SA
unless otherwise noted.