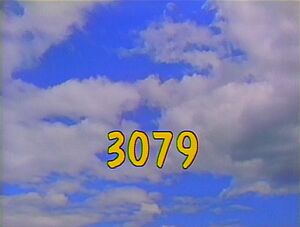 Picture
Segment
Description




Cast
"What's the Name of That Song?" with Lillian, Bob, Gordon, Susan, Telly, Elmo, Maria, Luis, Gina, Savion, Mr. Handford, Oscar, Rosita, Prairie Dawn, Merry Monster, and Big Bird.

Cartoon
How Andy Fritz Ate the Sun.
Artist: ArtistMike
(First: Episode 2730)

Animation
Letter Garden: M

Muppets
The Sublime Miss M performs "The Sublime Ms. M."
(First: Episode 2837)

Film
In time-lapse footage, a construction crew builds a house and paints it green, and a family moves into it.
(First: Episode 1171)

Animation
Stop-motion: tap-dancing shoes.
(First: Episode 2367)

SCENE 1
Telly asks Savion if he ever felt like doing a dance, but was unsure if anyone would like it. Savion tells him that it doesn't matter what others think, as long as you do what you want to do. Telly then proceeds to do his duck dance.

Animation
Ten masked dancers are counted in Spanish.
Artist: Karen Aqua

Muppets
Ernie & Bert — Bert wants to know why there is a cookie lying on the table. Ernie explains that he put it there to remind himself.
(First: Episode 0095)

Cartoon
q-quiet! (tree chopping)
(First: Episode 0675)

Muppets
"African Alphabet Song"
(First: Episode 2360)

Cartoon
A woman visits a car dealer, looking for a small car. She will only take a car small enough to fit her clowns.
Artist: ArtistMike

Muppets / Celebrity
Jodie Foster directs Telly in reciting Little Jack Horner.

Animation
Rubber Stamp #20
(First: Episode 2935)

Muppets
The dark-bearded half of the Two-Headed Monster wakes up to argue with itself over whether to go to the zoo or the playground. The two both end up taking naps instead.
(First: Episode 1475)

Cartoon
Typewriter: M for magic
(First: Episode 0841)

Muppets
"Pond Full of Fish"
(First: Episode 2840)

Animation
Two seemingly identical machines - one black, one white - cooperate to make the sound of a choo-choo train.
(First: Episode 2843)




Film
Kids rehearse a large group African dance in the park, get their faces painted, and perform.

Animation
In reversed film, Q and q candles are unmelted.

Cast
Big Bird and the Birdketeers pretend to fly, as Big Bird sings "We're Flying."
(First: Episode 2928)

Cartoon
Number creatures #20
(First: Episode 2687)




Muppets
Grover teaches the campers at Camp Wannagohoma about trees.
(First: Episode 1486)




Cartoon / Film
Three frogs say "reduce, reuse, recycle!" and hop around the globe.
A boy who lives in Bali narrates a film about how his community recycles their resources.
(First: Episode 2973)




SCENE 2
Telly and some kids invite Prairie Dawn to go to the park with them, but she feels too sad right now, because her favorite book was recently damaged in the road. Telly instead decides to cheer Prairie up with a surprise party, and comes back with the kids, wearing party hats and throwing confetti.

Cartoon
Jerry Nelson sings "In My Book."
(First: Episode 2983)

Muppets
Cookie Monster comes to the bakery looking for something delicious that rhymes with BUY. He tries the I (from the MIKE'S BAKERY sign) and the baker's TIE, both of which aren't that delicious. Finally, Guy Smiley comes in and loudly announces that he would like to BUY a PIE. Cookie then knows what he can get in the bakery that rhymes with BUY and is delicious: it's GUY! A chase ensues, and Cookie requests for the baker to send him the bill.
(First: Episode 0481)

Film
Sounds Around the House v1: a dripping water faucet, a man playing the violin, a woman vacuuming, a teenager listening to pop music, and a passing elevated train.
(First: Episode 1706)

Cartoon
The Bellhop is sent to the grocery store to get twenty grapefruits. He counts to 20 on the way there so that he can remember the quantity, but forgets what item he was sent for.
(First: Episode 2533)

Muppets
A trio of bugs sing "Night Bug Boogie."
(First: Episode 2957)

Cartoon
Q for Quarter (voice of Casey Kasem)
(First: Episode 0046)




SCENE 3
Telly finds Prairie still feeling sad, and has another idea to cheer her up: a marching band made up of the kids.

Cartoon
A dinosaur tries to move around a rock.
(First: Episode 2744)

Muppets
Elmo sings about "The Sound That's in the Air."
(First: Episode 2948)

Cartoon
Melvin the Moving Man
(First: Episode 0207)

Song
"Old Button Hole"
(First: Episode 1727)

Animation
Dancing pepper pattern - which one is missing?




SCENE 4
Prairie, still sad, asks Telly not to try to cheer her up anymore. Telly understands, because he would feel sad if his doll Freddy got damaged in a puddle. Telly then decides to give her Freddy, but she doesn't think the doll would make her feel better about her book. He feels like he's bad at cheering people up, but Prairie begs to differ, because he showed her that he cares about her feelings. She then surprises Telly by putting on a party hat and throwing confetti. They dance around, as Oscar announces the sponsors.
Community content is available under
CC-BY-SA
unless otherwise noted.