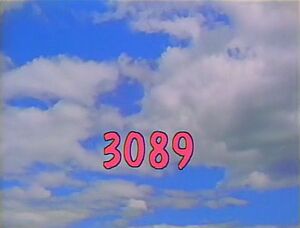 Picture
Segment
Description

COLD OPEN
Maria introduces Big Bird to Los Pleneros.




SCENE 1
The band performs a "plena" (a song that tells a story). Maria, Big Bird, Mr. Handford and the kids join in periodically. Next, Roberto announces they'll be dancing the bomba! Big Bird wonders what that could be...

Cartoon
Stamped and painted X animation.
(First: Episode 2934)

Song
"The First Time" - Children try various activities (riding tricycles, tying shoes, etc.) and progressively improve.
(First: Episode 2950)

Muppets
Sesame Street News Flash
Kermit the Frog witnesses how the mailman and salesman knock at the door while the Big Bad Wolf chases Little Red Riding Hood around the bed. Eventually, the Woodsman shows up, and Red and the Wolf chase him for cutting down a maple tree which was their favorite one.
(First: Episode 0621)

Film
A man makes a shadow puppet of a laughing man.
(First: Episode 1845)

Cartoon
Gloria Globe sings "I Am the World."
(First: Episode 2744)




SCENE 2
Roberto explains what the bomba is - it's a Puerto Rican dance brought from African, where the people dance with each other as well as the drums. First, he demonstrates, followed by some children, then adult dancers. The rest of the cast joins in too.

Cartoon
Five outlines of people dance.
Artist: Keith Haring
(First: Episode 3050)

Muppets
The Two-Headed Monster reads the sign atop a miniature school building, and observes a small group of children that run out of it. Once they've left, the monster picks up the now empty building, and declares, "School's out!"
(First: Episode 1907)

Song
"Off to School" A parody of Chuck Berry's "Hail Hail Rock & Roll," accompanied by footage of a day at school.
(First: Episode 2944)

Cartoon
A man jumps into a poster of Lake Lillian.
(First: Episode 0347)

Muppets
Grover takes several dogs for a walk, explaining that dogs need exercise as much as people do.
(First: Episode 2734)

Cartoon
"There's an Exercise That's Right" even for a snake.
(First: Episode 2962)

SCENE 3
While everyone continues dancing, Maria notices Oscar dancing in his trash can too. Oscar claims Fluffy is the one who's dancing; he's just standing on her head to make her stop.

Film
Shapes vibrate as girls beat on their drums.
(First: Episode 2873)

Animation
Twelve kids are counted.
(First: Episode 2998)

Film
A boy takes dance lessons at The Alvin Ailey American Dance Theater.
(First: Episode 1716)

Cartoon
The letter X appears on-screen.
(First: Episode 2779)

Celebrity / Muppets
Hoots tells everyone to imagine that it's turning from nighttime to morning, and the birds are waking up in the forest, while Bobby McFerrin sings "Tweet in the Mornin'."
(First: Episode 2874)

Cartoon
A dog has a discussion with his master about where to go.
Artist: Dan Haskett
(First: Episode 2392)




Film
A little girl narrates a film about how cans can be recycled. She washes them and collects them in a wagon, which she takes to the recycling center. There it is sorted and separated with a magnet. After it's loaded onto trucks, it is taken to a factory to be melted and shaped into new cans like the ones seen in her fridge at home.
(First: Episode 2740)

Cartoon
"Pinball Number Count" #12
Artist: Jeff Hale
(First: Episode 0985)

Muppets
Ernie won't let Bert into the apartment. Bert thinks he might be sad, and then Bert thinks Ernie might be hiding something from Bert, which makes him mad and demand to be let in. He comes in, and Ernie has thrown him a surprise party. Guests at the party include Roosevelt Franklin, Herbert Birdsfoot, Prairie Dawn, Sherlock Hemlock, Grover, Guy Smiley, and a mailman.
(First: Episode 0461)

Cartoon
"Island of Emotion"
Artist: Sally Cruikshank
(First: Episode 2822)




Film
Wanda the Word Fairy drives to a market to demonstrate the words of foods, attracting the suspicious gaze of the grocer in the process.
(First: Episode 2652)

Cartoon
Apple: a riddle
(First: Episode 2889)

Muppets
Forgetful Jones needs something to ride around the ranch. Clementine gives him clues: it has four legs, a bushy tail, eats hay, and neighs. It's his horse Buster, who arrives with the jeep.
(First: Episode 2081)

Cartoon
L - shooting stars
(EKA: Episode 2237)

Song
"Hot in the City"
(First: Episode 2751)

SCENE 4
The band, now dressed in their street clothes, are ready to head off, just as Savion and Gina arrive. Since the two missed all the action, the band plays one more plena for them. Everyone dances, while Mr. Handford announces the sponsors.
Community content is available under
CC-BY-SA
unless otherwise noted.