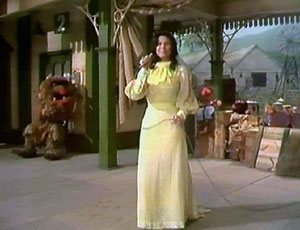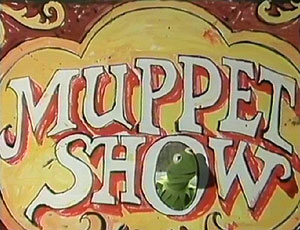 The Muppet Theater is being fumigated, so the entire show moves to a railroad station -- and is periodically interrupted by passing trains. Luckily, Loretta cheerfully tells Kermit that "country singers can sing anywhere."
Gonzo sets up a backstage office for Kermit on the caboose of a train, which takes off for Pittsburgh. While the show continues, Kermit and Gonzo try to ride a handcart back -- but they run into a train heading in the other direction.
Songs/Sketches
Cast
Muppets:
Kermit the Frog, Miss Piggy, Fozzie Bear, Gonzo, Scooter, Rowlf, Janice, the Newsman, Link Hogthrob, Statler and Waldorf, Baskerville, Annie Sue, Winky Pinkerton, Babies, Pigs, Zelda Rose, Fred (train passenger), Whatnots, Slim Wilson, Lubbock Lou, Zeke, Bubba, Gramps, Lou, Beagle, Train Conductors, Abe and Bernie
Background Muppets:
George the Janitor, Floyd Pepper, Animal, Zoot, Dogs, Mary Louise, Afghan Hound, Mildred, Male Koozebanian Creature, Youknow Bird, Blue Frackle, the Swedish Chef, Luncheon Counter Monster, Sam the Eagle, Mahna Mahna, Beaver, Droop, Kangaroo, Louis Kazagger, Dr. Julius Strangepork, Dr. Teeth, Dr. Bunsen Honeydew, Uncle Deadly, Crazy Harry, Beaker, Sweetums, Bobby Benson, Chickens, Jim Henson Muppet, Frank Oz Muppet, The Arab
Performers
Community content is available under
CC-BY-SA
unless otherwise noted.