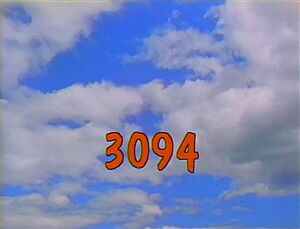 Picture
Segment
Description




COLD OPEN
Monty says, "Oh, look, a banana peel," then slips and falls. He does this over and over again, while Gina mentions today's sponsors and introduces her friend Yelba.

SCENE 1
Monty continues slipping on the same banana peel, which he says is a part of "Monty's World of Imagination". Gina and Yelba think he's pretending to slip and fall on the banana peel, until Monty explains that the peel is real, and he's imagining that he's not hurt from all that falling.

Cartoon
"Imagination Rain"
(EKA: Episode 0827)

Muppets
Fashion Report
Ernie gives a report on what the well-dressed trees are wearing each season.
(EKA: Episode 2417)

Song
"Every Bit of Litter Hurts"
(First: Episode 2721)

Film
Fay Ray subtracts one ball.
(First: Episode 2634)




SCENE 2
Gina and Yelba are curious once again when they see Monty standing next to a duck, looking at its right wing. He explains that he's reading a book, with a surprise ending. He finally gets to the ending: "This book is a duck!"

Animation
Luxo Jr. examines a box. A smaller lamp pops out of the box, demonstrating "surprise."
(First: Episode 2851)

Muppets
Sesame Street News Flash
Old MacDonald opens a health resort for his animals.
(First: Episode 2688)

Animation
Planet G / g
(First: Episode 2844)

Muppets
The Two-Headed Monster sounds out the word SHADOW, then sees one of itself projected behind it.
(First: Episode 2578)

Cartoon
"Mad Goat Song"
Artist: Derek Lamb
(First: Episode 0771)

SCENE 3
In "Monty's World of Emotions", Monty attempts to demonstrate what angry looks like by pointing to Yelba, who doesn't feel angry as she writes a letter to her aunt. Monty himself gets angrier when he argues with her.

Song
"Let's Go Tubbin' Today"
(First: Episode 3024)

Cartoon
Which legs belong on the man?
(First: Episode 1691)

Muppets
Mysterious Theater: The Case of the Missing Toast
Lady Agatha can't find her toast or roast, so Sherlock Hemlock figures that it is a "rhyme crime", and suspects a ghost is the culprit. The thief turns out to be Vincent Twice, the host.
(First: Episode 2943)

Cartoon
In rhyme, a man points out animals who stole and/or ruined his clothing.
(First: Episode 0778)

Film
How Crayons are Made
Music: "Water Course A" and "Exchange" by Richard Harvey
(First: Episode 1579)




SCENE 4
While Luis has lunch at Hooper's, Big Bird comes in to talk about some of the things he loves. Big Bird gives a speech about what love means, and starts reading from a list of things he loves, including the Birdketeers, the Honkers, and a marching band -- all of whom enter Hooper's and make a crowd. Luis and Mr. Handford suggest that Big Bird give his talk somewhere else, so Big Bird and his friends leave.

Cartoon
Hands embrace the word "LOVE."
(EKA: Episode 0926)

Muppets / Celebrity
"Minnesota Shorts" (Rick Moranis) has trouble becoming pool champion of the world when Grover keeps pestering him with questions, in this spoof of The Hustler.
(First: Episode 2981)

Animation
The King of Eight
(EKA: Episode 0270)

Song
"At the Coastline" (Beach Boys style)
(First: Episode 2792)

Cast
Ask Oscar
A grumpy Linda substitutes for Oscar.
(EKA: Episode 2401)

Animation
Pencil box G / g
(First: Episode 3042)

Muppets
Ernie and Bert: Bert sings "The Paperclip".
(First: Episode 2578)

Film
The Count (in voiceover) subtracts from five to four to two children on a park bench.
(First: Episode 2951)

Cartoon
A satellite view of the earth is shown on television, while a group of geese decide to fly south.
Artist: Paul Fierlinger
(EKA: Episode 2710)

Muppets / Celebrity
Linda Ronstadt sings "La Charreada" with Elmo and Parker Monster.
(First: Episode 2540)

Film
A girl narrates a film about how things are recycled around the world.
(First: Episode 2913)

Muppets
Snuffy says the "big alphabet", while Alice says the "little alphabet". (new music added)
(First: Episode 2553)

Film
Letter Garden: F
(First: Episode 3048)

Muppets
Here is Your Life
Guy Smiley salutes a still life painting of a bowl of fruit.
(First: Episode 2572)

Cartoon
The Carrot (censored version)
Artist: Bruce Cayard
(EKA: Episode 1211)




SCENE 5
At the Fix-It Shop, Gina comes in and asks Luis to fix her coffee creamer. Big Bird comes in and asks to give his lecture on the things he loves, and Luis says no, but Gina says yes. They give him the go-ahead, and before long, the Fix-it Shop is crowded. Monty announces the sponsors.