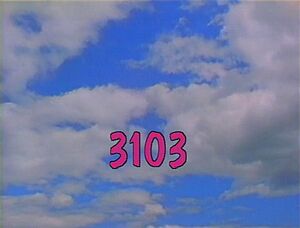 Picture
Segment
Description

SCENE 1
Gordon finds Elmo and Merry arguing because Elmo wants to play tag, and Merry wants to catch a fish. Gordon suggests they think of a way to do both things. They think it over, and come up with a new game: "fish tag!"

Film
"Simple Pleasures" by Bobby McFerrin is played over footage of a girl trying to play frisbee with a dog on the beach.
(First: Episode 2876)

Cartoon
Number factory 1-10
(First: Episode 2541)

Muppets
Ernie and Bert search for Dr. Livingstone in the jungle.
(First: Episode 1736)

Film / Muppets
Alphaquest: S
A swimsuit, Grover as a silly surfer, a seagull, a sunset, and a submarine.
(First: Episode 2729)

Film
Ducks swim and fly. (piano music)
(First: Episode 2510)

Cast
Savion, Gina, and Big Bird play "Rhyme Out."
(First: Episode 2979)

Animation
Abstract count to 14.
(First: Episode 2811)

Muppets
"It's Zydeco"
(First: Episode 2666)

Cartoon
The big green balls and one little orange ball ride over the top of the hills. The little one can't make it over the big hill, but conquers the small hill.
(First: Episode 1896)

Film
A dolphin walks backwards on the water.
Music: Joe Raposo
(First: Episode 0278)

Cartoon
A purple elephant tries to get 10 peanuts in his trunk at once, but can't, so he smushes them into peanut butter instead.
(First: Episode 2987)

SCENE 2
Grundgetta pops out of Oscar's trash can (which she's staying at because Oscar is away) and encounters a little boy looking for a piece of paper with directions on it, and tells him to get lost. He recognizes her as a Grouch, since his friend Roxie Marie told him about Grouches at school. He introduces himself as Kingston Livingston III, and says he's trying to get to Hooper's so he can meet up with Roxie. Grundgetta agrees to tell him how to get there as long as he scrams -- but she points in the opposite direction of Hooper's. However, he remembers hearing from Roxie that Grouches always give the wrong directions, so he goes the opposite way, towards Hooper's.

Animation
Shapes sort themselves in different ways, and eventually make a quilt.

Muppets
Kermit the Frog sings "Do-Op Hop".
(First: Episode 2071)

Cartoon
S for Snail
Artist: Jeff Hale
(First: Episode 1158)

Muppets
Herry Monster and Louisey sing "I Can Sing."
(First: Episode 2976)

Cartoon
Two groups of mountain goats try to pass each other on a mountain road.
(First: Episode 0780)

Animation
Ornate Vs spin around as a song about them plays.
(First: Episode 2942)

SCENE 3
Roxie Marie introduces Maria to her friend Kingston. He describes the way they became friends: they sat next to each other in school, and found out that they both like bugs, taking the subway to school, and model trains. Roxie informs Kingston that Maria is good at fixing things and asking questions, so Kingston asks Maria if she knows how to wash a milkshake stain off a sweater. Roxie thinks it's a dumb question, but then notices he just spilled his.

Cartoon
An apple, an orange, and a pear learn they can cooperate by rocking and rolling.
(First: Episode 0555)

Film
A girls' jump-rope team trains for a contest. They end up winning second place.
(First: Episode 2510)

Muppets
Anything Muppet cheerleaders spell out the word "rocket," then witness a rocket blasting off.
(First: Episode 0567)

Cartoon
"Sing a Song of Fourteen"
(First: Episode 2670)

Film
A boy draws a picture of his friend, Katie.
(First: Episode 2760)




Muppets / Celebrity
Oscar tells Tito Puente to scram, but he, the other Grouches, and the Grouchketeers are unable to resist dancing when Tito and his band play "Ran Kan Kan."
(First: Episode 3075)

Cartoon
Christopher Clumsy jumps over a hole, and falls into another hole.
Artist: Cliff Roberts
(First: Episode 0439)

Song
Bob sings Joe Raposo's "Look a Little Closer." (dog)
(First: Episode 2677)

Muppets
Here is Your Life: Carton of Eggs
(First: Episode 2661)

Cartoon
V for volcano, violet, and violin
(First: Episode 1762)




SCENE 4
Gordon is about to show Jazmine and Harley how air moves things, while Snuffy and his snufflepuppet Gus watch. Gus doesn't think air can move things, but the kids prove him wrong when they blow some confetti off the table using straws. Snuffy decides to try blowing through his snuffle, and accidentally blows Gus into a fence.

Cartoon
S for sing
(First: Episode 0824)

Film
Joe Raposo sings "Everybody Eats."
Re-filmed version
(First: Episode 2855)

Cartoon
"¡Él juega fútbol!"
(First: Episode 2104)

Muppets
Grover the Flight Attendant: Mr. Johnson is cold, and wants something warm. Grover suggests exercise, grabs him out of his seat, and starts bouncing him around, which bothers a nearby passenger. Next, Grover gives Mr. Johnson a big hug, which doesn't work either. What Johnson really wants is a blanket, so Grover looks in the overhead luggage container, letting everything in it fall out and cover up Mr. Johnson.

Cartoon
Growing Numbers #14
(First: Episode 2930)




SCENE 5
Gordon and Maria laugh about what happened with Snuffy earlier, and Elmo shows up with the two kids to display their fins, which they wear while playing fish tag. Merry chases after them, and Snuffy and Gus announce the sponsors. Gus complains about getting blown into a fence, and Snuffy sneezes, propelling Gus off his snuffle again.

Blooper: During this scene, Harley looks down at Kevin Clash, and Elmo giggles, "What you doing, Harley?"
Community content is available under
CC-BY-SA
unless otherwise noted.