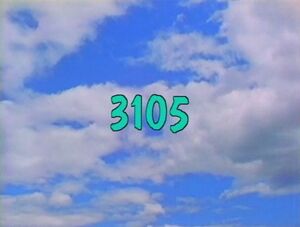 Picture
Segment
Description




SCENE 1
Telly, still with his arm in a cast, spots Mr. Handford opening a letter, looking happy. As he reads the letter, he goes from looking happy to looking sad. Telly asks him why he's sad, and he explains that the letter is from his dad, who's going on vacation, and won't be able to visit him for a while. Telly begs to differ, and asks him what his dad looks like. Mr. Handford describes what his dad looks like, and Telly runs off, inspired.

Film
A group of girls do a playground cheer ("Ooh I'm so happy!").
(First: Episode 3017)

Cartoon
The Four Squares sing "It's Hip To Be a Square."
Artists: Vincent Cafarelli & Candy Kugel
(First: Episode 2615)

Cast
Linda signs the word "pie," and gets hit with one, to Gordon's surprise.
(First: Episode 2712)

Muppets
Mr. Johnson has lunch at Charlie's Outdoor Al Fresco Fresh Air Cafe, where he's disappointed to find Grover waiting on him. The wind picks up, and blows his food away -- but when Grover gives him the bill, the wind dies down, and he has to pay.

Song
Jeff Redd sings "Between."
(First: Episode 2738)

Cartoon
Fish swim to form Q and q.




SCENE 2
Telly comes into Hooper's, pretending to be Mr. Handford's father, right down to the last detail. He and Mr. Handford decide to play "store", and Telly asks for a glass of milk. Mr. Handford serves it instantly, and Telly proclaims, "That's my son!"

Animation
Kids talk about families, often mentioning having rhinoceroces as pets.
(First: Episode 2759)

Muppets
"In South America", they say "Buenos Dias" for good morning, and "Buenas Noches" for good night.

Animation
"We Are Kids From Far and Wide" - Colombia
(First: Episode 2769)

Song
"One of These Things" (with Wegman's dogs and a terrier)
(First: Episode 3042)

Cartoon
A girl describes why she likes the color black.
Artist: Lisa Crafts

Muppets
Cookie Monster demonstrates fast and slow while eating cookies.

Animation
Pencil box Y / y
(First: Episode 3043)




Film
A montage of the evolution of mechanical technology, from wind-up toys, to robots that can spell "SESAME STREET" with blocks, to satellite transmitters.
(First: Episode 2226)

Animation
"Six Circus Balls"
Artist: Jane Aaron
(First: Episode 3001)

SCENE 3
Telly, still pretending to be Mr. Handford Sr., asks his "son" to introduce him to his "little friends" Luis and Maria, then tells him to temporarily stop playing "store" so he can practice singing the Alphabet Song.
Film
Children on a playground form the letters of the alphabet.
(First: Episode 1966)

Film
A paper crumples to reveal Q, q and Qq.

Muppets
Clementine and Elmo sing a song about things that are "Important."
(First: Episode 2702)

Animation
Kids narrate how a Navajo blanket is weaved.
(First: Episode 2976)

Muppets
Bip Bippadotta and The Androoze Sisters sing "Everybody's Song".
(First: Episode 2064)

Animation
Planet Q / q
(First: Episode 2838)

Muppets
Muppet & Kid Moment — Herry & John-John observe a letter Q.
(First: Episode 0571)

Animation
Shapes sort themselves in different ways, and eventually make a quilt.
(First: Episode 3103)
Song
Joe Raposo sings "Peanut Butter". (re-filmed version)
(First: Episode 1966)

Cartoon
Bruce the moose invites Toulouse LaGoose over for juice.
(First: Episode 2498)

Cast
Savion, Gina and Big Bird play "Rhyme Out."
(First: Episode 2979)

Animation
Dancing pepper pattern - which one is missing?
(First: Episode 3079)

Film
The Count (in voiceover) subtracts from five to one to zero children on a park bench.
(First: Episode 2923)

Animation
A group of round crayons draws a house, and is hesitant to let a square yellow crayon join, until it draws the sun. They all cooperate to make a rainbow.

Muppets
A diva sings the Alphabet Song while the stagehand instructs the gaffers to raise and lower the alphabet sign, but the diva thinks he's asking her to alter her singing voice.
(First: Episode 2964)

Cartoon
Y for Yak
Artist: Jeff Hale
(First: Episode 1184)

Film
A girls' jump-rope team trains for a contest. They end up winning second place.
(First: Episode 2510)

Cartoon
"Six Soccer Socks"
Artist: Paul Fierlinger
(First: Episode 1670)




SCENE 4
Telly, aided by three other monsters, sings about how proud he is of his "bouncing baby boy" Mr. Handford ("My Son is Mr. Handford").

Cartoon
A real Indian boy tells two boys who are playing Cowboy and Indian that Indians don't say "ugh." The other kids tell him that they heard the expression on TV.
(First: Episode 0771)

Muppets / Celebrity
Kevin Kline and Phoebe Cates sing a song about measuring, while The Count uses a ruler to do so.

Cartoon
Building a dog house is easy if you have a ruler.
(First: Episode 0630)

Cast
Linda signs the word disappear - which Gordon does.
(First: Episode 2734)

Film
Counting six oryx
Music: Joe Raposo
(First: Episode 0410)

Cartoon
Rap #6
(First: Episode 2502)




SCENE 5
Mr. Handford gets off the phone with his real father, and Telly resumes being himself again. Mr. Handford announces the sponsors, and he and Telly pretend to be father-and-son (with Telly as the son).
Community content is available under
CC-BY-SA
unless otherwise noted.