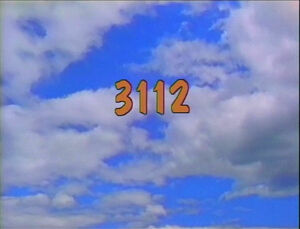 Picture
Segment
Description




SCENE 1
Telly Monster announces that tomorrow is the day that his cast comes off. So far, a couple of kids, Savion, and a cow have just signed Telly's cast. Oscar the Grouch pops out of his can wanting to sign Telly's cast. But Telly doesn't let him, thinking that he'll only say no and hurt his feelings.

Film
Five girls play a clapping game.
(First: Episode 2763)

Cartoon
Campers don't want to play ring toss with Zork, until their counselor reminds them about being judgmental.
(First: Episode 2761)

Muppets
Prairie Dawn directs Grover in "Singin' in the Rain."
(First: Episode 2961)

Film
Parts of a clown are shown in close-up as kids guess what it is.
Music: Joe Raposo
(First: Episode 0428)

SCENE 2
Monty dresses up the word of the day, "me", to demonstrate its meaning, but soon doesn't know which "me" is which. To solve this problem, he wears a frisbee on his head and dances the cha-cha-cha.

Cartoon
A boy draws a portrait of himself and calls it ME.
(First: Episode 2085)

Song
"Mom and Me"
(First: Episode 2462)

Muppets
Sesame Street News Flash
Kermit interviews Alice, from the Lewis Carroll tales. For this adventure, she eats something that makes her grow.
(First: Episode 1765)

Cartoon
I - ice cream.
(First: Episode 0033)

Animation
Teeny Little Super Guy recalls how he learned about the meaning of DANGER.
Artist: Paul Fierlinger
(First: Episode 1971)

Muppets
The Bicuspids sing "Kids Just Love to Brush".
(First: Episode 2060)

Animation
Computer G / g

Muppets / Celebrity
Elmo learns how an interview is conducted by giving one to Candice Bergen.
(First: Episode 2726)

Cartoon
"I in the Sky"
(First: Episode 0368)

Muppets
Monsterpiece Theater: "Much Ado About Nothing" by Wilma Shakespeare (new sound effects added)
(First: Episode 2991)

Cartoon
A map of Brazil morphs into the shape of animals that are found there.
(First: Episode 2806)

Film
Caitlin gets her eyes examined, and picks out a pair of glasses.
(First: Episode 2948)

Animation
Can you find the flamingos?
(First: Episode 2791)

Cast
Gordon, Bob, Maria and Gina sing a song about exploring in the courtyard. Bob is transported to the beach, Gordon to the farm, Maria to the top of a mountain, and Gina to the bottom of the ocean.
(First: Episode 2744)

Cartoon
A boy imagines his room turning into a jungle.
Artist: Karen Aqua
(First: Episode 2808)

Muppets
Colambo visits Tom the Piper's Son and asks him questions concerning a stolen pig.

Animation
Sand G/g
(First: Episode 0643)

Song
"Garbageman's Blues Song"
(First: Episode 1875)

Muppets
Ernie & Bert — Bert wants to sort his paper clips, but he can't concentrate because Ernie is counting fruit. Bert decides to wait until Ernie is done. This proves to be a bad idea: after counting all of the fruit in the bowl, Ernie begins to count all the fruits of which he has zero.
(First: Episode 2315)

Cartoon
A boy finds a set of doors with animals that make the wrong sound, and swaps the doors to correct them.
(First: Episode 2711)

SCENE 3
Oscar catches Telly desperate to sign his cast, yet Telly doesn't believe him.




SCENE 3
cont'd
In trying to figure out how he is going to make Telly believe him, Oscar thinks of a story he soon tells to Telly. It's about a nice monster who wanted to give a grouch a hug, but all that the grouch could say to him was "no". Finally fed up with his refusal, the monster doesn't offer to hug him anymore. Then one day, the monster fell into a mud puddle. The grouch discovers that the monster is covered in mud and wanted to give him a hug. The monster doesn't believe the grouch, thinking that he'd only hurt his feelings again. Then, the monster leaves to take a bubble bath, leaving the grouch sad.

SCENE 3
cont'd
Telly doesn't get why Oscar would tell him that story, Oscar tells him that he's like the grouch in the story. Soon, Telly realizes that Oscar really does want to sign his cast. Telly finally gives Oscar a chance. Oscar tries to sign the cast, but discovers that the ink had dried up. This leads Telly to think that it was a trick afterall and exits in a huff.

Cartoon
I-Ink (angry bird)
(First: Episode 0462)

Song
Everyone has the same feelings, "No Matter What". Kids of all types play with a huge beach ball.
(First: Episode 2782)

Cartoon
Fish form G and g.

Muppets
The Big Bad Wolf sings about himself and his family.
(First: Episode 3001)

Cartoon
"Up and Down with Captain Brown"
(First: Episode 2493)




SCENE 4
Telly is outside the the Fix-It Shop where a couple of kids sign Telly's cast. Oscar comes back to Telly with a brand new marker and a piece of paper, showing him that the marker works by writing his name. Telly still doesn't buy it. Luis tells Telly that Oscar really does want to sign his cast. Telly then asks the kids and the audience if it's true. Telly then decides to give Oscar another chance. Oscar signs it, which makes Telly happy. Luis and the kids announce the sponsors as Telly attempts to give Oscar a hug.
Community content is available under
CC-BY-SA
unless otherwise noted.