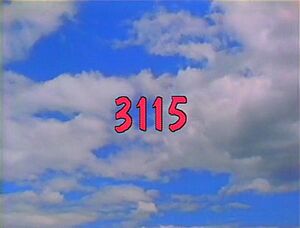 Picture
Segment
Description




COLD OPEN
Telly mentions today's sponsors, Gina gives a few spoilers about the segments in today's episode, and Mr. Handford says he will jump on a pogo stick ... right after the opening theme.




SCENE 1
Telly admires the spiffy new pogo stick Mr. Handford just got, which reminded him of when he was a kid -- he once bounced 234 times straight, which set a neighborhood record. He tries to jump on the stick again, but is confused when he fumbles the first few times. With the next few tries, he gets better and better.

Film
Balloons are popped in front of kids' faces, demonstrating surprise.
(First: Episode 2923)

Muppets
Super Grover crash-lands inside an apartment, and when he sees that the lamp light is on, he decides that he needs to save energy by turning off the lamp. His method to turning off the lamp is blowing the light out, but a girl just turns off the switch.
(First: Episode 3001)

Animation
Counting from 10-0 (Latin rhythm)
(First: Episode 3048)

Song
Bob sings Joe Raposo's "Look a Little Closer." (house)
(First: Episode 2672)

Animation
A fan reveals the letter C.
(First: Episode 2746)




SCENE 2
Telly enters the Fix-It Shop, and asks Maria to help him see what his arm can do after having been in a cast for the past few weeks. He finds that he can throw a ball, lift a book, and push a toy truck around. He can even exclaim "YES!" with his arm intact. Mr. Handford asks him if he can bounce on a pogo stick, and he decides to learn how (he couldn't before).

Cartoon
A beaver does his exercises, while his friends make fun of him. He then uses his strength to save his friends when the dam breaks.
Artist: Irra Verbitsky
(First: Episode 2067)

Muppets
"Don't Throw That Trash on the Ground"
(First: Episode 2680)

Animation
N / n paper fold
(First: Episode 3114)

Muppets
Sesame Street News Flash
The Big Bad Wolf opens a school for huffing and puffing.
(First: Episode 2578)

Song
"Rollin' on the River"
(First: Episode 2783)




SCENE 3
Telly isn't sure he'll be able to bounce on a pogo stick after Mr. Handford shows him how. Telly gets on top, starts bouncing, and realizes it's fun, but doesn't know when to stop yet.

Animation
A set of blocks reveal a square, a triangle, and a circle.
(First: Episode 1184)

Song
Jerry Nelson sings "I'm the Big One Now".
(First: Episode 2876)

Muppets
Here is Your Life: A sneaker is profiled.
(First: Episode 2203)

Cartoon
N is for nose
Artist: Jeff Hale
(First: Episode 1206)

Muppets
Bo knows letters, counting, up/down, empty/full, near/far, COOKIES, and Bo Peep.
(First: Episode 2841)

Animation
Counting 8 harvesters
(First: Episode 2981)

SCENE 4
Telly bounces over to Maria to demonstrate next to and away from.

Cartoon
A girl imagines being next to a tree, a house and a car. "Now I'm going over there," she says. "There's nothing here to be next to!"
(First: Episode 0782)

Song
Joe Raposo sings "Somebody Come and Play."
(First: Episode 0047)

Muppets
Cookie Monster tells his little cousin monster to get him something special that starts with the letter C. He hopes she'll bring him a cookie, but she brings a carrot, a cucumber, a cauliflower, and an ear of corn. Finally, she realizes that cousin also starts with C, and assumes he was referring to her.
(First: Episode 1319)

Song
Jeff Redd sings "Between."
(First: Episode 2738)

Animation
Isadora's sneakers describe all the fun they've had this past year, as the seasons change.
(First: Episode 2758)

Muppets
Forgetful Jones and Clementine ride on horseback, and come across a rock. Clementine consults her book, The Cowgirl's Companion, to figure out how to handle a rock in your trail: go around it.
(First: Episode 2586)

Cartoon
Black cat, white cat, orange cat, marmalade cat, mouse cat, bird cat, chasing balls of string cat.
Artist: Jeff Hale
(First: Episode 1141)

SCENE 5
Telly can even play a game of "Three of These Things" while bouncing on the pogo stick, showing that he's the one who doesn't belong, since the kids are playing with toy cars, while he's not.

Animation
Two seemingly identical machines - one black, one white - cooperate to make the sound of a choo-choo train.
(First: Episode 2843)

Muppets
Bip Bipadotta sings about "Air."
(First: Episode 2568)

Film
Subway Train Empty & Full.
(First: Episode 0415)

Cartoon
David reminds a boy to wash his face and brush his teeth before going to bed.
(First: Episode 1968)

Muppets
"Sounds of Our Lives": Dirk tries to pop the question to Deirdre , but keeps getting interrupted by sounds, like an alarm clock or a train passing through the house... until he gives up and makes the sound of a slamming door.
(First: Episode 2731)

Cartoon
Christopher Clumsy jumps over a hole and says that he fooled the viewer. He then walks into a wall.
(First: Episode 0439)

Cartoon
Eight children dance in a colorblock grid.

Cartoon
B ... US! We're on the bus!
(First: Episode 0785)

SCENE 6
Telly comes back to Mr. Handford to give him back his pogo stick. Telly reflects on how much fun he had, and Mr. Handford lets him keep the pogo stick, since he's too busy working in the store to use it. Telly bounces happily while helping him announce the sponsors, and the credits roll.