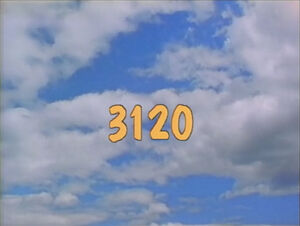 Picture
Segment
Description




COLD OPEN
Savion, Mr. Handford, Maria, Tara and Gabi are at Hooper's Store. Maria welcomes the viewers and announces that Oscar will be on "Sally Messy Yuckyael". On the show Sally addresses today's topic: "Grouch who got involved with kitten," right after what she calls a "yucky, cute song": the Sesame Street Theme!




SCENE 1
After the opening, the audience of Grouches (including Grundgetta and an elephant in a trash can, possibly Fluffy) boos the theme music. Sally moves on about today's headline, which disgusts the audience. She asks Oscar how it happened, and he tells her with a flashback: One day he was on his way to the dump but then finds a kitten sitting near his trash can. He tries to make it go away (by saying "Wubba Wubba") but it won't leave.

SCENE 1
cont'd
Back in the studio Sally asks him what he did in response, to which Oscar admits that he...he...gave her some milk! Sally admits she didn't think things would get this horrible right away and stuff like this isn't seen on Oprah Grouchy. Oscar adds that he thought that was the reason why she was hanging around his trash can and if he gave her some, she'd go away. Sally tells him that he thought wrong, which he knows now.

In the flashback, he gives her the bowl of milk and tries to make her get lost again, but it then occurs to him that maybe she was lost. In the studio, Sally convinces him that he never should have done that, to which the crowd agrees. Even Oscar feels horrible about it, and admits that the story gets yuckier later. Sally announces that they will return after a commercial break.

Animation
The word CAT is shown, followed by a black cat sitting on a chair.
(First: Episode 3000)

Cartoon
40 lemmings (doo-wop)
(First: Episode 2873)

Muppets
Sesame Street News Flash
Instead of a pea, this princess sleeps on things beginning with C.
(First: Episode 2527)

Animation
Sand C/c
(First: Episode 0625)

Film
A Puerto Rican family get-together includes cooking, playing soccer, and finally the big dinner.
(First: Episode 3081)

Cartoon
Jill walks up a hill to pick a daffodil.
Artist: Jim Jinkins
(First: Episode 2538)

SCENE 2
Back in the studio, Sally asks Oscar what he should do if he finds a kitten that was "cute as a button". He answers that he screams, but knowing that he had to find the kitten's owner or be stuck with it forever, he made signs that he put all over Sesame Street that said "Found One Yucky Kitten. See Oscar the Grouch". (Sally: "So you finally did something smart." Oscar: "Oh yeah? Heh. That's what you think Miss Smarty Glasses!")

SCENE 2
cont'd
In the flashback, Oscar puts the sign on his trash can and sees Maria and Gabi walking by. They notice his sign, but they just want to pet it. Savion also comes to see it, and brings her some toys. This only disgusts Oscar more, but Sally is disgusted as well because not only was a cute kitten hanging around Oscar's trash can, but also some nice people.

SCENE 2
cont'd
Sally hopes that he took down the signs, but Oscar says he couldn't because then he wouldn't find the kitten's owner, and he'd be stuck with her. Sally gets excited about what's to come, as the show breaks for commercials.

Cartoon
"Island of Emotion"
Aritst: Sally Cruikshank
(First: Episode 2822)

Cast
Big Bird winds up Linda, who displays the word TOY.
(First: Episode 2908)

Cartoon
"Martian Beauty" has nine hairs, nine bows, nine eyes, nine nostrils, nine arms and nine toes.
Aritst: Bud Luckey
(First: Episode 0316)

Muppets
The Two-Headed Monster finishes drinking milk, and doesn't know what to do with the cartons at first, but gets the idea to "recycle" them and play with them like a train.
(First: Episode 2726)

Cartoon
A girl tries to lure her cat out from under the chair so she can pick him up.
Artists: The Hubleys
(First: Episode 0187)

SCENE 3
Sally asks Oscar what happened next, but he refuses to answer because it's "too yucky". Sally disagrees because "nothing is too yucky for Sally Messy Yuckayel" and makes him answer. Oscar explains that the kitten got inside his trash can. The crowd gets disgusted again.

SCENE 3
cont'd
Oscar then says that she was chasing a ball of yarn in his trash can, getting himself (and Fluffy) tangled up. In the flashback, Maria thinks that maybe he's starting to enjoy being with the kitten...which he admits to, and the crowd starts to boo. Oscar is dragged into the trash can, crashing into various items, and starts to enjoy himself!




SCENE 3
cont'd
Sally gets grossed out again because he liked having the kitten in his trash can. Oscar admits that he couldn't help himself because the kitten was making a great big mess. Sally thinks that this is the worst kind of kitten loving she's ever heard, and convinces everyone to help him out, but they refuse. Oscar begs her to do so ("You're my only hope Sally!"), and she agrees to do so, right after another commercial break.

Cartoon
Counting 40 pigs
Artist: Keith Haring
(First: Episode 3084)

Film
A child narrates a film of him and his brother, Andrew, taking a ride on the ferry.
(First: Episode 2951)

Cartoon
W for Wilbur
(First: Episode 0366)

Muppets
Bert sings the club song for The National Association of W Lovers.
(First: Episode 0366)

Film
Alphaquest: W
(First: Episode 2712)

Muppets
Is Barkley a DOG or a BANANA?
(First: Episode 2724)

Film
A child in a classroom draws a picture of her dog Puck, and goes over the care required to keep a pet. A Bert and Baby Fozzie plush can be seen in the little girl's bedroom.
(First: Episode 2853)

SCENE 4
Sally asks Oscar if he ever found out who the kitten belonged to. He answers that it happened when he was playing with the kitten, which causes Sally to interrupt him as she becomes disgusted again.




SCENE 4
cont'd
In the flashback, Oscar and the kitten (whom he names "Bruiser") play with the toy mouse. Maria walks by and notices. She says that she hopes that someone will show up to pick up Bruiser, and Oscar agrees too because he hates it and he's having a horrible time. A lady (Louise Gold) approaches and says that she found the sign and identifies the feline as "Bootsy", her kitten. The lady picks Bootsy up, but Oscar is reluctant to let her go, and isn't sure whether or not it actually belongs to her. The lady pulls out a picture of Bootsy as evidence. Oscar doesn't see the resemblance, but Maria points out that Bootsy matches the picture in every way. Oscar faces the fact and lets her go, and asks the lady to never lose the kitten again because a cute kitten showing up on his doorstep is the last thing he ever needs. Bootsy and her owner leave, but Oscar sees that she forgot her mouse. He tries to get them to come back, then becomes depressed now that "Bruiser" is gone.

SCENE 4
cont'd
Oscar then admits to Sally that he missed the kitten, much to everyone else's dismay. Sally now thinks that not only is it yucky, but also disgusting and runs off the stage. Oscar begs her to come back so that she can help him.

Film
Two girls walk on an island together, and a map of the island is shown.
(First: Episode 2650)

Cartoon
Typewriter: C for Cat
(First: Episode 0779)

Film
A film insert about washing elephants at the Bronx Zoo. The song "Splish Splash" is used in part of the segment.
(First: Episode 1934)

Muppets / Celebrity
Cookie Monster and Annette Bening demonstrate here and there.
(First: Episode 3080)

Cartoon
Kids sing about the joys of celery.
Artist: ArtistMike
(First: Episode 2976)

Film
A girl narrates a film of herself taking care of her horse, Strawberry.
(First: Episode 2641)

SCENE 5
Sally comes back with a cure for Oscar: another kitten. He now feels angry, but Sally did it so that he can get his mind off of Bootsy. However, her idea works and she tells Oscar that there isn't a problem she can't solve. Sally signs off, and tells the audience to tune in tomorrow for when she solves the problem of "Grouches who love too much".




SCENE 5
cont'd
Back at Hooper's, the TV audience starts debating who's grouchier: Sally Messy Yuckyael or Oprah Grouchy? Maria announces the sponsors and the credits roll.
Community content is available under
CC-BY-SA
unless otherwise noted.